How to Upscale 1080p to 4K on Windows PC with 4K Upscaling Software
4K obviously has become something of a hit. It is gradually supported by more and more TVs, computers, cameras, smartphones, UAV, car driving recorders, video-sharing sites like YouTube and Vimeo, and so on. Despite that, 1080p sources still domain the market and 4K content is limited currently.
Thanks to 4K upscaling technology built in 4K TVs, we can play 1080p videos on 4K TV without black area surrounding. However, output quality varies with the inbuilt 4K upscaler. Cheaper 4K TVs usually come with sub-par scalers. So in this case, we possibly won't see any quality enhancement. Worse result is also possible. If this is the case, you might as well upscale 1080p to 4K using the method here and see if the output is better than that processed by 4K TV itself.
Suggested reading: 5 Brillant Ways to Upscale 720p to 4K >>
Upscale 1080p to 4K and Preserve Details with WinX HD Video Converter Deluxe
WinX HD Video Converter Deluxe is a professional yet simple-to-use video converter utilizing superb upscaling algorithm to upconvert 1080p to high-quality 4K in MP4 to fit for 4K TV, YouTube, etc. The built-in High Quality engine helps users preserve all the details of the video without quality loss. It runs well on Windows 11, 10, 8, 7 and others. A Mac version is also available. [Intel QSV and NVIDIA CUDA/NVENC hardware acceleration supported]
Part 1. How Does Upscaling Working on TV?
All TVs has upscaling, which means low-resolution contents will be filled your entire TV screen. Without it, a low resolution video will only takes up less than half of the screen space. Upscaling 1080p on a 4K screen often looks better than 1080p content on a normal 1080p screen. But if you just have a cheap 4K TV, you probably won't get too much video quality enhancement.
You know, resolution can be devided into physical resolution and optical resolution. Physical resolution is defined by the number of pixels on a display. It has nothing to do with the actual size of your TV. For a 1080p image to fit a 4K display, it needs to gain 6 million pixels via "nearest neighbor" during the upscaling process. Usually, an algorithm adds a mesh of "blank" pixels to an image, and then guesses which color value each blank pixel should be by looking at its four neighboring pixels. But this process could reduces optical resolution. To fix this, TV upsacling also uses bicubic (smoothing) interpolation and bilinear (sharpening) interpolation to enhance the video quality.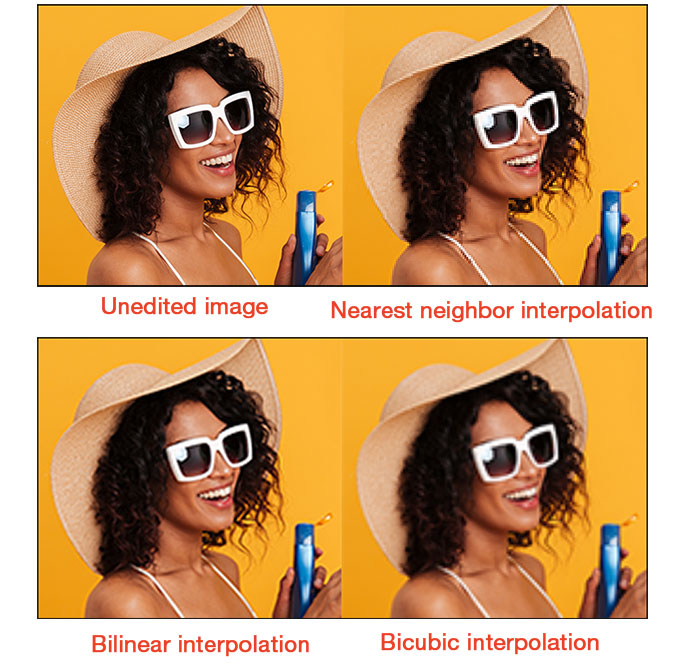 Part 2. How to Upscale 1080p to 4K on Windows and Mac?
Besides upscaling 1080p to 4K on TV, many users also choose a thrid-party video scaler to up-convert 1080p to 4K. WinX HD Video Converter Deluxe is a nice option. It's specially optimized for 4K videos, applying the advanced Intel QSV and NVIDIA CUDA/NVENC hardware acceleration technology to the entire video process (decoding, processing and encoding), which is called level-3 hardware acceleration. This greatly improves the efficiency of processing 4K video. As for video conversion, WinX HD Video Converter Deluxe is able to:
Upscale video from 1080p to 4K, 720p to 1080p, 720p to 4K with high quality reserved.
Adjust video codec, frame rate, bit rate, aspect ratio, audio and more.
Convert 4K/HD videos to MP4, HEVC, H.264, VP9, MOV, MKV, AVI, WebM, WMV and 420+ preset profiles.
Here are the easy steps on how to upscale 1080p to 4K:
To get started, you should download and install this video to 4K upscaling software on your computer. Once done, launch it and follow the steps below to upconvert 1080p to 4K for YouTube, Vimeo, Samsung, Sony, LG 4K TVs, etc.
Step 1. Click "+ Video" button to load source 1080p videos. You're allowed to insert multiple video clips for batch conversion.
Step 2. Set 4K MP4 Video as output profile. The profiles list window will pop up automatically after you import source files. Go to General Profiles, and then choose 4K MP4 Video. On the profile, you can move the slide bar to HQ, which will slow the conversion speed but enhance output quality. Another trick is checking "Use High Quality Engine".
This 1080p to 4K upscaler has other options, like Hardware Encoder (Intel, nVIDIA), Merge, Trim and Deinterlacing. Simply deal with them based on your own needs.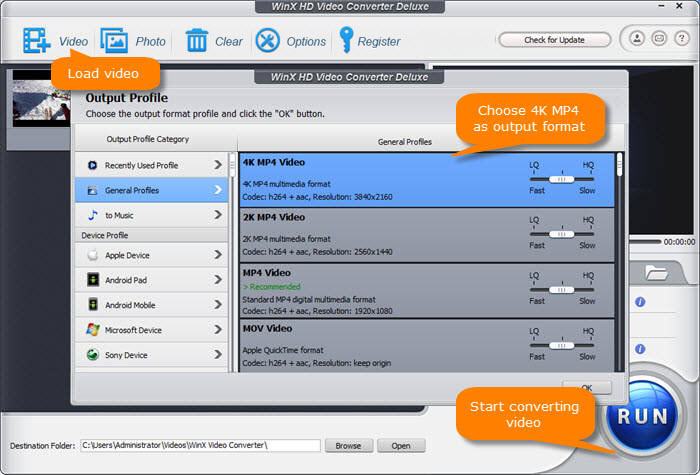 Step 3. Hit "RUN" to begin upconverting 1080p full HD to 4K UHD videos. Once done, you can find it in the destination folder.
In addition to upscaling 1080p to 4K and compress 4K to 1080p, WinX HD Video Converter Deluxe can also convert videos among MKV, MP4, AVI, WMV, MOV, HEVC, AVCHD, M2TS, MOD, TOD, 3GP, FLV, SWF, MXF, and so on.
Watch Video Tutorial: How to Upscale 1080p to 4K with High Quality
Part 3. FAQ about Converting 1080p to 4K
Q. Is it possible to play a 1080p video clip on 4K TV?
A: Of course 4K TV plays 1080p video. Playback error is mostly caused by incompatible video codec and has nothing to do with video resolution.
Q. How does 1080p native look on 4K/UHD TV?
A: It depends. There could be three different results:
• 1080p looks the same on a 4K TV after upscaling as it would on a standard HD 1080p TV.
• 1080p looks slightly or significantly better on 4K TV than on 1080p monitors.
• 1080p looks terrible on 4K TV.
Q. Is Hardware Acceleration crucial for 4K video processing?
A: Yes. Hardware acceleration technology is able to shift computing-intensive tasks, especially high-birtate 4K video processing, from general-purpose CPU to dedicated GPU hardware. In this way, we can see remarkable speed boost, CPU usage and temperature reduction.
Q. TV vs. video converter software on the upscaling quality from 1080p to 4K?
A: The short answer is HD video converter does far better than TV incorporated upscaling sets. Most of the time for most televisions, be it 4K or 1080p, auto upscaling makes the stretched image look worse in full screen, while HD 4K video converter software, for example WinX HD Video Converter Deluxe, upconverts 1080p to 4K with amazingly good quality. Why? It's all because of its unique motion adaptive pixel scaling algorithm, which adds new interpolated pixels calculated by the nearest sample points and controls the degree of diffusion/sharpening based on the input image.