Can PS4/PS4 Pro Play 4K Ultra HD Movies and Videos?
Does PS4 play 4K? When answering this question, the short answer is PS4 can't play 4K but PS4 Pro can play 4K games and 4K video movies if it is connected to a 4K-compatible display. But many users still don't know how to play 4K UHD videos and movies on standard PS4 and PS4 Pro. So, this page will tell you the guide in detail.
Can't Play 4K Videos on PS4 or PS4 Pro? Solved with 4K Video Converter
As PS4 can't play 4K movies by default, you are highly suggested to first convert 4K videos to 1080p with a Video Converter which you can use to convert and compress 4K videos. Besides, some 4K videos encoded with certain codecs like HEVC that PS4 Pro doesn't support can be converted to H.264 for PS4 Pro to play without errors.
Part 1. Does PS4 Play 4K Movies?
The original PS4 and PS4 Slim only support videos up to 1080p, while PS4 Pro plays 2160p or 4K by default. You can easily play 4K games and movies in 4K (3840 x 2160) UHD resolution on PS4 Pro if it is connected to a suitable 4K display set. Unfortunately, you can't directly play 4K movies videos on PS4 and PS4 Slim because of their limited support for video resolution. Only convert 4K to 1080p first can you play 4K on PS4 successfully.
As for disc playback, both PS4 and PS4 Pro can play DVDs and Blu-ray discs (HD and 3D Blu-ray up to 1080p), but none of them can play 4K UHD Blu-rays. If you have the need, turn to PS5 which can play both common DVDs and 4K UHD Blu-rays.
Part 2. How to Play 4K UHD Videos on PS4/PS4 Slim?
As said, PS4 and PS4 Slim only play video resolution up to 1080p, meaning that you have to turn your 4K video to 1080p video or lower first for later smooth playback on original PS4. The tool that helps the conversion is a video converter which can downscale video resolution and convert between formats for diverse devices.
Step 1. Free download the 4K video converter, install and launch it on your computer.
Step 2. On the main UI, click "+ Video" button to add your 4K movie.
Step 3. When the "Output Profile" window pops up, scroll down to "Sony Device" > "to PS4 Video" and choose one option as the output format and then click "OK".
Step 4. To convert 4K to 1080p and reduce file size, simply click the "Settings" icon and adjust the video resolution.
Step 5. Find a destination folder to save the converted file by clicking "Browse" button, and hit "RUN" to start converting 4K to PS4 playable format.
Step 6. After conversion, store the converted video to USB storage device and then connect the USB to PS4. And choose PS4 Media Player from the content area and find the converted 4K movie in the USB storage to play.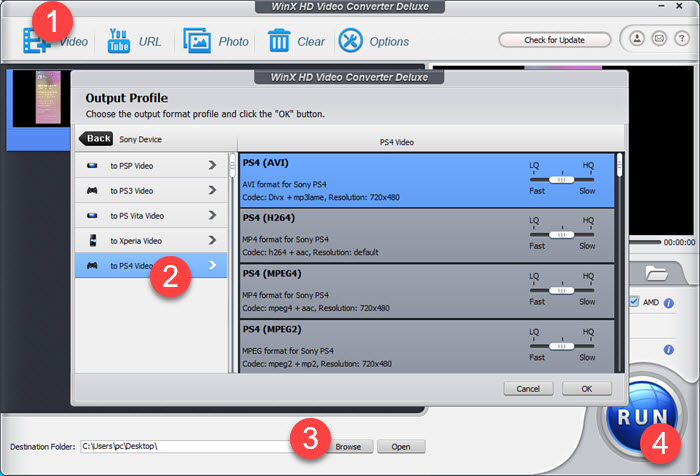 Note: Make sure that you place the video file in a folder on your USB storage device, otherwise you may encounter PS4 Media Player can't play video error.
Part 3. How to Play 4K Movies and Videos on PS4 Pro?
To play 4K on PS4 Pro with true 4K experience, every part of your setup needs to be 4K compatible. In detail:
Make sure the display device supports 4K, e.g. 4K TV, 4K monitor, or 4K projector.
The HDMI cable to connect your PS4 Pro and display device should be High Speed or Premium High Speed HDMI cable as a standard HDMI cable can't carry 4K signal. Also, ensure that the HDMI input support 4K.
Any other device in between your PS4 Pro and 4K display device supports 4K, e.g. 4K compatible Home Cinema System/AV receiver.
Set your PS4 Pro for 4K video playback, and make sure your PS4 Pro is fully updated and connected to the internet.
When everything is ready, follow the below guide to play 4K ultra HD movies or videos on PS4 Pro.
Step 1. Configure PS4 Pro for 4K
Use your controller and go to Settings on PS4 Pro.
Scroll down to select Sound and Scree (By default, the 4K settings are usually set and here you can double check them).
Select Video Output Settings and select Resolution > make sure that Automatic is selected, which means your PS4 Pro is in 4K mode. If your display or cable isn't fully 4K compatible, you will see the 2160p options are marked as "unsupported". Step 2. Play 4K on PS4 Pro
After setup everything, you can start playing your 4K videos and games on PS4 Pro. If you want to play 4K videos from USB, simply connect the USB storage device to PS4 Pro. And choose Media Player from the content area and then select the USB storage device. Thereafter, find the 4K movie in the folder stored on the USB storage device and play it with PS4 Pro.
Note: Despite the fact that PS4 Pro naturally plays 4K, some 4K videos may still not be supported by PS4 Pro as PS4 and PS4 Pro only support limited video formats and codecs, including MP4, XviD, WMV, MPEG-2, AVI, MPEG-4 SP (AAC LC), Motion JPEG, H.264/MPEG-4 AVC Main Profile, AAC LC, MP3, WAV, eAAC+, etc. For example, the popular HEVC codec is not supported by PS4/PS4 Pro. Under such circumstance, you can also use the Video Converter to convert video to PS4/PS4 Pro supported ones to solve the video not playing issue.
Summary
Can PS4 play 4K? In a word, PS4 is mainly designed for gaming, but not for video playback. All PS4 game consoles can play common Blu-ray and 3D Blu-ray discs up to 1080p. For 4K video playback, you are able to directly stream and play 4K videos on PS4 Pro. And by converting 4K to 1080p, you are also allowed to play videos movies on PS4 very easily.