How to Solve PS4 Won't Play MP4 Files & Play MP4 on PS4 Easily?
Can PS4 play MP4 files?
Yes. MP4 is one of the supported format of Sony PlayStation 4. With the help of PS4 Media Player, you can play MP4 files as well as AVI, MKV, MPEG-2 PS, MPEG-2 TS, AVCHD (.m2tsm .mts) and XAVC S™ (.mp4) videos. However, it seems PS4 media player won't play MP4 error happens now and then. Sometimes, it can't recognize MP4 files, and sometimes PS4 media player USB is not showing MP4 when scanning files. Most of time, what causes the MP4 not playing on PS4 error is the codec incompatibility as PS4/PS4 Pro only plays MP4 files encoded with the following codecs:
PS4/PS4 Pro supported MP4 file
Video: H.264/MPEG-4 AVC High Profile Level 4.2, H.264/MPEG-4 AVC High Profile Level 5.2 (PlayStation®4 Pro only)
Audio: AAC LC, AC-3 (Dolby Digital), LPCM
So, you should focus on solving the codec issue. Besides, you should learn about some other reasons and solutions we will explain below in case needed.
Hot search: How to play MOV files on Windows 10/11 >>
[Solved] PS4/PS4 Pro Won't Play MP4 Files Because of Codec Incompatibility
As said, only MP4 files encoded with some certain codecs can be played by PS4 and PS4 Pro without errors. So to solve PS4 can't play MP4, the quick solution is to convert MP4 to PS4 format. WinX HD Video Converter Deluxe is the perfect tool which helps convert between any formats for any devices. Plus, it can also compress 4K MP4 to 1080p for PS4 to play as only PS4 Pro can support 4K files.
Part 1. Why PS4 Won't Play Some MP4 Files?
Far more than a gaming device, PS4 Media Player lets you play most videos, photos and music in common formats from a USB drive or another computer on your network. But under circumstances, you can't play some MP4 files with PS4 or PS4 Pro. Possible cause may be the MP4 file type, MP4 video format compatibility or the USB file system.
1. PS4 media player USB not showing files because your USB drive is formatted with NTFS file system
When PS4/PS4 Pro plays MP4 files from USB successfully, the USB drive must be formatted with either the exFAT or FAT32 file system as PlayStation 4 can't read the NTFS file system. Otherwise, your USB drive won't appear or be usable to let you select MP4 files.
Solution: Right-click the USB drive in Windows and select "Format". Then, format the drive to use exFAT or FAT32 file system if it is currently using the NTFS file system. Please note, this process will erase all files at present on the USB drive, so backup the files before formatting your drive.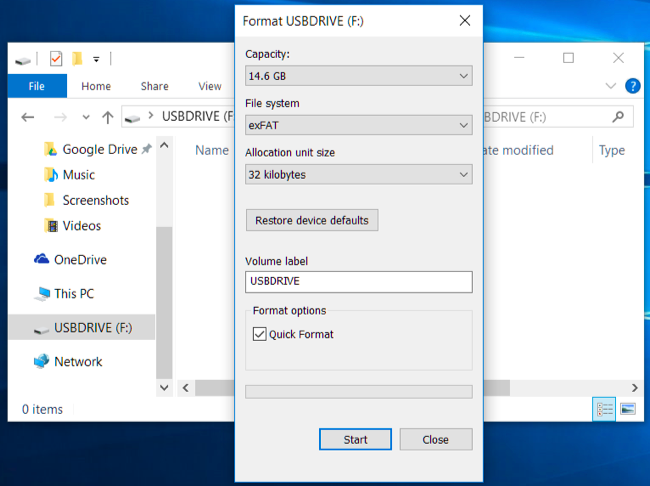 2. PS4 can't play MP4 as your MP4 file is not being placed in the right folder
If you put your MP4 video into the "root" folder of your USB drive, the PlayStation 4 won't see it and then won't be able to play it. To make PS4 see your video, you should locate the MP4 video inside a folder like "Videos".
Videos and photos should be stored in a folder and not on the root of the drive, and the folder can be any name. If you have audio files, you should locate them in a folder called "Music" on the drive for the PS4 to detect them correctly.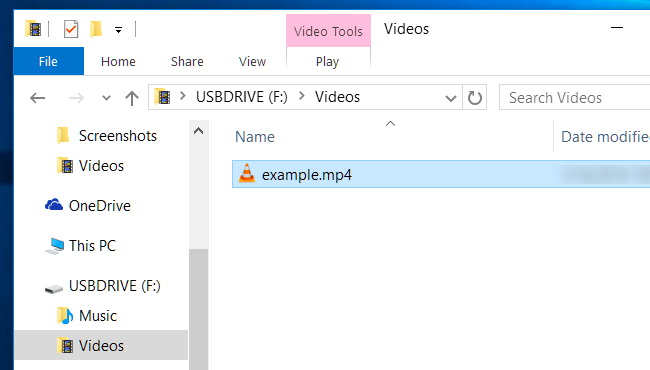 3. Corrupted MP4 files lead to MP4 not playing on PS4/PS4 Pro error
Sometimes the MP4 file itself is to blame. You can use a third-party media player to check if your MP4 files are corrupted, broken, or damaged. If it's true, simply find a tool to repair MP4 files first.
4. MP4 codec format is not supported by PS4/PS4 Pro
From PlayStation 4 user's guide, PS4/PS4 Pro only supports playing MP4 files encoded with H.264/MPEG-4 AVC High Profile (AAC LC). However, MP4 is a container file format which can include a wide range of codecs, like HEVC, H.264, MPEG-4, VP9, AAC, AC-3 (Dobly Digital), DTS audio etc. which aren't very compatible with PlayStation 4. By converting MP4 to PS4-compatible formats, you can play MP4 on PS4 much more easily.
5. Only PS4 Pro supports 4K files
From the PlayStation 4 official website, only PlayStation 4 Pro supports 4K games and videos playing by default while PS4 has HD-only visuals. So, if you have a 4K MP4 file and want to play on PS4, you need to convert 4K to 1080p first.
Part 2. How to Solve MP4 not Playing on PS4 Error?
Without any third-party help, you can directly use the NTFS file system to format your USB drive which stores MP4 files and put your MP4 files in the right folder for successful MP4 playback. But if the MP4 video is corrupted, the codec is incompatible with PS4, the video resolution is 4K or the file size is too large which causes PS4 media player won't play MP4, you need third-party help.
WinX HD Video Converter Deluxe can help you out. As an all-in-one 4K video converter and compressor, it lets you fix corrupted MP4 files, convert incompatible codec format to PS4-compatiblpe one, turn 4K into 1080p, and reduce file size in simple clicks. Through MP4 to PS4 conversion, you can also get rid of video audio lag, dropped frames, no audio, or audio video out of sync when playing MP4 video files.
Step 1. Download WinX HD Video Converter Deluxe, install and launch it on computer.
Step 2. On the main UI, click "+ Video" button to add your MP4 file.
Step 3. When the "Output Profile" window pops up, scroll down to "Sony Device" > "to PS4 Video" choose one option as the output format and then click "OK".
Step 4. If you want to convert 4K to 1080p and reduce file size, simply click the "Settings" icon and adjust the parameters as you like.
Step 5. Find a destination folder to save the converted file by clicking "Browse" button, and hit "RUN" to start converting MP4 to PS4/PS4 Pro.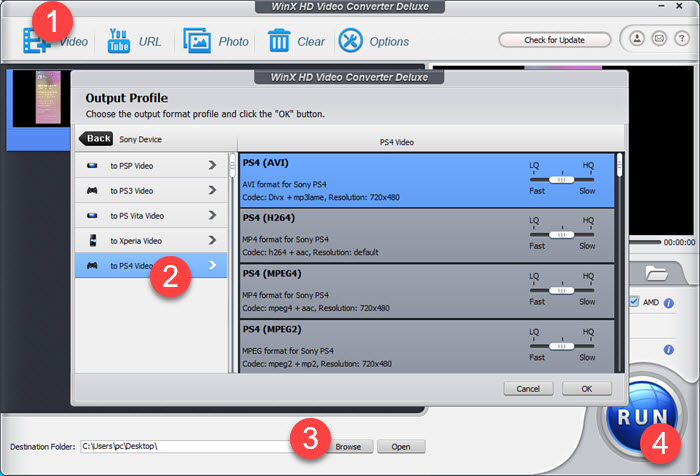 Part 3. How to Play MP4 on PS4/PS4 Pro?
Now that you have solved the PS4 won't play MP4 files error, you can feel free to play MP4 on PS4 or PS4 Pro and you have two ways.
Method 1. Play MP4 on PS4/PS4 Pro with PS4 Media Player
Plug your USB drive to the USB port on your PS4.
Launch the PS4 Media Player app and your USB drive will appear.
In the PS4's content area, select the Media Player with your controller to activate it. If you haven't installed the Media Player app yet, the Media Player icon will take you to the PlayStation Store to download and install the app.
Select your USB drive, browse the MP4 videos you want to play, and use the controller to control MP4 playback. (L2 – rewind, R2 – fast forward, Options – open a playback control panel, triangle button – view information about the file)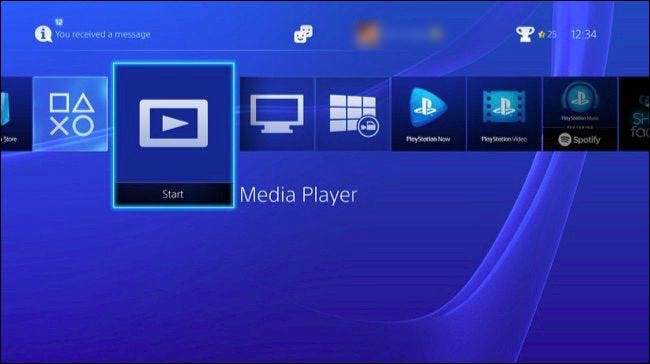 Method 2. Play MP4 on PS4/PS4 Pro using a DLNA or Plex Server
The PS4 Media Player can automatically detect any compatible DLNA servers on your home network and has the ability to access the video music files on the servers wirelessly.
Simply connect all your devices to the same network.
Add MP4 files to your DLNA or Plex server on computer.
In PS4 Media Player, access the server to find an MP4 video to play.