VLC Media Player Will Not Play MP4 on Windows (10)/Mac/Linux: Reasons and Resolutions
VLC can play most multimedia files. On its feature page, we find MP4 is listed under supported input formats. VLC should be able to play MP4. However, some users report that VLC won't play MP4 files on Windows (10), Mac, Linux, Android, and iOS. It gives error messages such as "Unable to open the file", shows black screen, keeps stuttering/choppy, or plays audio or video only. Why MP4 files are not playing in VLC? This article will explain it. What's more, we'll show you how to fix it.
Table of Contents
Part 1. Why Does VLC Not Playing MP4 Issue Happen?
There are several possible reasons for this problem.
The MP4 file you try to play with VLC is corrupt. In this case, the MP4 file will not play on VLC as well as other media players.
The MP4 file uses an encoding format that VLC doesn't support. MP4 is a container format. It can use various codecs. If it is encoded with a VLC unsupported codec, VLC will be unable to play it.
The MP4 file has high bitrates, which slows VLC. For example, VLC is always choppy when you try to play 4K videos.
The problem could be with VLC settings.
VLC version is out of date.
Part 2. How to Fix VLC Not Playing MP4?
Solution 1. Try a different MP4 video player
Your MP4 files won't play in VLC but may play in other media player. If so, it means that your MP4 file isn't damaged. The problem probably lies in the VLC media player.
There are a lot of MP4 players and among them 5KPlayer is one of the best choices. It is a clean and free media player for Windows and Mac. It can read MP4 files, no matter what encoding formats and resolution they use. Besides MP4, 5KPlayer can also play other video formats, audios, radio, DVD disc, DVD files, download online videos and audios, and stream files from iOS device to computer.
You can click the download buttons below to give it a try!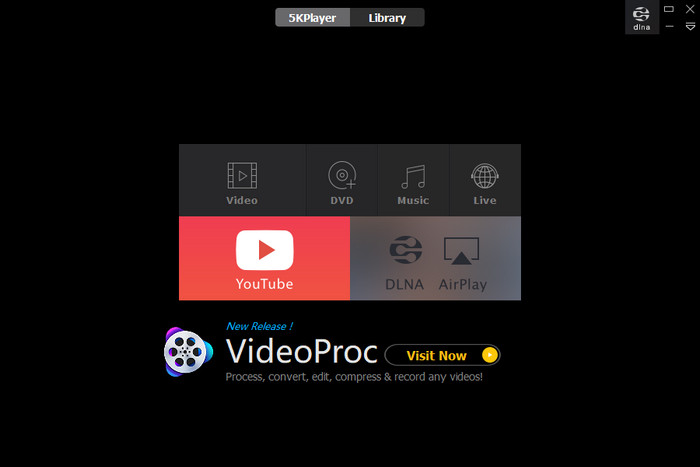 If your MP4 files can't play on any media player, your MP4 files may be corrupt. In this case, you should try the second solution – repair MP4 file.
Solution 2. Repair corrupt MP4 file
This isn't a difficult job if you get a powerful video repair tool. It is always easy to use. This kind of tool is integrated with advanced algorithms to fix all severe corruption issues of video files. What you need to do is just import the corrupt MP4 file -> click a button maybe named as Repair Files -> then wait for the software to repair the video. Once done, try playing the repaired MP4 file with VLC.
The most popular video repair programs include Stellar Repair for Video, Remo Video Repair Software, Kernel Video Repair, etc.
If this method still doesn't work, try the next method.
Solution 3. Convert MP4 to VLC playable format
When you try to play MP4 file with VLC but VLC says "Unable to open the file", or shows black screen, or plays audio only, or plays video but no sound, it is probably a format issue. Then, we can try converting the MP4 file to VLC supported format. This task can be done with WinX Video Converter. This software can convert any HD, 4K, 8K MP4 files downloaded online or recorded by iPhone, iPad, Android, action camera, camcorder, drone, and other devices.
To convert MP4 to VLC, you simply need to download and install WinX Video Converter on your computer -> import the MP4 video by clicking the + Video button -> choose an output format that VLC accepts -> click RUN to begin converting. Once done, put the result file into VLC and see if it plays now.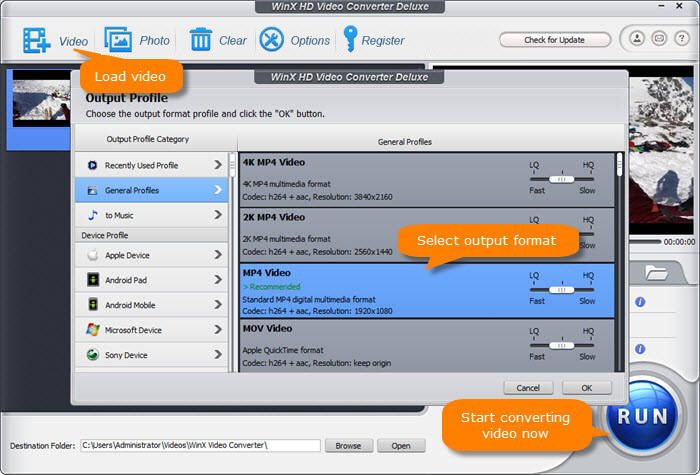 In addition to transcoding video, WinX Video Converter can also compress your MP4 videos by lowering resolution, bitrate, etc. If VLC plays MP4 with choppy, freezing, stuttering, or lagging issue, you may consider compressing your file.
To compress MP4 for VLC, follow these steps:
Open WinX Video Converter and load the problematic MP4 file.
Choose an output format that can play on VLC.
Click the setting icon to find the options regarding resolution, bitrate, and more. Lowering the values will reduce the file size.
Hit the RUN button to process and export the compressed video. Once done, import the new file to VLC and see if it can play properly or not.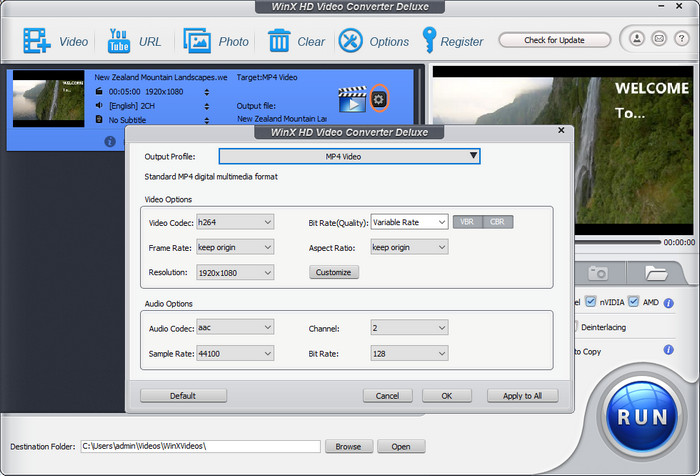 Click the download button above to get WinX Video Converter to convert and compress MP4 videos for flawless playback on VLC.
Solution 4. Install required MP4 codec for VLC
If you suspect VLC won't play MP4 because of incompatible format, you can check your MP4 file's codec information and download required codec to help VLC to play your MP4 file. A popular codec pack is K-Lite Codec Pack. You can download it here. After installing the codec on your computer, now open VLC and see if you can play your MP4 files now.
Solution 5. Disable hardware decoding in VLC
Wrong VLC settings can also cause MP4 video playback issue. The hardware decoding of VLC often can't handle the rendering effects of video files especially when the video file has lots of subtitle tracks or the video card can't accelerate your video. So you can disable hardware acceleration and see if it can fix VLC media player not playing MP4 video issue.
To do this, simply open VLC and go to Tools -> Preferences -> click All under Show settings -> on Advanced Preferences window scroll down to Input / Codecs -> Video codecs -> FFmpeg -> find Hardware decoding on the right side of the window and choose Disable -> click Save and restart VLC. Then, try opening MP4 with VLC again and see if problem disappears.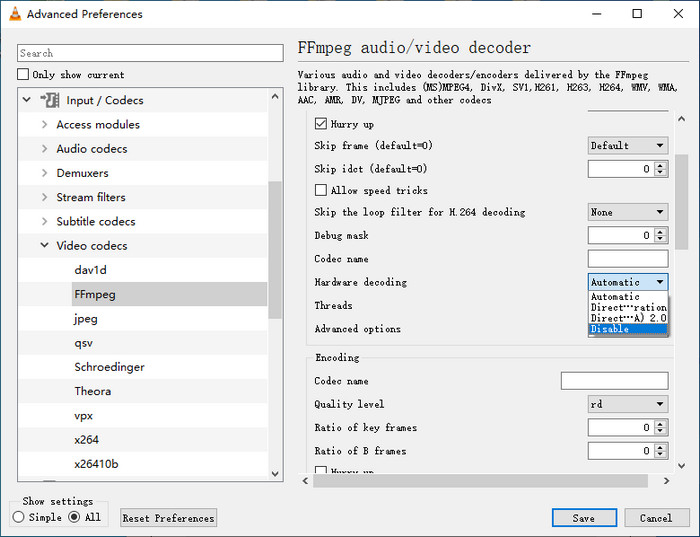 Solution 6. Try another video output module
This is another VLC setting you can adjust to fix VLC MP4 playback issue. To do this:
Open VLC and click Tools -> Preferences
Click Video, and then check Enable video and Window decorations if not clicked already.
Click the drop down menu of Output and choose X11 Video Output (XCB).
Then, save your settings and restart VLC. Import your MP4 video and see if it can play or not now.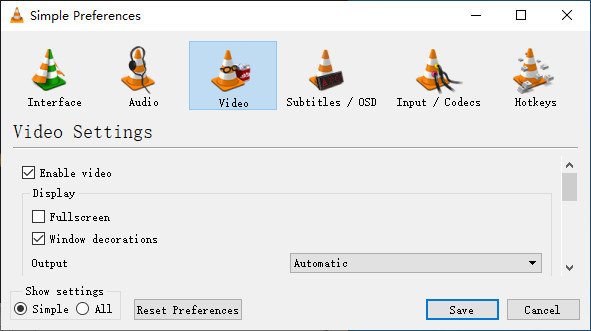 Solution 7. Install the latest VLC version
Sometimes this problem can be fixed by upgrading your VLC version. You can open VLC, click Help, and click Check for updates. If you're not using the latest version, it will say a new version is available. You can simply click Yes to download the latest version. Well, that's all the solutions for VLC not playing MP4. Hope this article helps.