How to Play MKV Video on PS4 PS5 without Issue?
MKV video is officially appearing on the supported video list of PS4. And no doubt MKV is also acceptable to PS5, the successor to PS4. That being said, there are also gripes about PS4 and PS5 like PS4 won't play MKV from USB, PS4 audio not supported, 1080p 8-bit MKV video buffering on PS5, 4K HDR 10-bit MKV video oversaturated color on PS5.
If you come across one of the above issues, you're suggested to stay here for 3 minutes reading about the specific solutions to fix MKV video playback issue on PS4 and PS5. In that case, you can eventually play MKV video of any type on PS4 or PS5 with nary a trouble.
[Solved] 4 Methods to Play MKV on PS4 PS5
Method 1. Convert MKV HEVC to PS4 Supported H264 Codec
As is known to all, the supported video list of PS4 doesn't include HEVC video codec. When it comes to play MKV HEVC video on PS4, the most effective solution is to convert MKV HEVC to MKV H264.
WinX HD Video Converter Deluxe is your way to go! With intuitive interface, you can easily get the hang of operating process without any tutorial: load video, choose MKV H264 and tap RUN. Then, it will automatically transcode MKV from HEVC to H264 codec at 47X real-time faster speed thanks to its advanced GPU hardware acceleration. Afterwards, play your MKV x264 video file on PS4 without MKV not playing issue.
On top of codec issue, this MKV video converter also helps you change video profile from High Profile Level 5.2 to 4.2, audio codec to MP3, AAC LC or AC-3 so as to suit PS4 requirements.
Install it on your computer and follow our guide to decode MKV HEVC to H264 to solve MKV not playing on PS4 issue.
Step 1. Launch WinX HD Video Converter Deluxe and click + Video button to browse and open target MKV files. You can import multiple MKV files for batch conversion.
Step 2. At the Output Profile panel, select PC General Video -> Matroska Video (h264+aac) -> tap OK. Step 3. Make some settings.
By default, WinX will disable the subtitle. But, you can manually select desired subtitle track and audio track from your multi-track MKV file. Step 4. Hit RUN to begin converting MKV H265 to H264 codec. Once done, load it to USB drive and playback it on PS4 to have a try.
Method 2. Move MKV to Correct Folders for PS5
Unlike PS4 with a stand-alone media player app, PS5's built-in Media Gallery app can play a large number of files stored on external USB drives. And more importantly, HEVC is added to PS5 friendly format list this time. But there're still some users saying MKV playback failure in PS5. If this is the case, Move your MKV videos to the correct folder to let PS5 console to recognize them, for instance MKV videos in "VIDEOS".
If, unluckily, the video folder doesn't fix the MKV video playback error on PS5, there's highly likelihood that you need to do further measures to MKV video source as the following parts. Continue reading!
Method 3. Remux Video from MKV to MP4 for PS5 Plex App
A PS5 user from forums.plex.tv called Ivaylo pointed out that he encountered problems when he played back 2 MKV videos on PS5 via Plex app streaming service. The general info about 2 MKV videos are listed below:
1080p MKV H264 video: 24 FPS frame rate; bit depth 8; Chroma Subsampling 4:2:0; Video Profile high; audio codec EAC3.
4K MKV HEVC video: 24 FPS frame rate; bit depth 10; Chroma Subsampling 4:2:0; video profile main 10 Level 5.0; audio codec AAC.
The problems haunting Ivaylo are video buffering issue with 1080p MKV video and oversaturated color issue with 4K MKV video. There must be countless users meeting the similar issues like Ivaylo, we bet. To fix these issues, do as follows:
Solution: Remux video from MKV to MP4 without changing video codec using Auto Copy mode, which is available in WinX HD Video Converter Deluxe. With it, your video file only gets changed in video format, not video codec. And the quality is 100% original kept! Why convert MKV to MP4 format since both of them are supported by PS5?
Though MKV and MP4 are container formats, the ability of MKV holding an unlimited number of video, audio, picture, or subtitle tracks in one file makes MKV much more complicated and tricky than MP4 especially in video playback via streaming service.
MKV container format can hold more minor codecs, such as the EAC3 audio codec mentioned above. That's the reason why you're advised to change video format from MKV to MP4 to have a try.
Additional step: Plex app will transcode your video files during streaming from the server to the client device if the gap of hardware configurations is large between the server and the client device. During video transcoding, higher parameters demands higher on both network connection and hardware configurations. The same also applies to your latest PS5.
As for 4K MKV HEVC video, you'd better lower down video profile Level 5.0 to video profile high Level 4.2 and adjust bit depth from 10bit to 8bit, which jointly relieve the large computational burden and guarantee you a smooth 4K HEVC video playback via Plex app on PS5 without buffering or color issue.
Related reading: [Solved] MKV video not showing up on Plex app
Method 4. Play 4K HEVC MKV HDR Video on PS5 via USB Drive not Streaming Service
Using Plex app to play MKV (esp. 4K) video on PS5 usually brings you unexpected problems. Instead, resorting to an external USB drive seems much better. According to an overall review concerning PS5 from authoritative polygon.com, it says that PS5 has no problem in playing back HEVC video via USB drive, even though the HEVC video is up to 4K HDR 10-bit at 60FPS (based on their multiple video tests).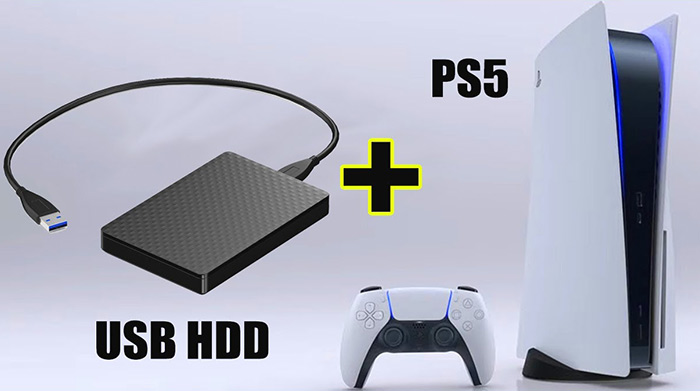 Though the testing video samples are MP4 format, theoretically there's no distinct difference between format MP4 and MKV concerning external USB drive (needless to transcode video via network connection to fit the client device like Plex streaming service). Thus, you can load MKV 4K HEVC HDR video to PS5 for playback to have a test on your own. Certainly, there are some minor points worth attention:
Your external USB drive must be formatted in FAT32 or exFAT, not NTFS. Better choose exFAT, since FAT32 capability is limited, unable to hold files larger than 4 GB.
To watch video saved on USB drive on PS5, MP4 video is allowed to be maximumly High Profile Level 5.2 while MKV video is currently only High Profile Level 4.2. So adjust your MKV video profile if it exceeds the line.
Download MKV videos from your streaming service using WinX HD Video Converter Deluxe (1000+ sites supported) if your desired MKV video isn't saved locally. Then copy your local MKV video file to the correct folder on USB drive (we've mentioned at Part 2).
Carefully check your 4K MKV video parameters if it comes from other online sites. PS5 only accepts 4K UHD video with maximum resolution 3840 x 2160 at 16:9 aspect ratio. Yet, 4K is ambiguous and may refer to 3840 x 2160 or 4096 x 2160. As for DCI 4K (full frame) with 4096 x2160 at 1.90:1 aspect ratio, you're required to adjust video resolution and aspect ratio first. Or the picture is distorted or fails to show.