How to Backup Old or New Regional/99-Title DVD Losslessly in 5 Mins?
Although it is in the age of streaming, DVD isn't dead yet. According to our questionnaire survey, many people still have a vast DVD collection which might cover old classic or newly-released kids movies, family movies, movies unavailable on Netflix, home video movies, workout videos, educational videos, live concerts, and more. Below are several top movie lists. I guess you may have some of them in your collection.
Best 10 Kids Movie Releases

Best 10 Disney Movie Releases

Best 10 New Movie Releases in 2019

Best 10 Classic Movie Releases

1. Finding Nemo
2. Frozen
3. Toy Story
4. Beauty and the Beast
5. The Lion King
6. Marry Poppins
7. Moana
8. Spirited Away
9. How to Train Your Dragon
10. Coco

1. Pinocchio
2. Snow White and the Seven Dwarfs
3. Toy Story
4. Inside Out
5. Finding Nemo
6. Up
7. The Lion King
8. Zootopia
9. The Jungle Book
10. The Incredibles

1. Frozen 2
2. Avengers: Endgame
3. Spider-Man: Far From Home
4. Captain Marvel
5. Toy Story 4
6. Aladdin
7. Godzilla: King of the Monsters
8. Star Wars: The Rise of Skywalker
9. Fast & Furious Presents: Hobbs & Shaw
10. Maleficent: Mistress Of Evil

1. The Godfather
2. The Shawshank Redemption
3. The Dark Knight
4. Schindler's List
5. Casablanca
6. Braveheart
7. Titanic
8. Toy Story
9. Avatar
10. Forrest Gump
You'd better take good care of your discs, especially those old and classic ones. When they go bad, you probably lose them forever, because it might be really hard to find a new copy to buy at online or local stores. If you don't want to lose your valuable DVD discs, now backup your DVDs. This way your old DVDs will gain a new life.
You can free download WinX DVD Ripper Platinum to backup DVD collection
WinX DVD Ripper Platinum is available to make 1:1 DVD backup copies without video/audio quality loss (DVD to ISO image and DVD to VIDEO_TS folder) and copy DVD to multi-track MPEG2, MP4, AVI, WMV, MOV, etc. Region limits and copy protections will be removed. Backing up a DVD can take 5 minutes only thanks to level-3 hardware acceleration and other advanced technologies.
Strapped for time? Click one of the links below to jump straight to your most interested part.
Part 1: The Disadvantages of DVDs Make DVD Backup very Important
1. DVD is easily damaged or scratched.
DVDs have a finite life span. Many factors will affect the longevity of a DVD, such as the degradation of the reflective layer and physical damage to the disc surfaces or edges. If you have kids, there will be a greater risk for DVDs to get scratched. Is there a way to fix scratched DVD?
2. DVD is inconvenient for management.
DVD is a cheap way to archive your files, but you'll take so much effort to find the movie you want from a mountain of DVDs.
3. Storing DVD takes too much space.
It is common for a DVD collector to own hundreds of DVDs and even more in the room. Then there's hardly any room for people's activities or storing other things. That's why so many people are looking for DVD storage ideas.
4. Playing DVD discs often runs into problem.
There're many causes for DVD drive or DVD player not reading DVD disc, including but not limited to the followings: the disc is dirty or scratched; the region of the disc doesn't match with that of your DVD player; the laser lens of DVD drive is dirty or broken.
5. DVD is inconvenient to carry for trip.
It is a good idea to watch movies during trip, but it isn't a good idea to bring bulky movie DVDs with you. Leave aside DVDs are easily broken during the travel, many places you'll stay probably don't have DVD players. Of course you can carry a portable DVD player, but don't you think it's a trouble?
But if we create digital backup copies of your DVDs, all these hurdles will be cleared.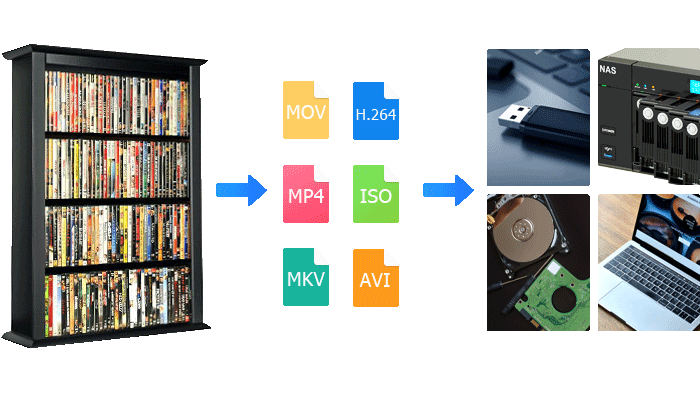 The Benefits of Digitizing DVDs
After digitizing DVDs, DVD storage, management and playback will become much easier.
You can store the original discs in a safe place and use the digital copies for playback. You can transfer digital copies of DVDs to iPad, iPhone, Kindle, thumb drive, or other devices for watching in the car, on the train, in the hotel, etc. Then you don't need to be concerned that the original discs will be aging or scratched, because you have backup. And you don't need to clean the disc, check the DVD drive, or try other troubleshooting tips to fix DVD not playing issue. You can simply take out the digital copies to watch.
Digital copies can also be archived in hard drive or somewhere else, thus you can quickly find the title you need simply by entering the title name into the search bar. If you want to free up some space for your room, you can throw away the space-occupying discs after digitizing.
To backup DVDs to digital files, you just need a piece of DVD backup software.
Part 2: Which Is the Best DVD Backup Software?
Among all the DVD backup programs in the market, WinX DVD Ripper Platinum is one of the best choices for the following advantages.
1. It supports backing up all kinds of DVDs, including copy-protected discs.
Although there're many similar programs that can backup DVD, some of them are not powerful enough to handle encrypted DVDs, especially the Disney 99-title DVDs. Take HandBrake as an example. It isn't able to deal with copy-protected DVDs on its own. If you import an encrypted DVD into HandBrake, you may get errors such as "No valid source or titles found". And another popular program MakeMKV is also unable to recognize some DVDs because of DRM and gives you error message "CellWalk algorithm failed (structure protection is too tough?), trying CellTrim algorithm".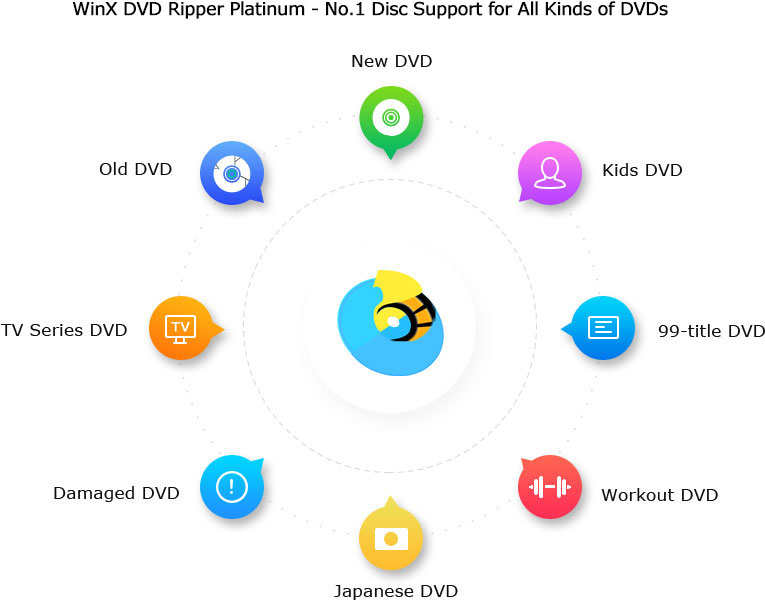 2. It can finish a DVD backup within 5 minutes only.
Such fast speed is a result of that WinX DVD Ripper Platinum supports level-3 hardware acceleration powered by Intel® QSV and NVIDIA® NVENC/CUDA, Multi-core CPU, Super Encode Engine based on MMX- SSE & 3DNow! and Hyper-threading tech. By contrast, some programs will take you hours to backup a 2-hour movie.
3. It allows users to backup DVD to various formats.
Unlike HandBrake which copies DVD to MP4/MKV only and MakeMKV which backs up DVD to MKV only, WinX provides far more choices. It allows users to backup all data on the DVD to ISO image or VIDEO_TS folder, backup main/full title to a multi-track MPEG2 file, convert DVD to MP4, AVI, WMV and other formats for playback on phones, tablets, TVs, game consoles, etc.
4. It keeps original video/audio quality.
There's no quality loss while using the 4 DVD backup modes and it will utilize High Quality Engine to deliver highest possible quality for other options.
Free download WinX DVD Ripper Platinum to backup DVD collection!
Part 3: How to Backup DVDs to Digital Files?
Backing up DVD losslessly with WinX DVD Ripper Platinum is so easy that you can do so in just 3 simple steps. And, the backup process can be done within 5 minutes only.
Step 1. Load the DVD you want to backup into WinX.
Firstly, insert target DVD into the DVD drive. Now, open the DVD ripper and click "DVD Disc" button. You should see the disc has been displayed under "Select the source DVD disc". Simply click "OK", and then this program will scan the disc, display all titles and select the correct main title for you. It can be done in a second.
Even if your DVD cannot be recognized by HandBrake, MakeMKV, AnyDVD, or other programs because of the inbuilt region code, RCE, CSS, UOPs, Sony ArccOS, Disney DRM and other encryption schemes, WinX DVD Ripper can read and backup it without issues.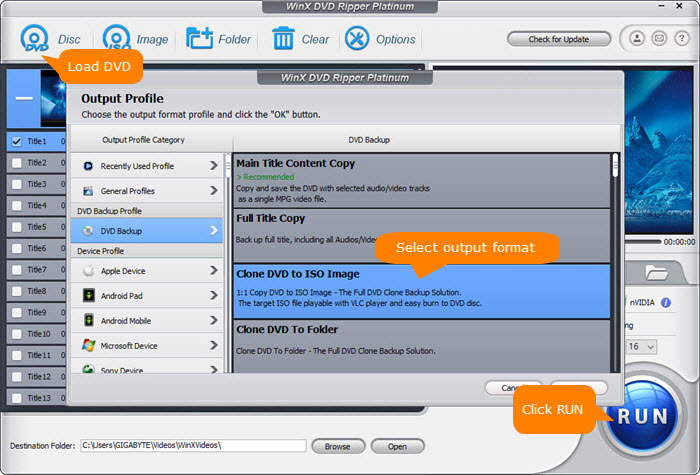 Step 2. Choose which format you want to backup DVD to.
There're 350+ optimized profiles listed in the Output Profile panel and categorized under General Profiles, DVD Backup Profile, Device Profile, Web Video Profile, and Common Video/Music Profile. You simply need to choose one based on your own needs.
▪ Under DVD Backup Profile, you have 4 options: Main Title Content Copy, Full Title Copy, Clone DVD to ISO Image, and Clone DVD to Folder. To backup DVD at 1:1 ratio, choose one of the latter two. All these are absent in HandBrake and other similar products.
▪ To backup DVD to hard drive, USB drive, cloud, NAS, Plex, or others, you can choose the most widely accepted format - MP4 - under General Profiles. Assuming the size of a MP4 movie is averagely 700MB, a 1TB drive can store 500 to 1000 movies.
▪ To digitize DVD for playback on iPad or other devices, you can choose a preset under Device Profile which category contains presets for all popular devices, such as iPhone Xs, iPad Pro, Samsung Galaxy S10, Huawei P30, Xbox One, and PS4. This way you don't need to carry a portable DVD player to watch DVD videos and you don't need to fix region-caused DVD playback issue.
Step 3. Start backing up DVD.
When you have done all settings, hit "RUN" button and then this software will begin converting DVD to the format you select. Intel/NVIDIA hardware accelerator is selected by default to speed up DVD ripping. About 5 minutes later, the high-quality resulting file will be saved to the destination folder.
Free download WinX DVD Ripper Platinum to backup DVD to external hard drive, USB flash drive, cloud, etc.
Disclaimer: Digiarty Software does not advocate ripping commercial DVDs for any illegal purpose. You're suggested to refer to the DVD copyright laws in your country before doing so.