Plex M2TS: Convert M2TS to MKV for Plex Playback
M2TS is not natively supported by Plex. You have no choice but to transcode M2TS files to MKV format when it comes to play M2TS on Plex.
To decode and re-encode M2TS to MKV, you can use Plex built-in transcoder - Plex Universal Transcoder. However, no matter you use Plex built-in transcoder to convert M2TS to MKV via CPU or GPU, you're required to spend a bunch of money.
M2TS is a video format for encoding high-definition videos like 1080p. So, the current most M2TS videos are 1080p in resolution.
Transcoding M2TS 1080p with CPU within Plex transcoder asks you to get a high-end CPU processor. It should be at least Intel Core i5 3.0GHz, with 2000 PassMark score for a single 1080p M2TS (10Mbps) video conversion. If you set "Maxmimum Simultaneous video transcode" as 4, you need to upgrade your CPU processor to the one with 8000 PassMark score.
Transcoding M2TS 1080p with GPU within Plex transcoder is not available unless you subscribe to Plex paid service, $4.99 per month and $119.99 lifetime. Plus, you ought to spend money upgrading your GPU processor to higher level, as well, especially simultaneous video transcode up to 4 or 5.
See, no matter which one, it's doomed to cost you a fortune on hardware configurations and subscription service. For most users whose income is heavily affected by Corona virus, you're strongly suggested to try a more cost-effective solution - convert M2TS 1080p video to MKV using an external solid Plex video transcoder like WinX HD Video Converter Deluxe.
Why WinX is the Best to Convert M2TS to MKV for Plex?
WinX HD Video Converter Deluxe gets the highest score due to:
1. Save your money! As we've mentioned above, the built-in Plex video transcoder will cost you an arm and a leg no matter you choose CPU or GPU converting (it's sooooo high-demanding on hardware configurations). This differs for WinX. WinX is natively supported by GPU (Intel QSV/Nvidia/AMD) hardware acceleration tech so that it can super-fast bulk transcode M2TS 1080p videos to MKV without demands on your Plex media service device. Save your money on device CPU/GPU upgrade and subscription service!
2. 420+ formats & device profiles. The list of Plex supported formats like MP4, MOV, AVI, WMV, etc. can also be found in this converter. It even hardware transcodes Plex video of any format to Plex client devices with device profiles, including iPhone iPad, Android, game console.
3. Adjust bit rate, resolution, frame rate. Though some video codecs are accepted by Plex, your media files are still excluded by Plex. That's the fault of parameters. Enable Settings and it lets you freely adjust bit rate, resolution (4K to 1080p, 1080p to 720p...), frame rate (120FPS/60FPS to 30FPS or vice versa), audio codec, etc. so as to better fit for your Plex.
How to Transcode Plex M2TS video at GPU Accelerated Speed
After free downloading and installing this Plex hardware transcoder, fire it up on your computer.
Step 1. Click "+ Video" to load M2TS 1080p HD video files. Bulk Plex transcoding is supported without adding extra burden on CPU/GPU.
Step 2. On Output Profile panel, choose MKV under PC General Video column. More output format profiles like MP4 (4K/2K), MP4 (HEVC/H264/MPEG-4), MOV (H264/MPEG-4), AVI, WMV, etc. are available, as well. Alternatively, you can opt for a profile based on which client device you are using, be it iPhone 12/Pro Max, iPad, Samsung, Huawei, Xbox, PS5/4, etc.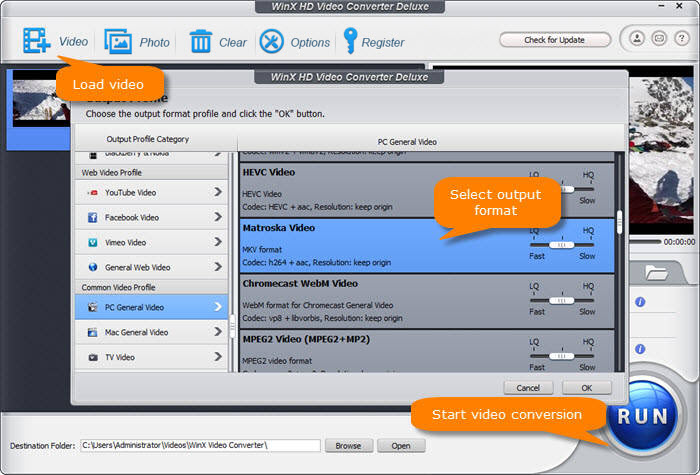 Step 3. Click the setting button to lower 4K to 1080p if necessary. Bit rate, frame rate, aspect ratio, audio codec, channel, etc. are also accessible to tweak for better compatibility and more smooth playback.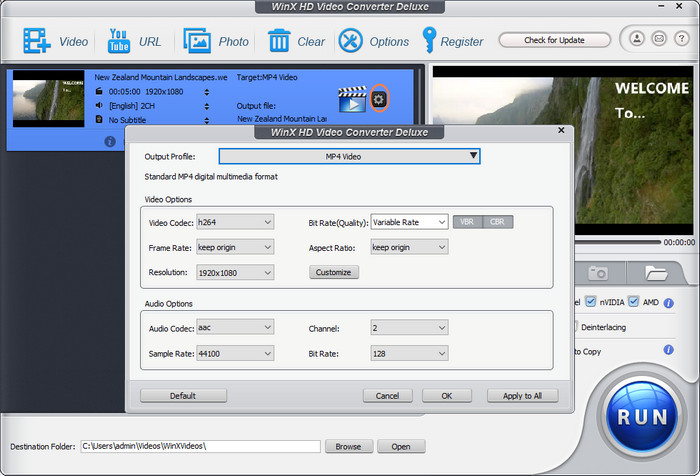 Step 4. Give the last hit to RUN button and the hardware transcoding engine will go into action. Intel/NVIDIA/AMD hardware accelerator will be auto enabled to do the hardware decoding and re-encoding tasks on GPU to reduce CPU usage. Once finished, you can load the transcoded hi-def M2TS footages to Plex library for Direct Play or streaming to clients without Plex buffering/freezing error.