Xvid Codec Files Won't Play on Plex? Find Quick Fixes Here
Have you ever encountered Xvid playback failure on Plex? Xvid codec is hard to be recognized by Plex since it's not supported by Plex natively. Usually Xvid codec will be transcoded to H.264 on Plex Media Server automatically. Recently we've found lots of Plex and Xvid playback issues like "Plex doesn't transcode Xvid codec correctly" , "Plex Xvid video codec may be required" or "Xvid codec not allowing playback".
If you're precisely stucked with these issues, scroll down to quick fix it for playing Xvid codec files on Plex smoothly.
How to Fix Xvid Codec Not Playing on Plex Issue?
Usually, you have two ways to go: convert Xvid codec files to H.264 for Plex, or tweak the Plex settings activate Xvid codec for Plex. Let's go into details.
Solution 1: Convert Xvid Codec Files to H.264 for Plex
Xvid is an open-source MPEG-4 video codec, which can be encoded in AVI, MP4, and MKV format etc. But Xvid is not compatible with Plex natively, leading to Plex transcoding. While this process will cost you too much CPU and requires high on hardware. Thus, you may find some of your AVI, MP4, MKV files in Xvid codec not playing on Plex. For this, if you transcode Xvid to H.264 in advance, none of these problems will exist.
WinX HD Video Converter Deluxe is your good helper to convert Xvid to Plex Media Server compatible formats and codecs, such as Xvid to H.264. Besides, you can also convert a variety of video formats to MP4, AVI, FLV, MKV, HEVC, VP9 and 420+ profiles to fit with Plex and your clients. With the support of hardware acceleration and high quality engine, WinX HD Video Converter Deluxe can finsh the conversion fast with almost intact quality reserved.
How to Convert Xvid Codec Files to H.264 MP4?
Free download WinX HD Video Converter Deluxe and open it up on your computer. It's compatible with Windows 10/8/7 and mac OS 10.6 or above.
Step 1: Click Video or drag and drop to import your Xvid codec file (s).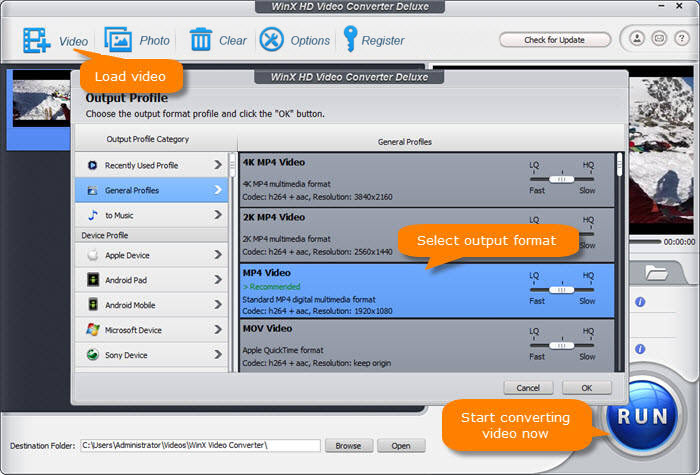 Step 2: Choose MP4 Video (h264+aac) as output format. Besides MP4, there are many other format encoded with H.264, like MOV, M4V, FLV, MKV etc. And profiles encoded with other codecs like HEVC, VP9, WM3, WM2 can also be your choice.
Step 3: Tap RUN button to start converting Xvid files to H.264 or any format that's comaptibile with Plex.
Solution 2: Tweak the Plex Settings to Activate Xvid Codec for Plex
Alternatively, you can also try to adjust Plex settings to activate Xvid codec for Plex. But this approach cannot guarantee 100% of success. Anyway, if you don't want to turn to third-party software, it's worth a try!
Step 1: Quit your Plex server and wait for 1 minute to refresh the media player.
Step 2: Restart Plex, and wait about 2 minutes to make all settings active.
Step 3: Analyze one affected and then wait 1 minute to call out the playback panel.
Step 4: Load yuor Xvid codec video from your computer again to attempt to play it.
Step 5: Wait 3 minutes and fetch log files and then attach them to the Plex forum.