[Fixed] Plex Can't Read/Play MP4 Files Error
Are you still in a love-hate relationship with Plex media player? You have to confront the reality: the highly sought-after Plex remote media streaming and video playback features you love come at the cost of varied types of Plex errors. You've just solved problems like Plex server settings unavailable issue, remote access not working, Plex subtitles not working...Unexpectedly, when you load Plex supported MP4 files to Plex media player, another issue you never thought about occurs - Plex can't read some (if not all) MP4 files. Check all the possible reasons and solutions to Plex not playing MP4 video files.
One-stop Fix to Plex Not Playing MP4 Video Files
Convert Unplayble MP4 video files to Plex supported video format such as MP4 H.264, AAC.
Repair corrupt MP4 videos and make MP4 videos playable on Plex Media Player.
Customize MP4 video audio parameters, like changing video codec, resolution, aspect ratio, trim video, add subtitles etc.
Convert video at 47x real-time faster without losing quality with the support of hardware acceleration and high-quality engine.
Part 1. Why Plex Won't Recognize and Play MP4 Videos?
Can't get why? Why some MP4 files are okay with Plex while others are declined by Plex? Check for the following possible reasons why Plex won't recognize and play MP4 video files.
Unsupported video or audio codec format. MP4 is on the paper of Plex supported formats. That being said, it's still complicated when it comes to the actual movie playback in Plex.
The MP4 video file is not named appropriately. Plex will faild to recognize the MP4 video file that is not correctly named.
Damaged or corrupt MP4 video file. It's easy to understand that damaged MP4 videos won't be recognized by Plex Media Player.
Part 2. How to Fix Plex Not Recognizing/Playing MP4 Videos
Solution 1: Upgrade or Downgrade DSM
If your Plex media server is running on Synology Nas, upgrade the DSM (DiskStation Manager) on your NAS or downgrade it to have a try.
Solution 2: Disable Direct Play and Enable Transcoding
Plex has a built-in video transcoder - Plex Universal Transcoder. Access to your Plex settings, disable Direct Play and turn on Plex transcoding to get the unplayable MP4 files automatically converted to your Plex client device best format.
Solution 3: Transcode MP4 and Adjust Parameters
Though MP4 is on the list of Plex supported formats, your MP4 file still can't be accepted by every client device because of MP4 video codec, bit rate, resolution, frame rate, audio codec, etc. Yes, you can use Plex built-in transcoder to convert MP4 video, but the transcoding speed would be snail's pace, especially simultaneously for a couple of Plex client devices. The common case is Plex buffering during transcoding for several clients at high resolution like 1080p, let alone 4K Ultra HD.
The better solution is to use an external video transcoder - WinX HD Video Converter Deluxe. With Level-3 GPU (Intel QSV/Nvidia/AMD) hardware acceleration tech, this tool enables you to bulk transcode MP4 files to Plex best settings (MP4 MPEG4/H264 or HEVC codec, 1920×1080, 20Mbps, 30FPS, audio codec AAC, AC3 or EAC3) at GPU hardware accelerated speed without subscription fee. It can also compress 4K to 1080p/720p, lower 60FPS to 30FPS, adjust bit rate, change audio codec, convert any video to MP4, MKV, AVI, MOV, WMV, iPhone, iPad, Android, Microsoft devices, Xbox, PS5/4, etc. for movies/TV shows playback on any Plex client device without repeated transcoding, CPU overuse, Plex buffering errors.
How to transcode video to Plex supported format?
Step 1. Launch this Plex video transcoder after downloading. Click + Video button to load MP4 files.
Step 2. On Output Profile panel, choose a format that Plex supports, such as MP4, MOV, MKV... profile under General Profiles. Alternatively, you can choose a profile based on which client device you are using. WinX has optimized profiles for iPhone, iPad, PS5, Xbox One, etc.
Step 3. Click the setting button to specify resolution, bit rate, frame rate, audio codec, etc.
Note: though some MP4 video codecs are on paper, they might have produced faulty behaviour during development or testing and were subsequently disabled). You can manually change the video codecs based on your Plex client device, or just choose preset profiles for devices like iPhone iPad, Android Samsung, Huawei, Sony, Surface Pro, Google Pixel series, game consoles with best parameter settings.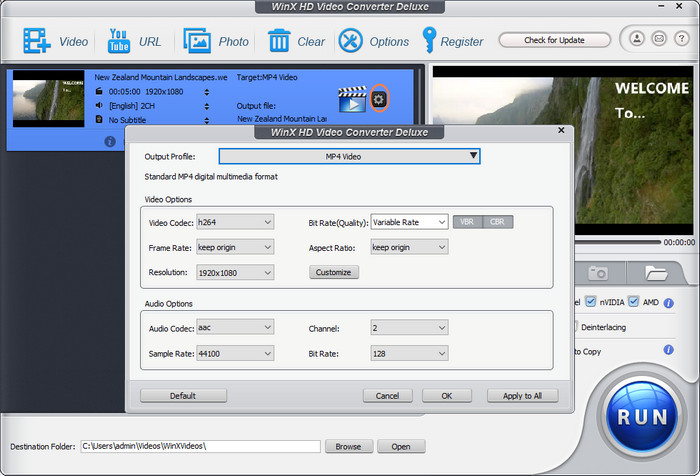 Step 4. Hit RUN to begin Plex transcoding. Intel/NVIDIA/AMD hardware accelerator is enabled by default to boost decoding and encoding speed. Once finished, you can add the new file to Plex for Direct Play on as many devices as possible without repeated transcoding.
Solution 4: Re-name Your MP4 Files
MP4 files tote metadata (name/title). Plex Media Server will read the metadata embedded in the MP4 and override what it has from the file name. Providing confusing/bad names are living within MP4 files, they will mislead PMS or let PMS crap out in name identification. Therefore, with MP4 media files, you need to pay close attention to embedded metadata (title, name, etc). To name MP4 series, do as this naming method, e.g., The Big Bang Theory (2019) - S12E01 - title.mp4 (S12 refers to season 12; E01 means episode 1; delimiter might also be a full comma). If you have renamed in-place, perform the Plex Dance:
Copy to clipboard.
Move MP4 media to a different folder that Plex doesn't monitor.
Update Plex library and then empty trash.
Move back after bundles clean is finished.
Update libraries and scan again. PMS will see and pick up your MP4 files once the names are correct.
If renaming is complex to you, try this tool to help you - FileBot.
One article can't cover all the effective solutions. If you have better workarounds, you're warmly welcomed to contact us and share with us. We'd like to update this article with your precious ideas.
Part 3. FAQs about Plex Not Playing MP4 Video Files
Can Plex play MP4 files?
Plex support MP4 container formats. However, MP4 is a wrapper that can contain various video and audio codec formats that Plex Media Player may fail to support. If your MP4 video bit rate or frame rate is not supported by Plex, it won't play properly either.
How do I import MP4 video to Plex?
To add and import MP4 video to Plex, click the add icon at the Plex home page, choose the MP4 video in the Add Library window, choose the language your want and click Next, click Add Library, choose the MP4 video file your want to add and import to Plex. For more details, please refer to "add movies to Plex Media Server".
Is MKV or MP4 better than Plex?
Plex supports both MKV and MP4 format. It's hard to say which format is better since it depends more on the codec formats rather than on the container or wrapper format. Some users report that they prefer MP4 format because it's easier to direct play in Plex, smoother streaming, less buffering.