How to Convert MKV to WebM on Windows 10/11 and Mac
MKV is an open container format holding video tracks using various compression standards like VP9, H.264, HEVC, MPEG-2, etc. Chances are you want to upload your MKV files over the internet. In the circumstance, you'd better to convert MKV to WebM format, a media format primarily intended to use in the HTML5 video and supported by most web browsers, streaming services, and more. If you are going to transcode video from .mkv to .webm, find the most reliable solution to convert MKV to WebM with no file size limit or watermark at all, and avoid some pitfalls during video conversion. Convert Large MKV Files to WebM Safely and Fast [No File Size Limit]
If you want to convert an unlimited number of MKV files to WebM, MP4, MOV, AVI, or other file format with fast speed and high quality, choose WinX HD Video Converter Deluxe, a professional yet ad-free video converter with GPU acceleration. No file size limit, ads or watermark at all.
Part 1. Top 5 Online MKV to WebM Converters
So you just google "convert MKV to WebM" and you will be presented with many online video converters. Here are the top 5 online sites to convert MKV to WebM without downloading external software at all.
1. Cloudconvert.com
Cloudconvert provides an easy process of converting file formats on the fly. It supports many video format including MKV, WebM, AVI, MP4 and more and gives you full control over video resolution, quality and size. On top of that, it takes you straight to the MKV to WebM converting process without wading through intrusive ads./p>
2. Freeconvert.com
Freeconvert is a superb online converter that undertakes MKV to WebM conversion tasks for free and promises a high quality output. It also allows you to add MKV files from direct URLs or cloud services like Google Drive and Dropbox. You can even adjust video bitrate, resolution, and many other settings to tailor the WebM video quality.
3. Convertio.com
Convertio works in the cloud and therefore offloads your computer resources for better MKV to WebM conversion. You can convert multiple MKV files simultaneously, saving you a ton of time. The availability of add-on is icing on the cake, simplifying the process of converting MKV to WebM on Chrome browser to a great extent.
4. Media.io
Media.io is a superb online video converter that supports over 1000+ formats, including MP4, MOV, MKV, WebM, MP3, AVI, SVG, and so forth. And two concurrent conversions can be processed at a time. Besides downloading the converted files locally, you can also save them to Dropbox.
5. Anyconv.com
AnyConv is your go-to online service that has a Dutch interface. It is totally free and there is not even a paid version. It supports almost any video format you throw at it, including MKV and WebM. You can also convert the file formats of fonts, cad files and mesh files.
Part 2. 3 Pitfalls of Online MKV to WebM Converters
All the above mentioned websites promise an easy MKV to WebM converting process – without needing to install any software on your computer, just upload your MKV file, press Convert, and you will get your converted file in .webm. But before going with the online solution, there are some pitfalls you need to be aware of.
1. It might be unsafe and contain ads.
Online MKV to WebM converters ask you to upload your MKV files onto the server and then download the converted WebM file locally or in the cloud. This, however, carries a high risk of downloading viruses and Trojans along with the WebM file. This is especially true if their monetization methods aren't transparent, and you'd better steer clear of the online video converter and find desktop software for MKV to WebM conversion.
Besides, most online video converters, including the MKV to WebM converters, are brimmed with intrusive ads, leaving you open to the possibility of being redirected to other suspicious websites.
2. It don't support large file sizes.
Most MKV files are large and pose compression difficulties during video conversion. Online MKV to WebM converters generally exert file size limit, generally 50-100mb, on the input MKV for uploading. They are not always equipped to handle those large HD 4k file, let alone the 4K 60fps MKV content.
Besides, there are some other principles you have to adhere to when changing video format from MKV to WebM, such as the number of MKV files you can convert or the number of MKV to WebM conversion minutes you can convert per day.
3. The output quality is relatively low.
For the purpose of fast video conversion from MKV file to WebM, online service comes at the expense of quality. Mostly the output file is not of very high quality, with a resolution of 720p at most. Some other online video converters also ask for upgrading to its premium version to unlock the 4k resolution output. Some even watermark the output WebM file, making it totally unwatchable.
Part 3. Resort to Desktop MKV to WebM Converter to Avoid Risks
Online MKV to WebM Converters seem like a convenient solution if you have small MKV files and don't want to download anything. However, for the concern of safety, cleanness, feasible MKV to WebM converting, you'd download an industry-standard software like WinX HD Video Converter Deluxe to handle your video conversion task.
WinX HD Video Converter Deluxe is a market leading video converter software that features a complete video convert, compress and edit suite. With 370+ codecs and 420+ output profiles, you can feel free to convert MKV to WebM, MP4, HEVC, and more, reduce large MKV file by 90% with virtually no quality loss, and cut, crop, merge video files with ease, and therefore make a WebM with sound. On top of that, it is 100% clean and there is no file size limit, watermark at all. You can download it and have a try.
How to Convert MKV to WebM on Windows 10/11 and Mac?
Step 1. Add MKV files.
After launching this MKV to WebM video converter on your Windows 10/11 or macOS, Click +Video button to load MKV file. Or you can directly drag and drop your MKV file into the program. It supports adding multiple MKV files at a time.
Step 2. Choose WebM profile as output format.
After the program read the file, a profile window automatically pops up, where you can choose the output format webm as per your needs. Just go to the PC General Video > WEBM Video > click OK.
Step 3. Edit WebM files (optional).
You can skip the webm video editing process if you are not interested in the section. If you do want make some edits, click the Edit button and activate the edit window, where you can trim and crop video file, pick or add subtitle track, and more.
Step 4. Begin converting MKV to WebM.
Now you can click Browse button to set an output directory for the WebM file. Click RUN button at the bottom of the window to start to convert MKV file to WebM. Just leave the program to do the conversion.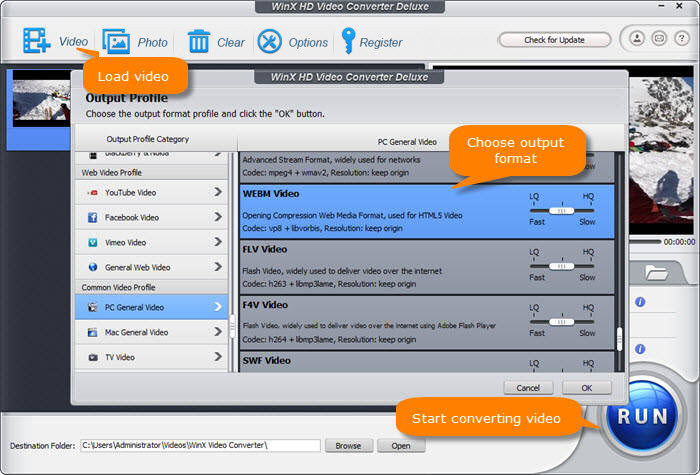 Part 4. External Knowledge: MKV vs WebM, what's the difference?
MKV is a free and open-source container format storing an unlimited number of video, audio and subtitle tracks in a single file. Therefore, MKV video can uses a diversified video/audio codecs, from VP9, HEVC, MPEG-2. Most movies, TV shows, blu-ray or DVD rips are saved in MKV format.
While WebM is based on a profile of Matroska, primarily to use in HTML5 video and audio elements and support VP8, VP9, and AV1 video streams. Most web browsers like Chrome and streaming services like Netflix, YouTube supports WebM format.