Best 6 60FPS Video Converter Change Video Frame Rate from/to 60FPS
While we might understand the benefit that a 30fps video upscale to 60fps, the dramatic improvement of fluent motion in picture. But we have different prefers & needs for different situation. In some situation, we will need to change video frame rate to make sure it playable on certain device. Then here comes the issue: how to convert 30fps to 60fps or vice versa? In this article, we'll show you top 6 60fps converter to change video frame rate.
Part 1. Why You Need Convert Video Frame Rate Between 60FPS and 30FPS
Better frame rates always accompany with smoother motion presents. End up the result of better visual appearance. For that, we want to convert 30 fps to 60 fps.
A 60fps video with high resolution will take more of your computer storage to save when compares to a 30fps video. Also, a 30fps video will present a good cinematic feeling. In that case, we will want to convert 60 fps to 30 fps.
A rational strategy is, for quality enhancement purposes, to increase the frame from 30fps to 60fps will be the right option. We would like to downscale the video from 60fps to 30fps when some of the 60fps videos are not playable. What You May Also Interest: 30FPS vs 60FPS, Why They Matter?
Part 2. Top 6 60FPS Video Converters to Convert Video to 4K/HD 60FPS
To change the frame rate of your video, you need a video converter that is available to convert video frame rate up to 60FPS. Here we'd like to introduce top 6 60fps video converters to change 60fps to 30fps or upscale 24fps/30fps to 60fps.
1. WinX HD Video Converter Deluxe
WinX HD Video Converter Deluxe support a fully modification of the framerate by simple clicks. A 60fps videos conversion could be done by 1 click as you prefer. Also, it allows users to reduce the framerate to make your video playable on different devices & specifications.
This FPS changer also supports detailed video optimization: video codec, aspect ratio, resolution could be modified. Perfectly fit any need of different situation. From all matters and perspectives, it could offer a performed solution to your frame issue!
How to Change 30FPS to 60FPS with WinX HD Video Converter Deluxe
Step 1. Free download the frame rate video converter, install and open it on your computer. Drag and drop to load your video in 30fps.
Step 2. From the automatically popped up window, choose an output format for your video. You can convert your video to a more compatible format such as MP4, or continue the original format as you prefer.
Step 3. Click on the Settings button to enter the parameters adjustment panel. Click on the inverted triangle beside the Frame Rate to open the drop-down list, then choose 60FPS. When you're done, click the OK button to make the changes valid.
Step 4. Click the Browse button to specify the output folder path. Then tap the RUN button to convert 30FPS to 60FPS immediately.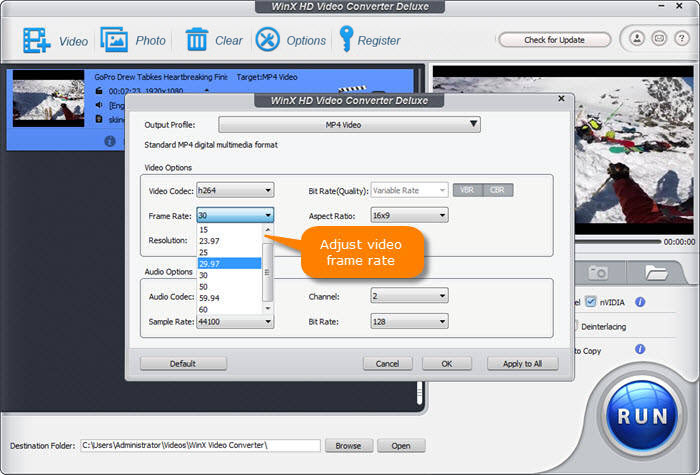 2. Beecut Converter
BeeCut, an easy video editing software, offers a lot of features like editing, trimming a video, adding effects, background music and also acts as a converter. It's able to export your video to device-friendly formats as well as frame rate, aspect ratio etc. to best fit with your screens. Hence, this tool can be used as a 60 FPS video converter to alter the video frame rate.
How to Convert to 60FPS with Beecut
Step 1. Free download the program and follow the instruction to install it on your computer.
Step 2. Open it up and click on Import File button from the drop-down list of Import icon.
Step 3. Click on the output settings and choose 60 for the frame rate.
Step 4. Click on the export button located at the bottom part of the tool to convert. When the conversion is completed, save the file just click on the Open the file location option.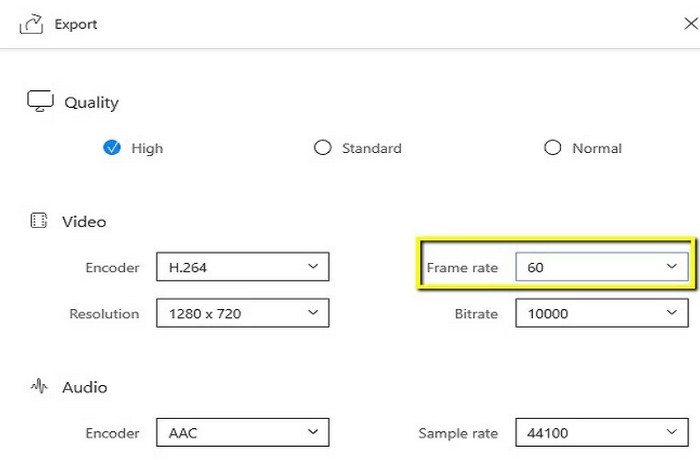 3. SmoothVideo Project
SmoothVideo Project (SVP) is able to convert any video to 60FPS and even higher. Even, it can perform this frame rate changing in real time right in your favorite video player. SVP uses the same frame interpolation technique as available in high-end TVs and projectors. Newest NVIDIA DLSS3 is another example of this technology. It increases the frame rate by generating intermediate frames between existing ones in order to produce very smooth, fluid and clear motion. Different from traditional 60FPS video converter, it offers a relatively complicated processing for video conversion.
How to Re-encode Video to High Frame Rate with SVPcode
Step 1. Free download the installation pack and add SVPcode by selecting it during the installation of SVP, or install it using the Maintain SVP 4 application. After that, the Transcoding sub-menu is displayed in the SVP Main menu.
Step 2. Click the Browse for a video file to transcode... button and choose one or several video file(s). 
Step 3. Choose a video profile for a frame rate conversion
Step 4. Set video compression options via either Basic or Advanced section.
Basic settings give a choice between H.264 or H.265 codec and software (x264/x265) or hardware encoders. You can set compression quality in terms of "CRF" or bitrate values.
With Advanced settings you can set any encoder supported by ffmpeg and define a set of encoder-specific options.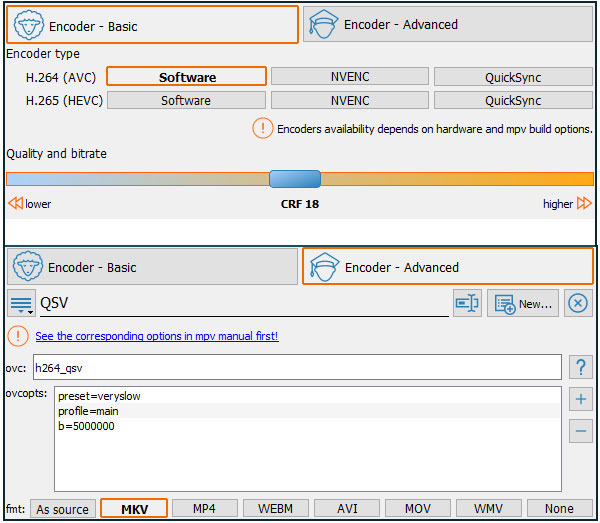 Step 5. Press Start to start a video conversion process.
4. Wondershare Uniconverter
Wondershare Uniconverter is another tool you can use to convert video frame rate up to 60FPS. Besides, being a superb 60 FPS converter, it allows users to convert any video to MP4, MOV, MKV, FLV and all mainstream videos formats. You can also tweak your video parameters including frame rate from 60FPS to 30FPS, resolution, bit rate, and more freely before the conversion.
How to Change Video Frame Rate from 30FPS to 60FPS with Wondershare Uniconverter
Step 1. Free download Wondershare, install and open it. Click on Converter option on the main interface.
Step 2. Drag and drop your video into the program.
Step 3. Click on the Settings button which leads you to parameters adjustment panel.
Step 4. Drop down the frame rate and choose 60FPS or any frame rate you prefer. Click the Save button when you're done.
Step 5. Tap the Convert button to start converting 24FPS/30FPS to 60FPS.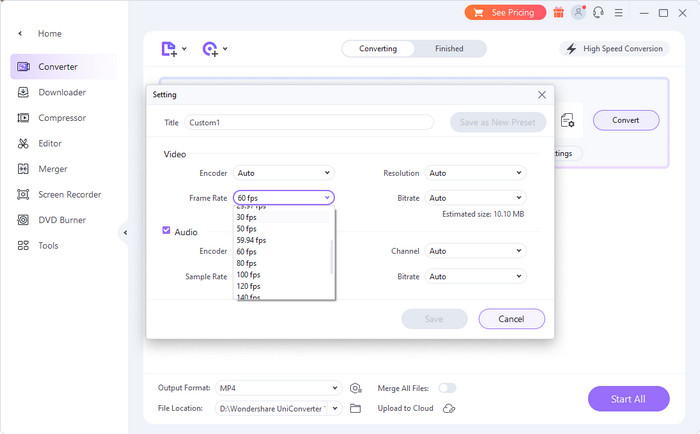 5. Veed.io
Veed.io is also a popular choice for changing video frame rate. Being an online video converter, it doesn't require any installations on the computer, making users able to convert a video to 60FPS through their browsers. Obviously, it's easy and convenient. But at the same time, Veed.io also has limit for video file size and it depends more on the network.
How to Convert Video Frame Rate Online with Veed.io
Step 1. Navigate to Veed Frame Rate video converter page. Click on the Upload a File to load your source video.
Step 2. Click on the Export'button on the top-right of the editor. Click on the Advanced option.
Step 3. On the Advanced Settings menu, you will see a "framerate limit" tool. Drag the button to the left or right to adjust frame rate. The frame rate limit is 60fps, which is situated to the right end of the button.
Step 4. Click the blue Export Video button, and your video will render in seconds.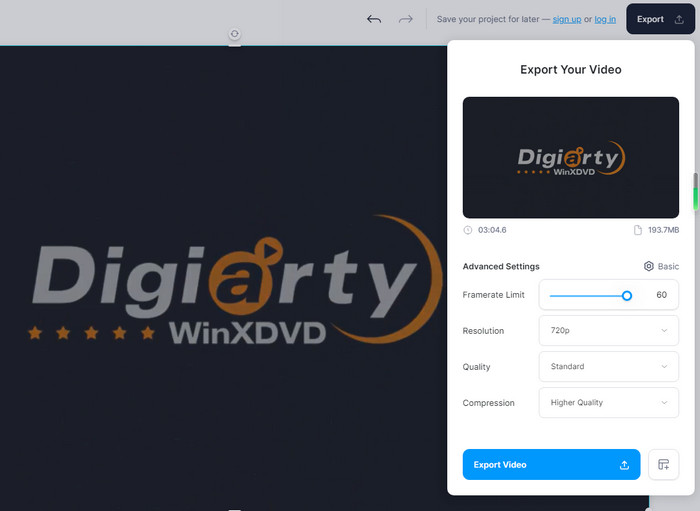 6. AI Video FPS Converter Powered by Neural Love
With the popularity of AI, an increasing number of FPS converters add the support of AI, such as Neural Love AI Video FPS Converter. By using it, you can change the frame rate of your video without leaving your browser, such as 30fps to 60fps or even 60fps to 120fps. Just choose any of the popular frame rates including 25fps, 30fps, 60fps, and 120fps using this online FPS converter, it will render video with the most advanced frame interpolation AI.
How to Convert 60fps to 120fps Online Using AI Video FPS Converter
Step 1. Open the AI Video FPS Converter page.
Step 2. Drag and drop your video to the letter box or click on the "Upload Video" button to browse and upload your video.
Step 3. Troggle on the Change framerate to 120FPS (or 60FPS, it depends on what framerate you've uploaded.) Then click on the Render Preview for a sneak peak. Or you can skip this action, directly Process Video. It's worth noting that credits are required for both Render Preview and Process Video.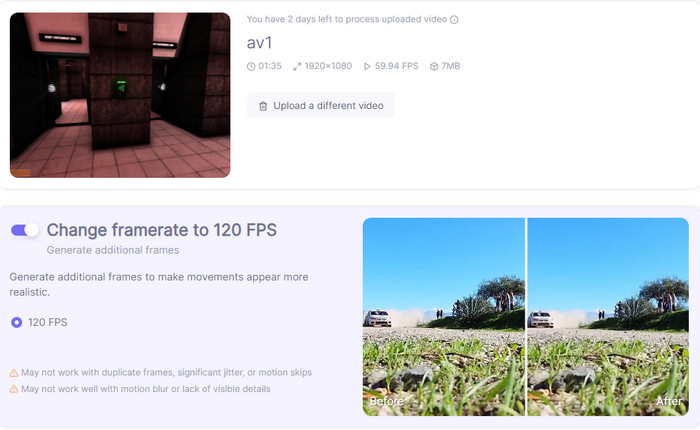 To the Conclusion
A 24-30fps video would be perfect for movie and exhibits the best "movie textures" for you. A 60fps could be a perfect display of motional picture quality, like sports games & video games. If you need to speed up 60fps video conversion, the WinX HD Video Converter Deluxe is one of the decent options that offers a decent, good assistance for framerate adjusting.
Part 3. FAQs
1. Can VLC play 60fps?
VLC does support to play 4K/HD 60fps videos. But owing to the underpowered hardware, 4K 60FPS choppy or stuttering may happen to some user.
2. Are 4K movies 60fps?
DVD and Blu-ray rendered at 24 fps. Blu-ray 4K UHD rendered at 60 fps.
3. Why do movies look weird in 60FPS?
That's because 24 frames don't fit evenly into those 60 fields. With 30p content, the frames can be interlaced to create a 60i stream or displayed twice each to achieve the 60-fields-per-second rate.
4. How do I convert my iPhone video to 60fps?
If you've recorded your video in 30fps using iPhone, you need a 60fps video converter to increase 30fps to 60fps. iMovie is a nice option. Open the Settings app, tap iMovie, then select "Enable 60 fps export. Choose the movie or trailer in the Projects view that you want to share. Tap the Share button. Tap Save Video.
5. How much video size per minute is 60fps?
The 4K/60FPS video bitrate is approximately 100Mbps. Shooting one minute of 4K 60FPS video consumes 750MB of memory. And 1080p/60FPS video bitrate is 45Mbps or so, which will takes up 338MB of memory in one minute.