Posted by Donna Peng - Contact Author

DVD Player Not/Slow Loading Discs Problem Solved

If you are searching for an easy solution, click here: The solution most recommended by us [85%]
-- I was playing a DVD and the player just paused and would not restart the DVD. I tried cleaning the player but the DVD player just says loading but nothing happens.  
-- Samsung P231 DVD player accepts the disc and the door closes but the indicator window shows loading and will not start playing.
-- My Sony DVD player takes so long to load a disc. I put in a DVD and it takes sometimes 10 minutes to play anything. During that time, the screen will read as loading. And sometimes it will say Cannot Play This Disc.
No matter you're watching DVD on Philips, Sylvania, Toshiba, Samsung, Sony, or car portable DVD players, DVD player loading problems creep up sometimes. The DVD player may take long time to load a disc, or the DVD player stuck on loading, both without giving any clue. But we can fix the loading problems. Check below for why and how to fix it.
Related error: DVD player won't read a disc >>
Possible Reasons & Fixes to DVD Player Loading Problem
▪ Make sure you have heard the spindle motor spinning the disk. If it's spinning faster or slower, try another disc. If the DVD player is not loading all discs, then there could be dirty or bad lens and mainboard of the DVD player. You will need to first clean the DVD player with proper cotton and solution. If that doesn't work either, consider sending the DVD player for repair or replacement.
▪ If a car portable DVD player is not loading discs, check the tin ribbon wire that connect the optic lens and the main board. Replace the cables and restart if necessary.
▪ Try another disc, if dvd player stuck on loading problem doesn't happen with another disc, check if the problematic disc is dirty or scratched. If the DVD is scratched and won't load, there are many fixes: remove the scratches using toothpaste, peanut butter, Vaseline or copy the scratched DVD into video files.
▪ Check if the DVD is region coded, otherwise strictly protected or improperly burned by users. Normal DVD players (except region-free DVD players) won't play foreign DVDs and therefore, it may cause DVD player not loading disc problems. To fix the error, bypass the DVD region codes with special tools.
Related: Troubleshooting steps to fix DVD not playing on PC, TV, and Xbox >>
Once-and-for-all Solution to DVD Player Loading Problem Convert protected DVDs to digital files and load to DVD players. Easy & fast
To convert ANY DVD for Samsung/Sony DVD players, try - WinX DVD Ripper Platinum
Convert DVDs to MOV, WMV, WMA and MPEG-4, etc. for playback on DVD player via USB.
Convert DVDs protected by region codes, Disney X-Project, CSS, latest schemes, and support scratched/damaged DVDs, 99-titles, workout/exercise discs, etc.
It offers 5x faster ripping speed, 98%~100% output quality, and compressed file size.
Users can convert a disc via 3 clicks: load DVD -> select output -> start ripping.

Download WinX DVD Ripper Platinum for Windows

to convert DVD for player on PC

Download WinX DVD Ripper for Mac

to convert DVD for player on Mac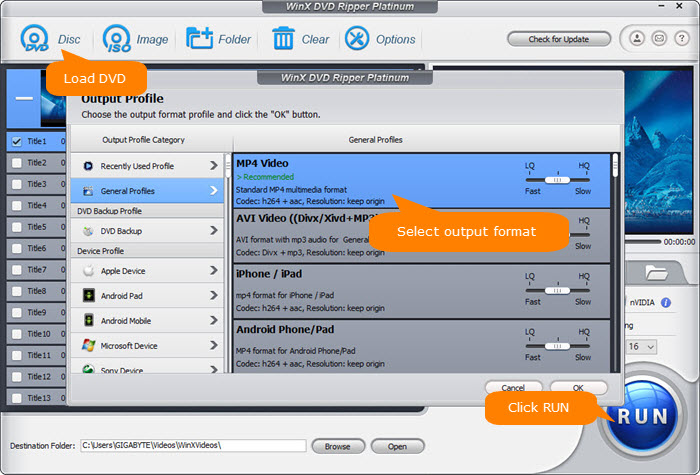 Disclaimer: Digiarty Software does not advocate ripping commercial DVDs for any illegal purpose. You're suggested to refer to the DVD copyright laws in your country before doing so.