How Large a Video Can You Upload in WhatsApp? | Whatsapp Video Size Limit 2023
WhatsApp, this instant messaging and social media service, hold its place among thousands of messenger apps across platforms. It offers a simple and secure (end-to-end encryption) way to send messages, give calls, and share photos/videos/documents for free via internet connection. Now, it has over 1 billion monthly active users.
Regular users enjoy the convenience Whatsapp brings while some beginners are exploring how to make the best use of this messenger and what limitations it has. One of the most frequently asked question is: "What is the maximum video file size I can upload in WhatsApp?" Here, we will mainly discuss WhatsApp video size limit and give tips of how to send large video in WhasApp?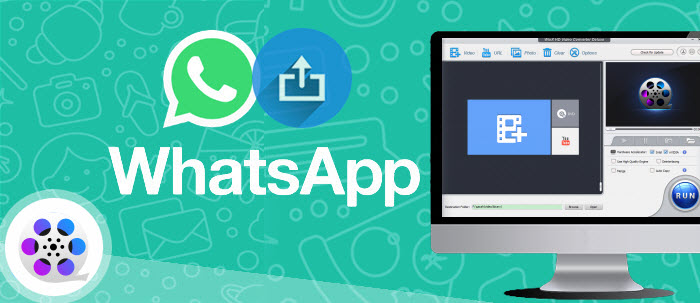 If you plan to back up WhatsApp photos/videos to computer…WinX MediaTrans is a good helper!
Fast export WhatsApp photos/videos from iPhone to computer.
Selectively export single, some or all items.
No data loss and no iTunes needed.
Available for all iPhone models running on iOS 7.0 or later.
Table of Content
Part 1: What Is WhatsApp Video Size Limit in 2023
To make sure messages can be sent to the contact instantly, WhatsApp assigns a limit on size for all media including photos, videos and voice notes. 16MB is the maximum size for users to send or forward a video in WhatsApp on all platforms (iPhone, Android, Windows Phone, PC/Mac and WhatsApp Web). Now, Whatsapp increases the file size limit shared on the instant messaging app to 2GB.
So, how long a video can be uploaded in WhatsApp? Although WhatsApp officially announced that the length of 90 seconds to 3 minutes is allowed on most phones, you may be required sending a much shorter video in HD. For example, a 16-second of 720p at 30fps video recorded by iPhone 7 will be approximately 16MB. On the other side, the upload and download process takes much longer when it comes to large video file though the file size limit jumps to 2GB.
Due to those limitations, you often need to compress your video for WhatsApp and also convert your video to file format supported by WhatsApp.
Part 2: How to Send Large Videos Faster on WhatsApp via Compression
#1 Cut/Trim Video on iPhone
Videos recorded by WhatsApp will be auto-downloaded to Photos app on iPhone by default. And, the built-in video trimming tool in Photos enables you to cut the file for meeting WhatsApp video size limit.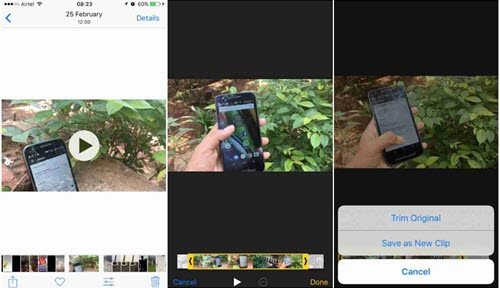 Open Photos on iPhone and tap the video you want to upload in WhatsApp.
Tap the third hamburger-link menu on the bottom of the screen.
Activate the trimming tool by tapping the left or right side of the timeline.
Drag the left or right anchor to adjust start/end time.
Tap Done > Save as New Clip or Trim Original to replace the original clip.
#2 Reduce Video File Size on Android
On Android, videos can be quickly trimmed in WhatsApp with the embedded video cutter.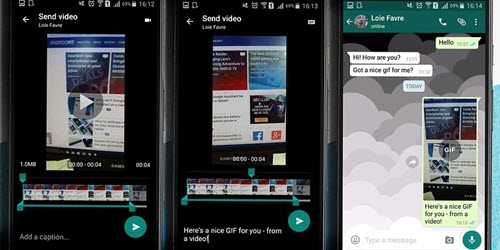 Open a chat in WhatsApp with any contact.
Tap attachment icon and select Gallery to pick the video you want to reduce size for WhatsApp uploading. Also, you can record a new video using WhatsApp.
After selecting or recording a video, the cutter appears. Drag the two blue sliders to trim.
Note: WhatsApp has set a default video size for trimming. You can't cut parts off the video larger than original setting.
Tap Send and the video will be automatically cut before sending.
#3 Shrink Video on PC/Mac or for WhatsApp Web
To shrink a video to fit for WhatsApp video size limit for uploading on PC/Mac or WhatsApp Web, get help from video compression software.
Free Video Converter is a free and easy-to-use video compressor and editor. This free video size reducer empowers you to crop unwanted parts on images of a video, cut segment off a video and adjust parameters (bit rate, frame rate, aspect ratio, resolution etc.) in order to reduce video file size. Primarily designed as video converter, it can convert an incompatible video (MKV, MTS, HEVC etc.) to WhatsApp supported format for successful uploading.
Follow the steps to convert and shrink video for uploading to WhatsApp.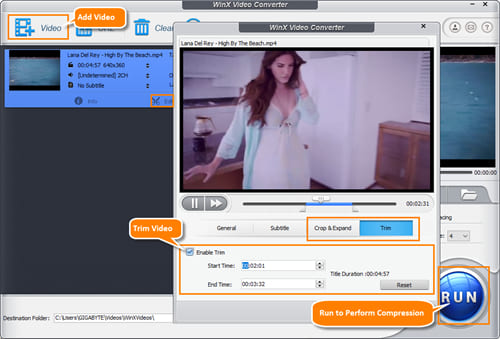 Open WinX Video Converter. Click +Video button to add a video.
Select a format (for example MP4) as output format and click OK.
Click Edit button to access to editing window.
Click Crop & Expand tab and check Enable Crop to crop video. Click Apply to All.
Click Trim tab and check Enable Trim to cut desired parts off the video. Click Apply to All.
Click Browse button to set destination folder and click Run button to shrink the video.
Part 3: How to Send Large Videos via Cloud Services
Sometimes, we'd rather keep a whole video than cut it for sending. Because of WhatsApp video size limit, we should take advantage of cloud services (Dropbox, Google Drive, OneDrive etc.) to share the video in form of link via WhatsApp. Next, let's learn how to share a WhatsApp video via Dropbox on iPhone.
Download and install Dropbox on iPhone.
Upload WhatsApp video downloaded to Photos App to Dropbox.
Find the video in the file list view and tap downward arrow > Share.
After "Who Has Access" appears, select Create a link. Then, you will be asked to select a way to share the link. Tap Copy Link from the list.
Set up a conversation with your friend or family member in WhatsApp. Send the copied link.
>> Click here to learn how to share a link via Dropbox on other platforms…
All-in-one iOS File Backup and Manager Software
Selectively copy photos and videos shot by inbuilt camera or 3-rd party apps (like WhatsApp) from iPhone to PC/Mac.
Sync music, ringtones, e-books, Voice Memos, iTunes purchases between iPhone/iPad/iPod Touch and Computer with ease.
Manage songs by editing music metadata, creating/removing playlist, adding songs to playlist and making ringtones from songs .
Delete music, videos, e-books, ringtones, podcast, Voice Memos etc, from iPhone, iPad, iPod Touch permanently.
100% Clean and Safe. No Data loss. Support devices running on iOS 7.0 or later.