Free Download Best WhatsApp Video Converter Windows/Mac
According to some statistics based on monthly active users in recent years, there are 2 billion Whatsapp users around the globe. 53 percent of WhatsApp users in the US use the app at least once a day. And 100 billion messages are sent via WhatsApp every day including instant videos. While not all videos can be sent by Whatsapp. The video may not match the Whatapp supported formats, or it simply exceed the Whatsapp video size limit. No matter what the case it, you do need a Whatapp video converter to decode and encode your videos.
In this article, you'll find the best Whatsapp video converter to convert or compress videos, and also be guided with simple steps for converting videos for Whatsapp sharing.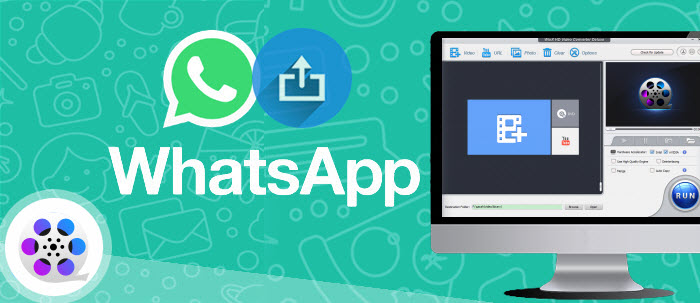 Table of Contents:
Part 1: Why Do You Need A Whatsapp Video Converter?
Q - "I downloaded a video from YouTube in MP4 format and transferred it to my Windows 10 Phone using bluetooth. I am able to play this file on my mobile. When I try to send this file to any WhatsApp user, I get error message: Can't send this media. Choose another one. File size is around 5MB yet I am unable to send that file. What could be the reason?"
Obviously, it's a matter of video format/codec. WhatsApp only accepts videos that comply with the format of its compression standards, and within the range of file sizes it allows. Here are the videos that can be send by WhatsApp:
MP4, AVI, MKV, MOV, FLV, 3GP video files encoded in MPEG-4 or H.264 video codecs, and AAC audio codec.
The video size that doesn't exceed 16 MB.
If your video doesn't meet that criteria, you do need make it compatible with WhatsApp and even reduce video file size for WhatsApp. Given that, a Whatsapp video converter is highly in demand.
Part 2: Get the Best Whatsapp Video Converter to Convert & Compress Any Video for WhatsApp
WinX HD Video Converter Deluxe is the best way to convert and compress videos for WhatsApp. The freeware supports all kinds of video formats and converts SD, HD, UHD videos to MP4, MP4 (4K), AVI, MKV, HEVC (H.265), FLV, AVCHD, MP3, etc for playing or sharing on WhatsApp. Also, it reduces large HD or 4K video file size with vivid images/hi-fi audio of output files reserved.
Part 3: How to Convert & Compress Video for WhatsApp
You know, WhatsApp supports sending videos in .mp4, .3gp, .mkv, .mov, .avi, .flv, etc. But for a safe belt, you're suggested to convert your video to MP4 format (H.264 video codec and AAC audio codec), and reduce large video file size if necessary. Here are the easy steps:
Step 1: Free download Whatsapp video converter
Step 2: Choose an output video format
Open the software, and hit "+ Video" to load your source file.
In the Output Profile panel, click "General Profiles", and then choose MP4 with codec h264 and aac.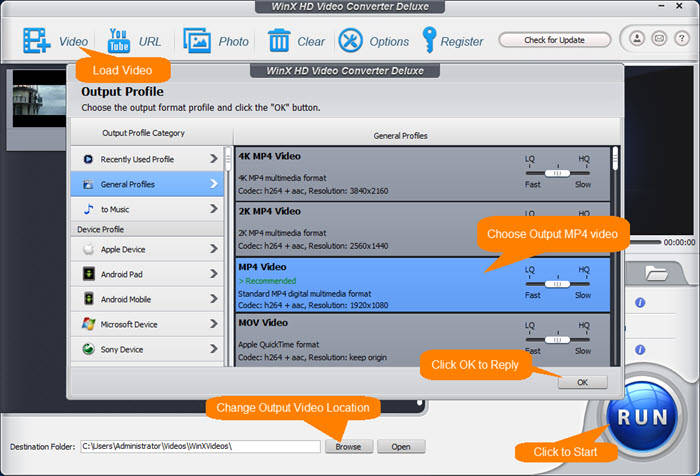 Step 3: Set WhatsApp video parameters to compress video if necessary.
For those videos that are definitely exceed 16MB, compressing MP4 file size is a necessity. Luckily, you have ways to resize the video with WinX HD Video Converter Deluxe.
Click "Settings" button to adjust video parameters such as compress 4K to 1080p / 1080p to 720p, change 60fps to 30fps, etc.
Click "Edit" button and "Trim" column to cut the video length or "Crop & Expand" column to crop the video frame size.
Step 4: Convert video to WhatsApp
Click "Browse" button to specify Output folder to save the file.
Press button "RUN" to start converting video to Whatsapp supported formats.
Watch Video Tutorial: How to Convert Video with WinX HD Video Converter Deluxe
Part 4: FAQs about Converting Video for WhatsApp
1. How to Convert Videos to Whatsapp Formats Free Online
There are many online web service converter that allows you to convert videos for Whatsapp free with limited file size (most max 200MB). Here we take a top-ranked online tool, ONLINE-CONVERTER, as an example.
Go to online-converter whatsapp page, https://webservice.online-convert.com/convert-for-whatsapp.
Click the Choose Files button to identify a video from your device, Dropbox, or Google Drive to load.
Select a Preset, Whatsapp 1024x576, Whatsapp 1280x720, Whatsapp 480x270, Whatsapp or 640x360.
Click the Start conversion to begin to convert videos to Whatsapp online free.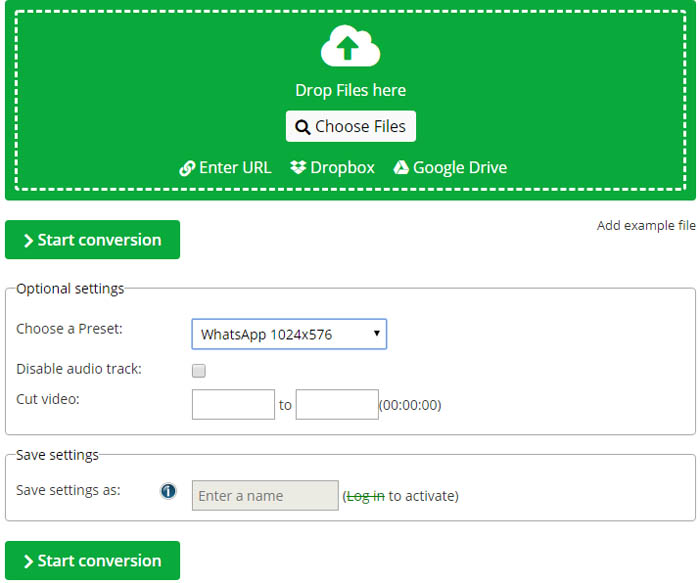 2. How to convert YouTube videos to WhatsApp?
Actually, you're recommended to send YouTube video to WhatsApp directly instead of converting YouTube videos to Whatsapp. It can be super easy. Just open the video on YouTube and then click on the "Share" button. Now you'll see several options, choose "WhatsApp" and select a contact to send the video.
3. How to Send Videos on WhatsApp Without Compressing
WhatsApp doesn't apply any compression to the videos when you send them as a document. Though this way is usually used to transfer files mainly like PDFs and DOCs, you can also send other media through this option.
Open WhatsApp on your phone and select the chat where you want to send video.
Tap the attach button (paperclip icon) and then click the Document.
Click the "Browse other docs" option.
find the video you want to send without losing the original quality.
Tap "Send" button to confirm and send the video to your recipient.