Free Download Best Whatsapp Video Converter Windows/Mac
Free get a Whatsapp video converter to decode videos to Whatsapp supported file formats
According to some statistics based on monthly active users in recent years, Whatsapp is the most popular mobile messaging app around the whole world. As of February 12, 2020, there have been over 2 billion Whatsapp users. Being a free messaging app compatible with nearly all common platforms, such as iOS, Android, Windows, and Mac, Whatsapp mainly allows user to send and receive messages, calls, photos, videos, etc. It is said that a minute voice call only uses 212KB when low data usage mode is turned on.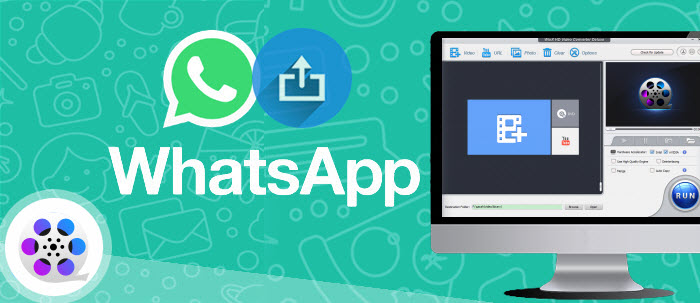 It will cost you about 3 mins to read through the article. You can skip to:
Why Do You Need A Whatsapp Video Converter?
Q - "I downloaded a video from YouTube in MP4 format and transferred it to my Windows 10 Phone using bluetooth. I am able to play this file on my mobile. When I try to send this file to any WhatsApp user, I get error message: Can't send this media. Choose another one. File size is around 5MB yet I am unable to send that file. What could be the reason?"
Obviously, Whatsapp supports sharing video online. But there is a great possibility that you would need a Whatsapp video converter, for so many users have run into troubles when sending media files just because of compatibility issues.
The best solution comes to convert video to Whatsapp supported file formats and compress video for Whatsapp. Owing to the video length, file size and resolution reasons, Whatsapp only allows you to send or share videos within about 90 seconds to 3 minutes. Or rather, the video file size is limited to 16 MB. So another possible solution is to trim the video clips to be shorter, resize video or change resolution, helped by Whatsapp video converting software.
Best Whatsapp Video Converting and Editing Softwawre
WinX HD Video Converter Deluxe - is the first-class video transcoder in the market
Being as expert in video conversion, it helps freely convert SD, HD and UDH videos in MP4, MP4 (4K), AVI, MKV, HEVC (H.265), FLV, AVCHD, MP3, etc for playing or sharing on Whatsapp, Ins, YouTube, iPhone, iPad, Android, Xbox One, and many other platforms or devices. While keeping vivid images/hi-fi audio of output files, it also allows you to do video editing: trim clips, crop video picture, change 4k to 1080p/aspect ratio/60FPS to 30FPS, merge footages, etc.
Whatsapp Video Converter User Guide - How to Use WinX HD Video Converter Deluxe
Before you start decoding a video, there is a must-do: to find out what video formats are supported by Whatsapp. Simply search online and you will see that some people say Whatsapp supports .mp4, .3gp, .mkv, .mov, .avi, .flv, etc while some others have different test results. We have tried multiple files in commonly used video containers and formats, and one thing can be said for sure: MP4 container (H.264 video codec + AAC audio codec) is supported by Whatsapp. So what you should do is to use Whatsapp video converting software to convert video to MP4 (H.264).
How to Convert Video for WhatsApp Sharing?
Here we will give you an example of how to transcode videos for sharing on Whatsapp step by step, the process of which also works the same on Mac with the Mac version.
Step 1: Free download Whatsapp video converter
• Free download link of WinX HD Video Converter for Windows PC


• Or free get WinX HD Video Converter for Mac


• Double click the .exe or .dmg file and follow the instruction to get the Whatsapp video compressor/converter installed.
Step 2: Choose an output video format
• Open the software, and hit "+ Video" to load your source file.
• In the Output Profile panel, click "General Profiles", and then choose MP4 with codec h264 or MP4 with codec HEVC.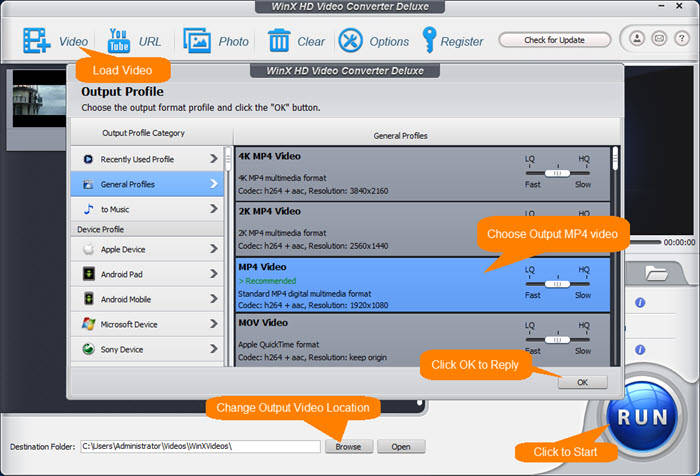 Step 3: Convert video to Whatsapp
• Click "Settings" to adjust video parameters or just specify Output folder to save the file.
• Press button "RUN" to start converting video to Whatsapp supported formats.
How to Edit Video for Whatsapp Sharing
As we said before, if Whatsapp doesn't load your video to share or send, it might also be caused by video length or resolution except for video format compatibility. With the same Whatsapp video converter software, you can simply trim/resize video and change resolution.
• Resize your MP4 video size to make the file smaller enough for being transferred.
• Change video resoluton, such as from 1080x720 to 720x480, to have a try.
• Being a video editor, you are also permitted to add subtitles, combine video clips, crop image, change bit rate, frame rate, etc.
Watch Video Tutorial: How to Convert and Edit Video with WinX HD Video Converter Deluxe
How to Convert Videos to Whatsapp Formats Free Online
There are many online web service converter that allows you to convert videos for Whatsapp free with limited file size (most max 200MB). Here we take a top-ranked online tool, ONLINE-CONVERTER, as an example.
1.Go to online-converter whatsapp page, https://webservice.online-convert.com/convert-for-whatsapp.
2.Click the Choose Files button to identify a video from your device, Dropbox, or Google Drive to load.
3.Select a Preset, Whatsapp 1024x576, Whatsapp 1280x720, Whatsapp 480x270, Whatsapp or 640x360.
4.Click the Start conversion to begin to convert videos to Whatsapp online free.