Recommended Free MP4 Compessors for Reducing MP4 File on Windows 10
WinX Free Video Converter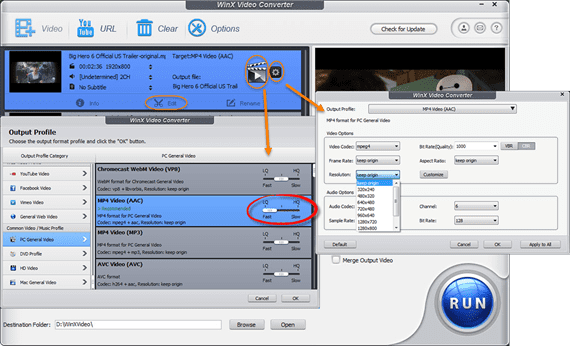 WinX Free Video Converter is 100% free and clean software to fulfill common video conversion needs, especially for those newbies who are not so skilled with software or computer. It has two versions for both Windows and Mac OS X, helping you compress MP4 in a more stable way than HandBrake, and more convenient than Windows Movie Maker. Download it first to our computer, add/drag video to it after installing by wizard, and then shrink/reduce MP4 file size as follows:
* Choose "MP4 Video (AAC/MP3)" at PC General Video or FLV/WMV etc., place the scroll bar to "LQ/Fast"; >> AAC vs MP3
* Open "Setting" window to adjust the listed video audio parameters like resolution, aspect ratio, bit rate.
* "Edit" function features well in video cropping, trimming, deleting the unwanted video content and black bars from the sides for reducing MP4 file size with no quality sacrifice at all. After that, click "RUN" button to start the MP4 down-sizing.
"I will have MP4 videos ranging in size from 3 GB to 4.5 GB and will need to compress them down to 500 MB in order to be able to load them on Vimeo. I downloaded your program last night and converted a MP4 video that was 441.6 MB in size and it was 161.5 MB after converting it. That works out to 36.57%." - feedback from WinX user
Note: The data in feedback is not generalizable to all MP4 reducing cases. Because the results vary from source MP4 videos, compressing ways, the computer properties etc.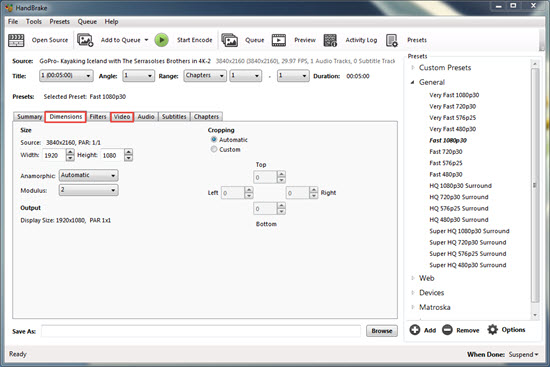 HandBrake
Handbrake is a totally free open-sourced video transcoder for you to compress MP4 on Windows, Mac and Linux. You just need to choose "High Profile" in the right drawer, and then resize the resolution or crop video under "Picture" option, set the video framerate/quality and optimize video to define the video size. Definitely the lower quality/faster converting speed you set, the smaller MP4 video size you'll get.
Note: If you want to compress MP4 to FLV or other formats or you need full pre-settings about video quality, resolution and bit rate, which will save you much time, Handbrake is not a good choice for you.
>> HandBrake Windows Tutorial
>> HandBrake Mac Tutorial
>> HandBrake Video Quality Settings
>> HandBrake Speedup Ideas/Solutions
Windows Movie Maker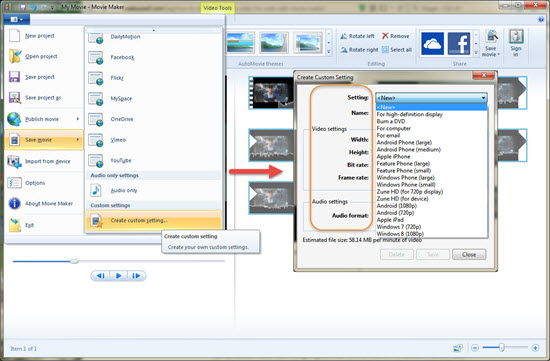 Windows Movie Maker is a free video editing tool (included in Windows Essentials) of Microsoft for Windows 7, 8 and Windows Server 2008 R2. However when you upgrade those OSs to the latest Windows 10, it will be removed, which means you have to download Movie Maker and reinstall it on Win10 again if you wanna use it. (For Mac users, iMovie is a similar way to go.)
Downsizing MP4 file size is quite easy by Windows Movie Maker: Open up it -> browse and open your source MP4 video -> Save movie to a specific device with small/resolution/only audio option or Create custom setting to fine tune the video width/height/bit rate/frame rate and audio kbps/kHz.
Also, kindly note that in Movie Maker, you have the option to save your file as a project file - a format that owns quite smaller file size, because all it contains are the file names, the list of edit points etc., no actual video, photos or music at all.
See also: Fix Movie Maker Won't Work/No Sound etc. Errors | Import DVD to Windows Movie Maker | Convert MKV M2TS to Windows Movie Maker
Still have trouble on how to reduce MP4 file size on Windows (10) PC with any one of those free MP4 compressor, just feel free to Mail Us >>