How to Convert MOD to MP4: 7 Incredibly Easy Methods That Work For All
Have you ever been trapped in a dilemma that either your media player or editing software failed to open MOD files recorded by JVC, Canon, Everio and Panasonic HD camcorders? Exactly, MOD is a tough file type that is not very compatible. That's why you need to convert MOD to MP4 sometimes. This post mainly focuses on how to convert MOD files to MP4 fast with original quality, by virtue of top-notch MOD to MP4 converters.
Part 1. Prior Knowledge of MOD and MP4
MOD video file format is used on many prevalent digital HD camcorders, such as the JVC Everio, the Canon FS100 and the Panasonic D-Snap SD-card camcorders. JVC (MOD and TOD), Panasonic (MOD only) and Canon (MOD only). MOD video can be only watched on a computer with a player that is capable of reproducing MPEG-2 video and MOD format do not allow recording progressive-scan video, which limit MOD video for online viewing and widely playback. Thus, equipping yourself with a MOD converter is necessary.
MP4 is short for MPEG-4 Part 14, also refers to MPEG-4 AVC (Advanced Video Coding). It is one of the most universal video container format used to store video, audio, subtitles and images. Thanks to its good compression and compatibility, it allows streaming over the Internet and playing on most media players and devices. >> MPEG2 vs MPEG4
Therefore, you're highly recommended with an MP4 converter to convert MOD to MP4, so as to play your recorded HD camcorder MOD videos on Windows (10/11) PC or Mac, as well as on iPhone/iPad/Android and other mobile devices with ease. Editing MOD video could also be accessible then after MOD to MP4 conversion.
Part 2. 7 MOD Converters to Convert MOD to MP4 on Windows & Mac
#1. WinX Video Converter
Supported OS: Windows 11/10/8/7 and Mac OS X 10.6 or later
Average User Rating: ★★★★★ (based on 339 votes)
WinX Video Converter is fully compatible with Windows 11/10/8.1/8/7/Vista and macOS. This professional MOD to MP4 converter software enables you to convert MOD to MP4, MPG, MPEG-2, MPEG-4, HEVC, H.264, AVI, QuickTime MOV and other widely accepted formats with zero quality loss based on the built-in High Quality engine and Deinterlacing feature. Also, your conversion will be finished at 47x real-time faster speed with WinX Video Converter under a joint result of muti-core CPU, hyper-threading and Handware acceleration.
Besides, this MOD to MP4 converter for Windows 10/11 can also convert any 8K/4K/HD/SD videos to almost any format and 420+ preset device profiles such as iPhone, iPad, Android, Apple TV, PS5, etc. Batch video conversion is also available.
How to Convert MOD to MP4 in 3 Steps with Fastest MOD to MP4 Converter
Free download, install and run WinX Video Converter on your PC (free download Mac version), and follow the 3 simple steps below to convert MOD to MP4 with ease.
Step 1. Click "+ Video" button to import the target MOD video into this MOD to MP4 converter, or just drag the MOD video file directly into the main interface.
Step 2. Select output profile: PC General Video --> MP4 Video. And click "OK".
Step 3. Click "Browse" to set a destination folder for the converted MOD video and hit "RUN" to start the MOD to MP4 conversion task.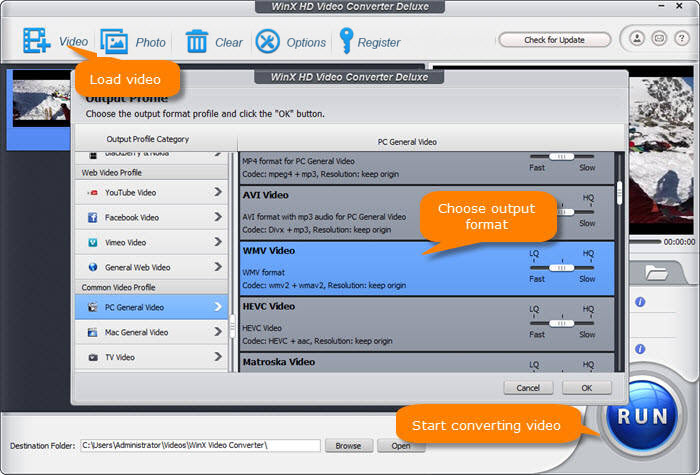 #2. VLC
Supported OS: Windows, macOS and Linux
Average User Rating: ★★★
VLC is widely known as a media player instead of a video file converter. Actually, it does convert videos on Windows, macOS, Linux and all platforms, for example, converting MOD to MP4, MKV to WebM, HEVC to H.264, TS to OGG etc. without the use of an addition plugin. Also,VLC is able to adjust various audio and video parameters like the codec, aspect ratio, frame rate, resolution, quality, chroma format, audio channels, sample rate, bitrate, and more. This way, you get to personalize the output to your needs. Video editing like trimming, subtitle can be done easily in VLC.
By the way, VLC won't play MOD video directly. Renaming .mod to .mp4 or any format that's supported by VLC in default could be the easiest way to make it playable.
How to Transcode MOD to MP4 in VLC
Step 1. Launch VLC on your computer. Then click on the "Media" > "Convert / Save". This will open a new window where you can load the source MOD video in.
Step 2. Click on the "Add" button to browse and open the mod files you want to convert. You can import multiple video files for bulk mod to mp4 conversion. Then tap the "Convert / Save" button to continue.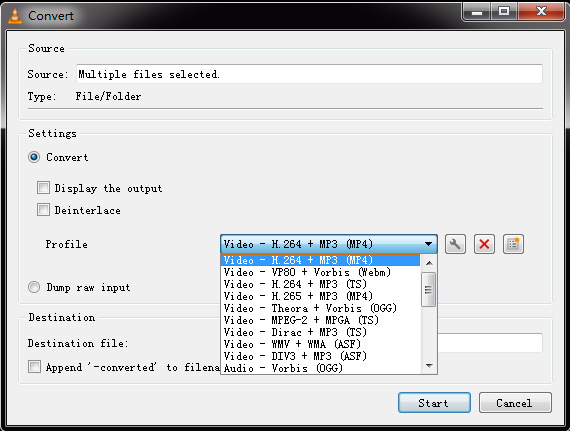 Step 3. Drop down the Profiles list, and choose "Video - H.264 + MP3 (MP4)" as the output format. Provided you're willing to adjust video codec, resolution, quality or other advanced settings, you can click on the wrench icon next to the output format.
Step 4. Click the "Browse" button to specify an output folder path to store the videos to be converted.
Step 5. Tap the "Start" button to activate MOD to MP4 video conversion. This is going to go on for a while, but it all depends on your video length and size.
#3. MPEG Streamclip
Supported OS: Windows and macOS
Average User Rating: ★★★★
MPEG Streamclip is widely selected to rename .mod to .mp4 both for Mac and Windows users. It includes a wide range of video processing options and allows audio to be uncompressed using high-quality built-in decoders such as QuickTime, AVI, DV, MPEG-2 and MPEG-4 and more. You can easily convert MOD to MP4 of muxed or demuxed files,while keeping the audio in a great sync with the video.
MPEG Streamclip also handles files larger than 4GB in size without sacrificing quality. This software also includes a player that allows you to preview your music or video files before converting them. Finally, it provides various video editing capabilities to assist you in altering the file or even merging them together.
How to Convert MOD to MP4 on Mac with MPEG Streamclip
Step 1. Get the MOD to MP4 converter Mac by downloading it from its official website. Then install and open it.
Step 2. Click the File section and choose MOD files that you want to convert. As the video loaded, you can play it directly.
Step 3. Drop down the "File" option and choose "Export to MPEG-4" to open an output format setting panel.
Step 4. Set the output MP4 quality, frame size, frame rate, and more as your need. Then tap the "Make MP4" button to start converting MOD to MP4 format. #4. FFmpeg
Supported OS: Windows, macOS and Linux
Average User Rating: ★★★★
FFmpeg is an excellent media converter that is perfect to professional media enthusiasts. You can download it free with video codec packs, so as to support almost all uncertain and old media formats, including MOD, ASF, MP4, AVI, FLV and more. FFmpeg also contains libavcodec, libavutil, libavformat, libavfilter, and more libraries, making it possible to decode, encode, transcode, mux, demux, stream, filter and play anything.
Besides, FFmpeg is also equipped with accelerated technology for fast-speed conversion. With a massive list of codec support, FFmpeg is able to convert any media files, including MOD to MP4. Also, easy customizations of size and sample rate, and editing features like cropping, merging, trimming are also available through command lines in FFmpeg. But admittedly, it's a little difficult for beginners.
How to Transcode MOD to MP4 in FFmpeg through Command Lines
Step 1. Download the file from the official FFmpeg page. Unpack the zip folder, which contains three files, one of which is named bin and contains FFmpeg.
Step 2. Find Control Panel > System > Advanced. Then click Environment Variables at the bottom > Edit. Copy and paste the MOD file (input.mod) into FFmpeg installation folder.
Step 3. Open the Command Prompt/Terminal and use the command.
C:\ffmpeg\bin
Step 4. Go to the bin directory using the command below.
cd \
cd ffmpeg
cd
Step 5. Convert MOD to MP4 in FFmpeg using the following command:
ffmpeg -i input.mod -c:v libx264 -preset veryslow -crf 22 -c:a copy output.mp4 #5. HandBrake
Supported OS: Windows, macOS and Linux
Average User Rating: ★★★★
I think anyone with a video conversion need has heard of or even used Handbrake at some point. As a free and open-source video converter for Windows and macOS, HandBrake includes the ability to decode and encode any video to MP4 or MKV format, including converting MOD files to MP4. HandBrake can open a number of production formats produced by professional video cameras and NLEs, including MOD, MXF, MPEG-TS, and QuickTime, along with common video codecs such as CineForm, DNxHD, ProRes, and XAVC, and then convert them to H.264(x264), H.264 (Intel QSV), H.265 (x265), MPEG-4/MPEG-2 (ffmpeg), VP9/VP8 (libvpx), and Theora in MP4, MKV or WebM container format.
HandBrake produces speedy results by simply putting a movie into the program and then using one of the many presets in the side panel to convert to multiple formats with varying settings. Work your way through the several tabs in the Output Setting section to customize precise encoding parameters, add effects, reduce unreasonably huge films, modify frame rates, change codecs, and much more.
HandBrake Tutorial: How to Convert MOD to MP4
Step 1. Free download and install HandBrake on your computer. Open it up, and click "File" button to open a single MOD file, or "Folder(Batch Scan)" to open multiple MOD files for bulk conversion.
Step 2. Drop down the Preset list and choose one according to your needs, for example, Fast 1080p30.
Step 3. Select MP4 as the output format at the Summary tab. Also, you're able to change video dimension, size, quality, audio, subtitle in the corresponding tab.
Step 4. Click the "Browse" button to set an output folder destination.
Step 5. Hit the "Start Encode" button to begin encoding MOD to MP4 for free.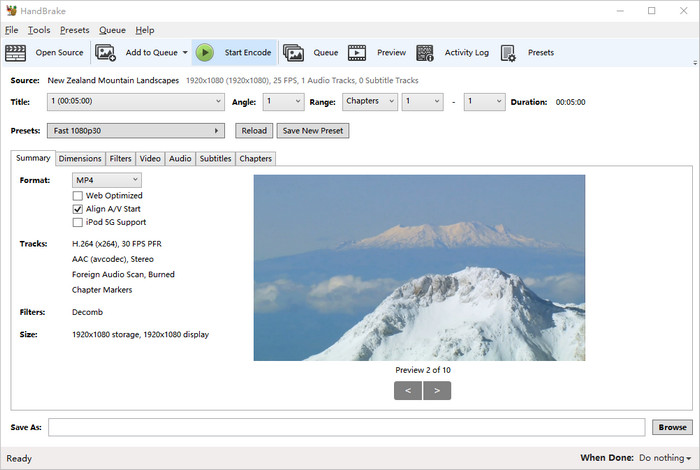 #6. CloudConvert
Supported OS: all the platforms based on web
Average User Rating: ★★★
Online video converter is another choice not to be ignored for MOD to MP4 conversion. CloudConvert is the outstanding one among online MOD to MP4 converters that has no ads and malware at all. Actually, it supports nearly all audio, video, document, ebook, archive, image, spreadsheet, and presentation formats. As a MOD to MP4 converter online, CloudConvert also lets you set the resolution, video quality, video codec, FPS, audio codec, audio quality.
Of course, you don't have to worry about any safety issues. During the Cloudconvert video conversion, there are no popups, redirection, malware, bundleware, or viruses. Cloudconvert also assures that your submitted files will be immediately destroyed within a few hours.
How to Convert MOD to MP4 Online with No Watermark Using CloudConvert
Step 1. Visit CloudConvert MOD to MP4 converter page on your browser. Click "Select File" to upload your MOD file. You can upload files from computer, Google Drive, Dropbox, and OneDrive. The file exceeds the 1GB cannot be uploaded to CloudConvert with free accounts. 
Step 2. Set MP4 as the target output format.
Step 3. Optionally, you're able to change the output video resolution, FPS, codec, quality, aspect ratio as you like.
Step 3. When you're done, click "Convert" button to start converting MOD to MP4 now. #7. Zamzar
Supported OS: all the platforms based on web
Average User Rating: ★★★
Zamzar is another online service for MOD to MP4 conversion with high quality. It has a straightforward and and friendly interface, helping users convert a vast array of files into other, more compatible, formats. Zamzar offers you a remarkable number of file format conversion options from video converters to other media converters, up to 1100+ file conversion Types. It allows users to upload single files less than 50MB.
As for MOD to MP4 conversion, it delivers the easiest process and ensures high-quality output. You're able to download the converted MP4 file after a quick conversion process. The files will be stored for 24 hours only after conversion, thus you don't need to worry about any data leak in Zamzar.
How to Convert MOD to MP4 Online Easily with Zamzar
Step 1. Go to Zamzar MOD to MP4 conversion page. Choose the MOD file that you want to convert.
Step 2. Select MP4 as the the format you want to convert your MOD file to.
Step 3. Click "Convert" to convert your MOD file. Once the process finished, you're able to download the converted MOD file on your device.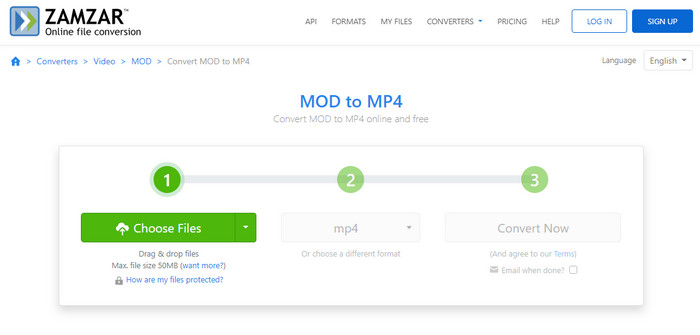 Part 3. FAQs
1. How do I convert a mod to mp4?
By using WinX Video Converter, MOD to MP4 process can be fairly easy: Simply load the .mod files, choose .mp4 as the output format, then tap the RUN button, all done. >> Get WinX Video Converter to start now
If you don't want to install any programs on your device, online MOD to MP4 converter could be another option: just upload the MOD files to be converted > select MP4 > click the Convert button.
2. How do I play a .MOD video?
MOD video files can be opened with a variety of media players, including 5KPlayer and VideoLAN VLC (with codec pack installation). If you purchased the digital camcorder that captured the MOD file, you can also play the video with the software that came with it.
3. How do I play MOD files on Mac?
If you only want to play MOD video files on your Mac, rename them as MPG or MV2, and you should be able to access and view your video clips in Mplayer OS X, VLC Media player, or 5KPlayer.
4. What are the differences between MOD and MP4 format?
Different video and audio codecs are used by the MOD and MP4 formats. The codecs utilized in the MOD format aren't supported by many players, but MP4 may be played on practically any player.
| | | |
| --- | --- | --- |
| Format | MOD | MP4 |
| File Extension | .mod | .mp4 |
| Maximum Resolution | 720 x 480 | Normally 1920 x 1080, up to 4K /8K and more |
| Video Codec | MPEG-2 Video | MPEG-H Part 2   (H.265/HEVC), MPEG-4 Part 10 (H.264/AVC), MPEG-4 Part 2, MPEG-2, etc. |
| Audio Codec | MPEG-1 Audio Layer II (MP2) or Dolby Digital | AAC, ALS, SLS, MP3, MP2,   MP1, CELP, HVXC (Speech), TwinVQ, TTSI, SAOL, and etc. |
| Supported by | Digital Camcorders, DVD Players (MPG), PCs, and Macs | Almost all devices and platforms |