[Android File Formats] Video/Audio Formats for Android Devices Listed
List of Video/Audio Formats for Android | Android Supported Media File Formats
"I want to watch movies and stuff on my Android. I tried copying files over and opening them with the video app but they aren't supported. I was just wondering compatible file format for Android so that I can convert videos to get them worked." – From Yhaoo Answers
It seems to be an essential trend to enjoy movies, videos and music on portable devices for the bigger screen with a high resolution, improved performance to handle media playback well and flexibility. Probably, part of you are prevented from playing some materials on Android caused by unacceptable formats. And here, we will give a thorough list of Android file formats of video and audio for your reference.
How to Get ANY Video Compatible with Android?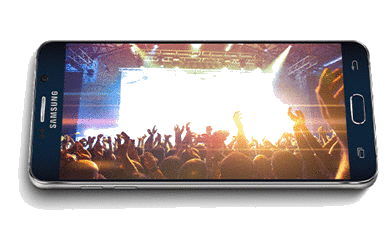 WinX HD Video Converter Deluxe is the No.1 fast video converter capable of changing almost all video formats (AVI, WMV, MOV, MPEG, FLV etc,) to Android file format like MP4, WebM, MP3, AAC with a nearly lossless quality. It can also compress 8K/4K videos to 1080P/720P HD to make images look crisp on Android devices featuring lower resolution screen.
List of Android File Formats
Although the latest generation Android 6.0 Marshmallow (released on October 5, 2015) inherits media file format specs from the former version, some differences of Android file format exist between previous versions. In the following, let's learn details of video/audio format for Android.
Android Video Format
H.263 – .3GP/.MP4 for all Android versions
H.264 AVC - .3GP/.MP4 for all and .TS with AAC audio for Android 3.0+
VP8 - .WebM and .MKV which is only available for Android 4.0+
VP9 – .WebM/.MKV for Android 4.4+
H.265 HEVC - .MP4 for Android 5.0+, Main Profile Level 3 for mobiles and Main Profile 4.1 for Android TV
Android Audio Format
AAC LC/HE-AACv1/HE-AACv2 – Support for mono (AAC LC), stereo, 5.0, 5.1 content with sample rates from 8 to 48 kHz
AAC ELD – Support for mono/stereo content with sample rates from 16 to 48kHz on Android 4.1+
AMR-NB – 4.75 to 12.2kbps sampled at 8kHz
AMR-WB – 9 rats from 6.60 kbit/s to 23.85 kbit/s sampled at 16kHz
FLAC – Support for mono/stereo with sample rates up to 48kHz on Android 3.1+
MP3 – Support for mono/stereo 8-320Kbps constant (CBR) or variable bit-rate (VBR)
MIDI - Support for ringtone formats RTTTL/RTX, OTA, and iMelody
Vorbis - .OGG
PCM/WAVE – .WAV, 8 and 16 bit linear PCM. Sample rates for raw PCM recordings at 8000, 16000 and 44100 Hz on Android 4.1+
Opus – Available on Android 5.0+
How to Play ANY Video Files on Android
When we encounter video playback problem caused by incompatibility, the best solution is to convert the video to Android supported file format by means of video converter software, for example WinX HD Video Converter Deluxe.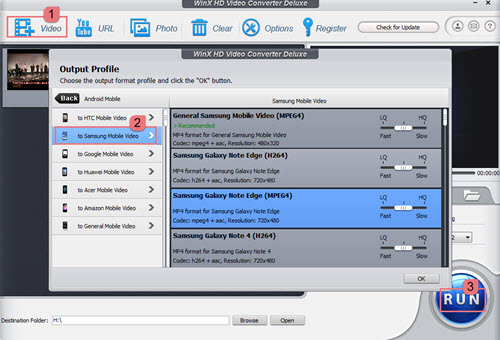 WinX HD Video Converter Deluxe boasts its feature to convert any video files, AVI, WMV, MOV, MPEG, FLV etc, to MP4, WebM, 3GP, MP3 and more video/audio file format for Android with an utterly high quality. Presetting 420+ device profiles, it helps you directly convert videos to current popular Android devices, such as Samsung Galaxy S6 (Edge)/Note 5, Google Nexus 6P/9, Sony Xperia Z5 to fix the problem that some videos compatible with Android file format cannot run well on devices due to scratched or unsuitable parameter settings. In addition, it can compress 8K/4K videos to 1080P/720P HD but remain vivid images and hi-fi audios for a better visual effect on lower resolution display or sharing to friends with a faster delivery. Equipped with Multi-core CPU utility, Hyper-threading Tech and Hardware Encoder (Intel and Nvidia) Support, WinX HD Video Converter Deluxe can give you an unexpected high conversion speed.
This Windows 10 compatible video converter also arrives with a Mac version so that you can transfer any videos to Android file format on Mac OS X (Leopard to macOS Mojave).
Still have some trouble about converting videos to Android supported video/audio file formats? Please feel free to Mail Us >>
External Source from Wiki:
Android - a mobile operating system (OS) currently developed by Google, based on the Linux kernel and designed primarily for touchscreen mobile devices such as smartphones and tablets…