Best AVCHD Video Converter to Convert MTS/M2TS HD Videos
AVCHD Video Converter - Best HD Video Converter to Convert MTS Video
AVCHD[1] is a format which wildly used in camcorder and camera HD video recording and playback. No matter you have an AVCHD camcorder or need to handle with AVCHD videos anywhere, you'd better prepare a powerful AVCHD Video Converter. It is because of that, both playback AVCHD video (Play AVCHD on PC or Play AVCHD on Mac) and edit AVCHD recordings need high-end computer, even will cause over-heat and damage to your CPU and Graphics Card.
With a professional AVCHD Video converter, you can convert AVCHD video to more popular and friendly video formats, so that you can enjoy AVCHD video with a much smoother playback, share AVCHD video online or sending via Email, playback AVCHD recordings on portable devices (play AVCHD on iPhone's 960x640 display or play AVCHD with iPad's 1024x768 LCD) and burn AVCHD to DVD format for better collecting or delivering.
How to Find the Best AVCHD Video Converter Software?
WinX HD Video Converter Deluxe is regarded as one of the best AVCHD MTS Video Converter program. The reason simply lies in three ways: best output quality, fastest AVCHD video converting speed, and continuously updates to support upcoming HD video formats.
Reason 1: The AVCHD video converter can handle with all types of AVCHD recording video
WinX HD Video Converter Deluxe can easily convert 720p AVCHD, 1080i AVCHD and 1080p AVCHD MTS video. This AVCHD Video Converter will recognize your AVCHD files regardless of its recordings media (with support for AVCHD video from DVD disc, HDD, Solid-state memory card). Don't worry about brands of your AVCHD camcorder, WinX supports them All. It is masterful at dealing with all brandings of AVCHD, like converting AVCHD Lite, converting AVCHD video shot from AVCCAM or NXCAM.
Moreover, built-in more than 370+ video/audio codecs, WinX HD Video Converter Deluxe is not simply a powerful AVCHD Video Converter, but also a all-sided video converter compatible with all popular SD/HD videos.
Reason 2: 420+ output methods selectable
1. WinX HD Video Converter Deluxe helps you convert AVCHD to MP4, convert AVCHD to AVI, convert AVCHD to MOV, convert AVCHD to WMV, FLV, MPEG, AVC, etc, which are much more friendly to your media player. To achieve best preserved HD quality, you can also convert AVCHD video to HD AVI, HD MP4, HD MPEG, HD TS, HD WMV, HD MOV, etc.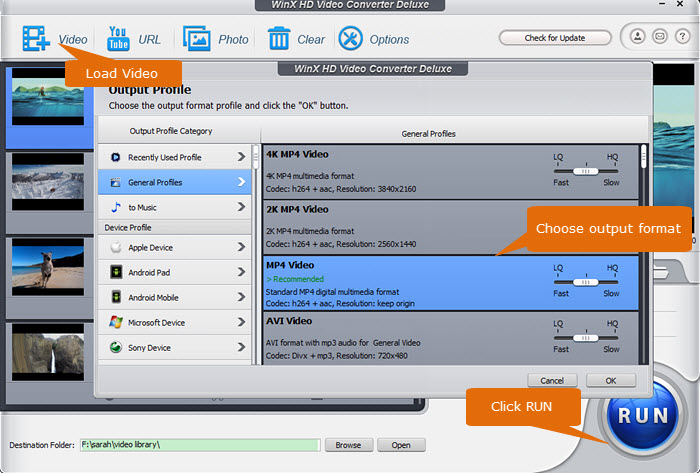 2. Support converting AVCHD video to Apple, Android, Microsoft, Sony and other multi-media portable devices. It means that you are enabled to play and watch AVCHD recordings on iPhone, iPod, Samsung Galaxy/S series, Google Nexus, HTC, Sony Xperia, Windows Phone, PS3/4, Xbox, Kindle Fire etc.
In a word, WinX HD Video Converter Deluxe is all-in-one AVCHD Video Converter software, which can perfectly satisfy all your SD/HD video converting, editing and backup needs.
Reason 3: Advanced features maximally facilitate your AVCHD video conversion
1. Set Aspect Ratio: if converted AVCHD video aspect ratio does not fulfill your need (not match up with your computer's monitor, portable devices' display, or your AVCHD recordings is ratio imbalance when playback on computer), WinX HD Video Converter Deluxe will help you resize the image by setting the right aspect ratio.
2. Adjust Video Frame Rate: fully control the output video frame rate to make AVCHD video playback on your TV, media player or devices smoothly (29.97 for NTSC and 25 for PAL).
3. Extract Audio/MP3 out of AVCHD: one of AVCHD MTS video's advantages is AVCHD can hold several audio tracks at the same time, and it makes regular AVCHD converters stop at choosing which language track as the target audio. WinX HD Video Converter Deluxe is the first and unique AVCHD converter software supports converting Multi-track HD videos (BDAV, M2TS, MKV, and AVCHD. e.g.).
4. Specific Profile Settings: WinX HD Video Converter Deluxe prepares plenty of profile settings (contain all video information that your portable devices accepted willingly). It saves your time to research these complicated technique specification. Generally speaking, it can meet regular users' need. As for senior users, WinX enables all parameter settings freely adjustable, in order to get the optimized settings they preferred.
5. AVCHD Video Editor: You know not all the recordings shot from your HD camcorder are good enough. There are some pieces you do not want to share willingly or some unimportant elements in your AVCHD video picture, so you want to erase them to feature a highlight of your shootings, so you need a AVCHD video editor to trim the recording to pieces. WinX HD Video Converter Deluxe may help you crop the raw AVCHD video.
6. De-interlaced Engine: All AVCHD camcorders except for AVCHD Lite models use recording 1080 Interlaced Video. When watching interlaced video on AVCHD video player (since they don't have built-in De-interlacing engine like flat-panel televisions), you see the image from AVCHD video will not be true to the original.
Unlike other ordinary AVCHD Video Converters, WinX HD Video Converter Deluxe is built in Advanced De-interlacing Engine, which supports converting AVCHD video from interlacing to progressive scanning. It will bring you more vivid and smooth image.
Reason 4: Fastest and easiest-to-use
WinX HD Video Converter Deluxe fully supports GPU acceleration, Multi-core CPU (i3, i5, i7), and armed with Hyper Threading Technology (Converting AVCHD by multi threads at the same time, speed up the conversion timely).
Just as picture above illustrated, 1-2-3-4 is total user guide for AVCHD video converting process. From professional to fledgling, WinX HD Video Converter Deluxe is suitable for all levels experienced users. Apart from AVCHD MTS video conversion, this HD video converter also provides easiest solution to convert all your HD videos (like M2TS, MKV, AVCHD, HDTV BDAV and MPEG-TS).
To sum up, WinX HD Video Converter Deluxe is born to bring you best quality, fastest video converting speed, besides, it constantly updates to conquer upcoming video codecs and formats.