AVCHD vs MP4, Difference between AVCHD and MP4
You may feel confused about the difference between AVCHD vs MP4. So, which is a better format in file size, quality, or compatibility? Should you shoot video in AVCHD or MP4? Is AVCHD recorded by Sony, Canon, or Panasonic, good for editing? How to import AVCHD clips to Premiere Pro? You'll find all the answers here.
Convert AVCHD to/from MP4 with High Quality and Small File Size
Just get WinX Video Converter. Whether you want AVCHD format with better image quality or MP4 format with smaller size and better compatibility, you can convert between AVCHD and MP4 with up to 98% quality kept due to optimized conversion kernel and High Quality Engine. You can also convert tons of other formats, such as AVI, MKV, MOV, WMV, HEVC, FLV, H.264, HEVC, at 47X faster real-time speed thanks to hyper-threading tech and AMD, Intel QSV and NVIDIA CUDA/NVENC GPU hardware acceleration tech.
AVCHD vs MP4: Table of Content
Part 1. AVCHD vs MP4: Format Definition
What is AVCHD
AVCHD, short for Advanced Video Codec High Definition, is a camcorder recording format using high-efficiency coding technology and designed for recording HD videos to DVDs, hard drives, thumb drives, and memory cards. AVCHD was developed by Panasonic and Sony for use in camcorder recordings. AVCHD was updated to version 2.0 in 2011. The AVCHD format records videos in 1080p, 1080i, and 720p. AVCHD files can contain videos, audio files, menu navigation, slide shows, and subtitles. The AVCHD file extension is .m2ts, .mts.
Read more: MTS vs M2TS: Differences between HD camcorder AVCHD Formats.
What is MP4
MP4, MPEG-4 Part 14, is a multimedia container format that can store video files, audio files, subtitles, images, and metadata and is based on the QuickTime File Format adopted by MOV and QT files. It was created by the Motion Picture Experts Group (MPEG) and released in 2001. MP4 video files can be encoded with different video and audio codecs, including H.264/AVC, H.265/HEVC, MPEG-4 Part 2, AAC, and MP3, to name a few. The file extension of MP4 files is .mp4.
Read more: MPEG4 Versus MP4: Is MPEG4 the Same as MP4?
Part 2. AVCHD vs MP4: Quality
AVCHD vs MP4, quality really matters. If you want to record videos in higher quality, AVCHD format is better. Though in a lower bit rate, AVCHD offers a crisper image due to high efficiency in compression. AVCHD records videos in a wide range of resolutions, including 1080p. MP4 supports recording up to 4K, but quality also depends on codec format and bit rate. If the image quality is what you care about most, the AVCHD format is better than MP4.
Part 3. AVCHD vs MP4: File Size
MP4 H.264 or H.265 offers the best trade-off between file size and quality. AVCHD vs MP4 in file size, MP4 wins when it is encoded with an efficient video codec. AVCHD produces a larger file size. Compared to AVCHD, MP4 records high-quality videos in a third the size of an AVCHD recording. If file size is your top concern, MP4 is a better format. However, AVCHD help eliminate the limits of scene length caused by the 2GB file size limit on the most SD card because AVCHD includes the video files in a folder structure with metadata that separates footage.
Part 4. AVCHD vs MP4: Compatibility
AVCHD is compatible with DVDs, Blu-ray disc format, and recording devices including hard drives, thumb drives, memory cards, etc. Windows 7 and later support AVCHD natively needless extra codecs. AVCHD is not suitable for recording video for playback on iPhone, Android, and other mobile devices.
MP4 is widely accepted and has great compatibility. MP4 is compatible with Apple QuickTime format, recording media, networks, media players Windows operating system, macOS operating system, Android/iOS devices, game consoles, and many more. MP4 vs AVCHD, MP4 is better for YouTube, Premier Pro, and other social media sites sharing, video editing, and post-production.
Part 5. How to Convert Between AVCHD and MP4
Step 1. Download the AVCHD/MP4 video converter for Windows or macOS. Install and open the tool. Load the video file you'd like to convert by clicking the "+Video" button at the top menu bar on the main interface. Here we show you how to convert AVCHD to MP4 for smaller file size and better compatibility. It's quite the same to convert MP4 to AVCHD or any other format.
Step 2. Select MP4 (H264 or HEVC) as output format on the pop-up Output Profile window. Click the OK button to save the output format and close the window.
Step 3. Click the Browse button at the bottom to specify a location to save the output video file. Skip this step and move to the final step if you don't need to change the location.
Step 4. Click the RUN button to start converting AVCHD to MP4 to get smaller file size and better compatibility.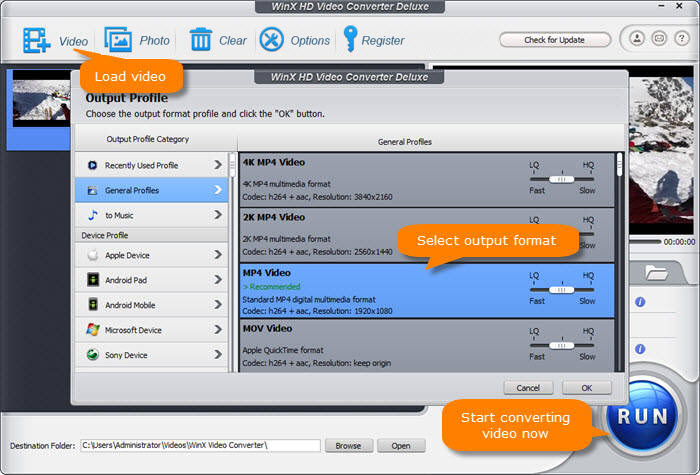 Part 6. FAQs about the Difference between AVCHD and MP4
1. Is AVCHD good for editing?
AVCHD is supported by Adobe Premiere Pro and other professional video editor tools. However, it doesn't mean AVCHD is good for editing in all kinds of video editors. Some reported frame drops and other issues with importing and editing AVCHD files. MP4 vs AVCHD, MP4 is easier for editing, copy, and sharing.
2. Is AVCHD better quality than MP4?
AVCHD provides better image quality. Though its lower bit rate, AVCHD offers a crisper image because of its high efficiency in compression.
3. Can I upload AVCHD to YouTube?
YouTube doesn't support the AVCHD format. You can convert AVCHD to MP4 or other video formats for uploading to YouTube. YouTube-supported video formats include MP4, MOV, WebM, MPEG-4, VP8, VP9, H.264, HEVC, WMV, FLV, AVI, MPEG-PS, and more.
4. How to Import AVCHD to Premiere Pro?
To import AVCHD clips recorded by Panasonic, Sony, or Canon, in an SD card in Premiere Pro, select a connected drive in the left pane of Media Browser, and double-click the PRIVATE icon. You should see all the AVCHD clips on the right side with a file name and file path displayed. The View is set to AVCHD. To import AVCHD clips into the Premiere Pro project panel, select a clip and right-click the clip, choose Import, or directly drag the clip icon to the project panel.