MTS vs M2TS: Differences between HD camcorder AVCHD Formats
After shooting with my new Sony HDR-CX240 (1900x1080i), I imported the same file two ways. The former produced file with an .mts extension and the later produced .m2ts.modd & .m2ts.moff. When played with Windows Media Player, the properties indicated the same thing. It said the codec applied was AVC/H.264 for both. Am I getting two true AVCHD files? What is the real difference between MTS and M2TS?
What's the difference between MTS and M2TS? Actually there is no functional difference between MTS and M2TS format. Both of them are High Definition files associated with the AVCHD video format. When you drag and drop an AVCHD video from camera to a computer, you will get a file with .mts file extension. Whereas, AVCHD video imported with PlayMemories Home™ or other software is typically assigned the .m2ts file extension. An M2TS file extension can be renamed to an MTS file extension and vice versa. Of course, there are slight differences between MTS and M2TS formats if you want to dig out more.

Part 1. What Is MTS? What Is M2TS?
M2TS Format is a filename extension used for the BDAV MPEG-2 Transport Stream container file format, for multiplexing audio, video and other streams. This container format is commonly used for high definition video on AVCHD from camcorder like Sony HDR–PJ260V Camcorder and Blu-ray Disc. In other words, M2TS refers to the stream packaging container for Blu-ray BDMV, the file extension of which is ".m2ts" having a five-digit number. The BDAV container format (.m2ts) is a standard used on Blu-ray Discs. The M2TS files on a Blu-ray Disc are placed in the subdirectory "STREAM" of "BDMV" (or "BDAV") directory, which is at the root level.
MTS and M2TS are both file extensions for AVCHD, the HD digital video camera recorder format, and both support 480i, 720p, 1080i and 1080p HD video formats. They all play in great quality in 1080i direct on the PC or to a Sony TV using composite video or HDMI. Simply put, .mts is the extension for AVCHD video on camcorder while m2ts is the AVCHD video extension after it's imported to computer.
Part 2. What's the Difference between MTS and M2TS?
As mentioned above, the most obvious difference between MTS and M2TS is the MTS file is generated on camcorder after recording from camcorder, while M2TS file is the changed extension when the MTS file is imported to a computer. According to Wikipedia, HD cameras record MTS but export as M2TS. The file extension of AVCHD video is ".mts" on camcorder that contains raw footage and will become ".m2ts" if imported to computer. MTS is the format not collected by specific software, and will change into the video file with ".m2ts" as the file extension after collection.
MTS vs M2TS Difference: Carriers
MTS was developed by Sony and Panasonic together as the recording format for the HD camcorders of both, while M2TS was created to store movie data on Blu-ray discs. In this respect: MTS vs M2TS = Camcorder vs Blu-ray.
MTS vs M2TS Difference: Usage
MTS is used to store video on camcorder and the video extension will be changed to M2TS after imported to the computer. Simply speaking, MTS is used for recording video while M2TS is for storing video in a Blu-ray disc. That also means, M2TS videos from the Blu-ray discs are usually encrypted. But the MTS video recorded by camcorders are not encrypted.
MTS vs M2TS Difference: Playback
M2TS files can also be played on Sony PlayStation 3s (PS3), Sony Bravia TVs, Western Digital WDTVs, Xtreamer media player, Amkette FlashTV HD Media Player and Panasonic Viera TVs supporting playback of AVCHD.
MTS vs M2TS Difference: Compatibility
Both MTS and M2TS files can be accepted by Windows Media Player, VLC, 5KPlayer, as well as Apple's Final Cut Pro by using the AVCHD plugin in the Log and Transfer window. Daminion Media Management Software also allows importing and managing .MTS & M2TS files. If needing to play, watch or edit MTS or M2TS files on many more programs, one may have to seek to a MTS converter.
Part 3. How to Play MTS and M2TS Files?
To play MTS and M2TS AVCHD videos on Windows and Mac computer, all you need is to get an AVCHD player that can play camcorder and blu-ray videos easily. Out the market, there are many choices like VLC and 5KPlayer. Take 5KPlayer for Windows as an example, you can get to know how to play MTS and M2TS files on computer. After download, install and launch 5KPlayer on your PC, you can:
Drag and drop the MTS/M2TS file to it to play.
Click the "Video" button on the main UI, and add a MTS/M2TS video to play.
Right-click on the MTS/M2TS file and choose "Open with 5KPlayer".
Set 5KPlayer as your default media player, and double-click your MTS/M2TS video to play.
Note: It is quite easy to play MTS and M2Ts files on computer with a AVCHD player, however, you may fail to play such files on some devices like iPhone, iPad, PSP, PS3/4/5, Zune, etc. because of the format incompatibility. Under such circumstance, you can convert MTS/M2TS files to be more accepted.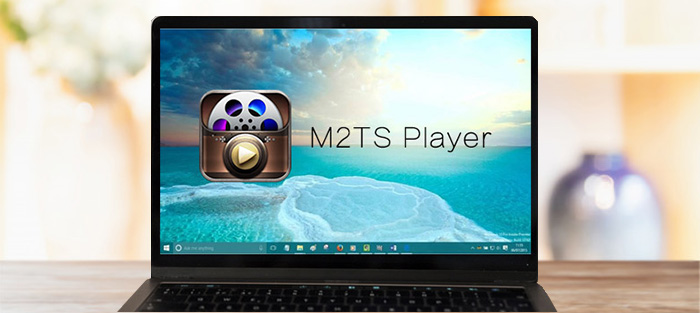 Part 4. How to Convert MTS/M2TS AVCHD Videos without Quality Loss?
Need to convert MTS and M2TS HD videos for easier playback, try HD Video Converter Deluxe. It will esaily convert AVCHD, MTS, M2TS, MKV videos to MP4, H.264, HEVC, MOV, AVI, WMV, VP8/9, as well as 420+ profiles for Android, iPhone, iPad, TV, Web, etc. GPU hardware acceleration (Intel/Nvidia/AMD) supported to convert HD MTS videos at very fast speed.
Step 1. Free download HD Video Converter Deluxe, install and launch it on your computer.
Step 2. Click the "+Video" button on the top bar to add a MTS/M2TS video you want to convert, or other format videos you want to convert to MTS or M2TS.
Step 3. When the "Output Profile" window pops up, choose a desired video format and click "OK".
Step 4. Click the "Browse" button to choose a destination folder to save the converted MTS/M2TS file.
Step 5. Hit "RUN" button to start convert MTS/M2TS to other video format or convert video to MTS/M2TS file.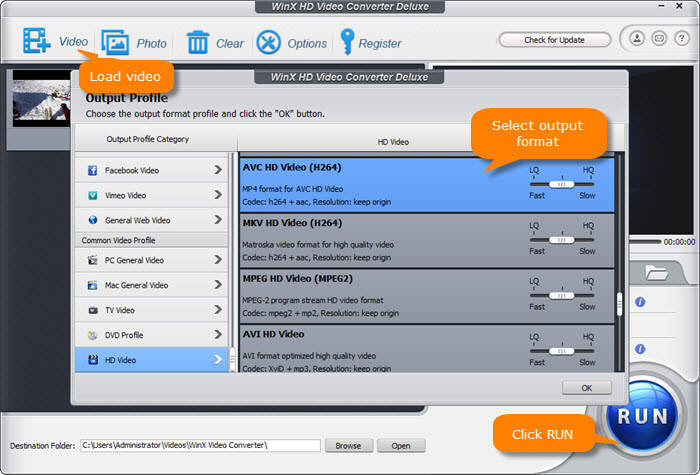 In conclusion:
To review MTS vs M2TS, you can get the following conclusions. .mts and .m2ts are different extensions used for the same container format, say AVCHD. .mts is the extension used in legacy file systems while .m2ts is used in more modern ones. MTS usually means that the file comes from an AVCHD camcorder while M2TS is from proper Blu-ray. It is easy to play back MTS/M2TS videos with a media player. And if there is any playback or editing error, you can solve it with a MTS/M2TS video converter.
Part 5. MTS vs M2TS FAQs
1. Is M2TS better than MP4?
No. M2TS is not that good compared to MP4.
M2TS files are larger in file size than MP4. As M2TS are usually used for storing high-definition videos from camcorders and Blu-ray discs, they are often large that is not suitable for store and share.
M2TS won't be upload to YouTube and shared to social media, but you can upload MP4 videos to nearly all platforms.
Many mobile devices and media players don't natively support this format, but MP4 is widely accepted.
| | | |
| --- | --- | --- |
| | M2TS | MP4 |
| File extension | .m2ts, .mts, .ts, .m2t | .mp4 |
| Video coding formats | MPEG-2, H.264, H.265 | H.264, H.265, MPEG-4, others |
| Audio coding formats | AC-3, DTS, LPCM, others | MP3, AAC, AC-3, others |
2. How do I open a M2TS file?
With a M2TS file player, you can open a M2TS file on Windows, Mac, iPhone, or Android without issue. Popular choices are VLC media player, 5KPlayer, PotPlayer, GOM Player, etc. If there is any playback issue, a video converter can help solve and let successful M2TS playback.
Step 1. Free download M2TS player such as VLC, install and launch it on your computer.
Step 2. Drag and drop your M2TS file to it to open.
Step 3. You can speed up/slow down the video playback, adjust volume, add subtitles, create playlist, etc.
3. How do I convert MTS files?
Converting a MTS file with a professional MTS video converter is never easier. Out the market, your have three choices: open-source video converter like HandBrake, online tool like CloudConvert and third-party software like HD Video Converter Deluxe. Here, we take HandBrake to show you how to convert MTS files.
Step 1. Free download HandBrake, install and launch it on your computer.
Step 2. Drag and drop a MTS file to it, and then you will go to the converting window.
Step 3. Choose an output format, or just go to "Presets" to select an option best suits for your device.
Step 4. Click the "Start Encode" button to convert MTS files.