What Is AVCHD MTS Video - The High-definition Video Format for HD Camcorders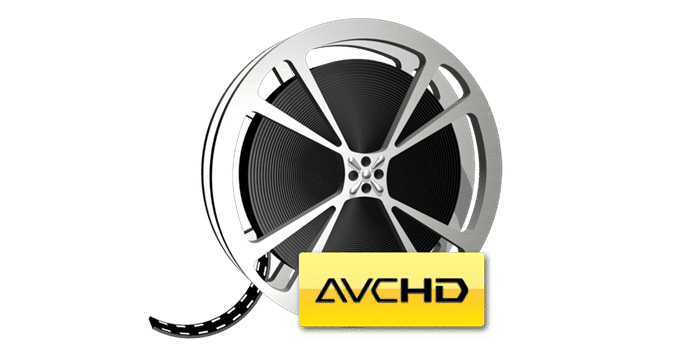 AVCHD MTS Video - The New Sony & Panasonic HD Camcorder Format
AVCHD (Advanced Video Coding High Definition)[1] is a format for the recording and playback high definition(HD)video(usually with the .mts extension). Debut on the middle of 2006, AVCHD was co-developed by Sony and Panasonic and primarily for use in high definition Consumer Camcorders. By far all the well-received HD camcorder manufacturers provide AVCHD video supported products, for instance, Canon HF S200, Hitachi DZ-BD10HA, JVC GZ-HM1, let alone Sony and Panasonic who utilize AVCHD exclusively.
The advantage of AVCHD MTS/M2TS video
1. Recording HD image onto random-access media, including 8cm DVD discs, hard disk drives and removable flash media such as SD/SDHC memory cards and "Memory Stick" cards. This is crucial factor for why AVCHD format could weed out other type-based HD video recording formats, like HDV.
2. AVCHD utilizes MPEG-4 AVC/H.264 (AVC) video compression codec and either Dolby AC-3 (Dolby Digital) or linear PCM (is used for the lossless encoding of audio data) audio compression codec. It permits AVCHD MTS video to feature Efficient Reduction in the Size of the data file, provide Sufficient Shooting Time while maintain the High Picture Quality of the HD recording.
3. Compatibility with Blu-ray Disc. Since the structure of AVCHD video is derived from the Blu-ray Disc specification, it has been designed to be compatible with Blu-ray Disc format and can be used for authoring of high definition video on DVD media, though not all Blu-ray players are compatible with AVCHD discs.
4. What makes AVCHD an Unique and Advanced Codec Compression (comparing with other Videos like AVC, MPEG-4, AVI, MKV, MOV, etc) is that it includes features to improve media presentation such as: Menu Navigation, Slide Shows and Subtitles.
The same case with DVD(somehow AVCHD video is similar to DVD movies, like vivid image and selectable language track), AVCHD video allows you to freely choose the audio/language tracks. If your native speaking is not English or you want to learn other language, it is definitely a useful feature far beyond your imagination.
Create your AVCHD Video with Sony & Panasonic HD Camcorder
Recording directly from HD camcorder is one way straightforward to create AVCHD MTS file. Best recommended AVCHD camcorders, e.g. Panasonic HDC-SD9, Sony Handycam HDR-CX550V, Canon Vixia HF S21 and Canon HF10, will definitely surprise you with their 27x Zoom, Ful-HD Video and 10.6-Megapixel Stills.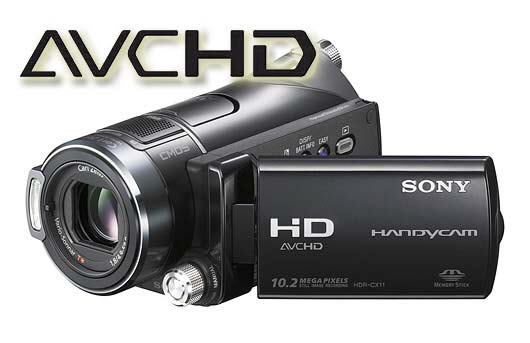 By the way, the AVCHD video software is not always as willing as AVCHD camcorder hardware[2], so that decent AVCHD Player and AVCHD Converter software is necessary to be prepared at hand.
The alternative method to build your AVCHD video needs an extra AVCHD Video authoring tool, MultiAVCHD for instance. It can generate AVCHD video from MKV, AVI, TS, M2TS/MTS, MPEG/MPG, MP4. To the contrary, WinX HD Video Converter Deluxe (Windows Version / Mac Version) is made for converting AVCHD back to the general formats. Unlike other regular AVCHD converter program, WinX is capable of preserving the outstanding output quality and keeping the language track you preferred (thanks to Multi-track Selecting Technology, first and unique feature in the current market).
How to convert AVCHD video: Click "+ Video" icon to import source AVCHD video into software - > Choose an output profile -> Click "Browse" to set the output folder - > Hit "RUN" to set off the AVCHD video conversion.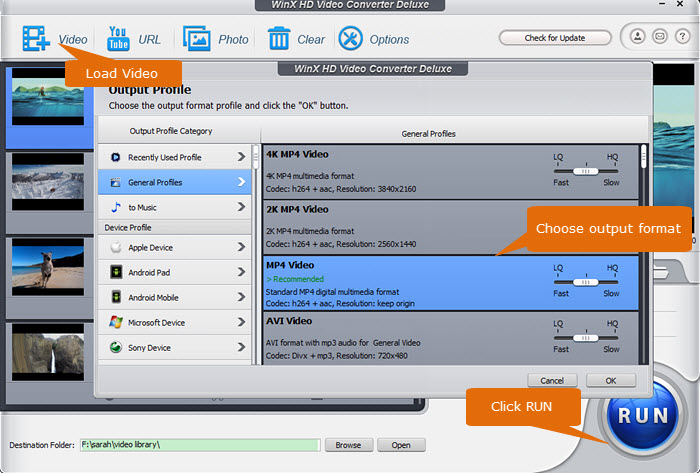 Four ways you will benefit from AVCHD MTS Video
1. With a proper AVCHD Video Player, you can easily achieve Full 1920x1080 Resolution enjoyment which is surely what you desire from playing AVCHD video.
2. Converting and burning AVCHD to DVD for playback on Blu-ray player is also a better method to enjoy and store the HD recording video.
3. As advertising message says: Broadcast Yourself, WinX makes YouTube also accept AVCHD video willingly. So there is no boundary to Upload AVCHD to YouTube and share your amusing HD recordings online.
4. Thanks to professional AVCHD Video Converter or AVCHD Video Editing Software, you can also convert and edit AVCHD video for more broadened use, like transfer AVCHD to iPhone, AVCHD to iPad, iPod, iMovie, iTunes, etc.
Convert Videos To and From
WinX HD Video Converter Deluxe: a fast video/audio/DVD converter, a video editor, a video compressor, a video recorder, and YouTube video downloader. It helps cut, crop, merge, adjust, and process (4K) videos with Full Hardware Acceleration.
For PC and Mac only. Go to mobile page.