How to Edit AVCHD (.mts) HD Video with AVCHD Editing Software
Learn how to edit AVCHD HD video on PC with professional & affordable AVCHD editing software.
AVCHD is a format primarily used in HD camcorder and camera recordings. If you have a HD camera or camcorder device, you have great chance to deal with AVCHD .mts Video, like edit these AVCHD files. Here are some advantages of AVCHD video editing:
Post edited AVCHD video Online and broadcast your creations with the world! Easily post to your video blog (vblog) or upload funny AVCHD recordings to YouTube, Google Video, Grouper or any other of your favorite video sites.
Create an Online AVCHD Video Album. Sites like Drop Shots, StashSpace or MyPhotoAlbum offer family-friendly protected accounts. So you can create a private online space where you can share your cherish and memorable AVCHD video with family and friends.
Burn Well-trimmed AVCHD recordings to DVD, create video gifts and marketing presentations or archive your collection on to DVD or Blu-ray disc.
Transfer and convert AVCHD .mts file in popular formats like video from players such as Windows Media Player, QuickTime and RealVideo. So that you can both play AVCHD on Windows PC and Mac.
Since not all the recordings shot from your HD camcorder are good enough, or there are some pieces you do not want to share willingly, so you need AVCHD video editor to trim the recording to pieces, and you can just keep the most fantastic part in the final output. Otherwise, there are some unimportant elements in your AVCHD video picture, so you want to erase them to feature a highlight of your shootings, then AVCHD editing software may help you crop the raw AVCHD video.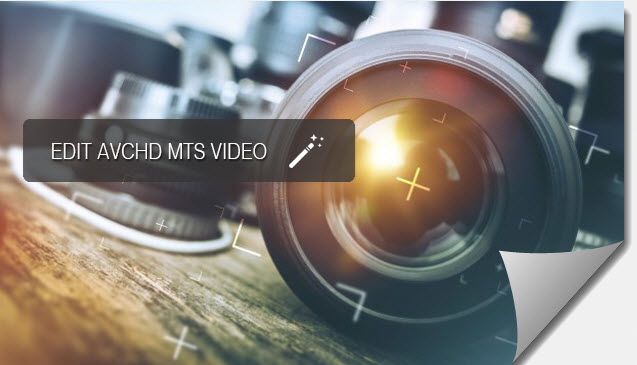 How to Edit AVCHD/MTS HD Recordings Easily
VideoProc - Free download this powerful AVCHD editing software to edit Sony/Panasonic AVCHD MTS video by cutting, cropping, splitting, adding effects, rotating, deshaking etc.
Also support compressing large AVCHD MTS to general H.264 MP4 or other formats at accelerated speed. [Fully support Nvidia/AMD/Intel hardware acceleration]
WinX HD Video Converter can save (convert, natch) videos from the likes of YouTube, and output presets for every portable device from Android to Windows Phone. - Rick (CNET Editor)
Table of Contents
Part 1 How to Edit AVCHD/MTS HD Recordings on Windows PC or Mac?
To share your recordings in better way, you need to edit AVCHD videos with a proper AVCHD Editing Software.
Just as editing DVCPRO HD and HDV video once demanded an expensive high-end computer, AVCHD editing software requires powerful machines. Otherwise, the editing process will become a pretty long journey. Even though with improvements in multi-core computing (i3, i5, i7) and graphics processor acceleration bring AVCHD playback to mainstream desktops and laptops, you still cannot ensure the AVCHD video editing smoothly.
Besides, AVCHD camcorders usually use recording 1080p Interlaced Video. When playing interlaced AVCHD video, the image you see from AVCHD video will not be true to the original. It is a pity that most regular AVCHD editing tools treat progressive video recorded within an interlaced stream as interlaced. But some professional AVCHD Editing Software will convert your HD recordings from interlased to progressive scanning, like VideoProc, and it will achieve much better visual effect.
As for the Mac OS X, it is true Apple's Final Cut Express, Final Cut Pro, and iMovie (iMovie is bundled with all new Apple computers; Final Cut Express and Pro are sold separately) are powerful enough, but they do not support editing of AVCHD clips directly. Imported AVCHD clips are automatically converted into the Apple Intermediate Codec format, which requires more hard disk space (40GB per hour as opposed to 13.5GB per hour for Standard Definition DV), a more powerful machine (an Intel-based Mac), and a more recent OS (macOS Mojave).
Aside from the high-end computer, these sophisticated professional AVCHD editing software also are not suitable for our domestic use. These exorbitant AVCHD Editors' price ranges from hundreds to thousands dollars. Even you can afford them, you will not handle them without well-trained. Somehow you will not pay thousands dollars to get these useless "Professional AVCHD Editors". Here is an easy-to-use, affordable yet powerful AVCHD editing tool to arrange your AVCHD recording - VideoProc.
Part 2 How to Use WinX AVCHD Editing software to Edit your AVCHD Video?
This user-friendly design of VideoProc makes Editing AVCHD video now a hassle-free task even for beginners. Just run this powerful and easy-to-use AVCHD video editor, import your AVCHD recordings, and then you can:
1. Easily cut and split the large AVCHD video file into smaller pieces and delete unwanted.
Though AVCHD Video employs advanced video codec compression, its file size is still considerable big. And if you have plenty HD camcorder recording, VideoProc can help you get rid of useless part, grab amazing portion of movie and just keep the most excellent shooting in your self-made video. Don't worry about the order of arrangement when you split video into multiple segments, because once you rename the source video, the output video clips would be titled with the same tag.
2. Crop the recording image to highlight the most brilliant part.
If there are black bars or you just want the certain scene when viewing on your AVCHD player, you can use this Crop function to remove them. Click the Effect icon to open the Crop window, and set the video crop area by choosing optimized proportion from Zoom or dragging the crop frame or setting the four crop parameters (Top, Bottom, Left and Right).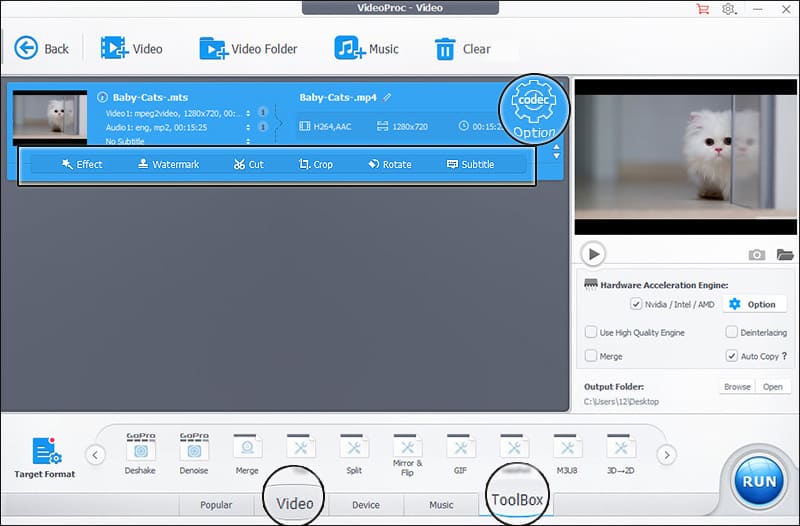 3. Add effect, watermark, or subtitle into video to make it more professional
VideoProc offers a dozen of special visual effects to insert to video, with crucial video parameters ajustable like brightness, contrast, saturation, gamma and hue. To have the video content easier to understand, you can also make exclusive SRT subtitles for this video and add it into video with VideoProc. In addition, VideoProc allows to add text, picture logo/watermark, or timecode to video in clicks.
4. Snapshot the fantastic scenes and stored into photo gallery.
VideoProc is also an AVCHD video frame extractor, which can help you extract frames of AVCHD video in any count you define and save them as JPG or PNG format.
6. Deshake and denoise source AVCHD video to be clearer.
When you film video at high speed and with strong wind, the final video piece may be quite wobbly and noisy. Therefore, VideoProc delivers video stabilization and noise reduction feature to make it up.
Part 3 Not only Edit AVCHD Video, But also Convert AVCHD/MTS Video
Though have edited AVCHD video well with AVCHD editing software, you may also need Convert AVCHD video for better enjoying and sharing, and VideoProc AVCHD Video Converter is masterful at this job as well.
1. After editing your recordings, VideoProc can help you convert AVCHD to more popular and friendly video formats, like AVCHD to AVI, AVCHD to MOV, AVCHD to MP4 etc. So that we can play AVCHD on PC, on Mac with the same excellent quality, smaller file size and more stable playback. Go to learn how to play AVCHD video.

2. If you are not so familiar with video formats, just click "Target Format" to choose certain playback device like Convert AVCHD to iPhone, convert AVCHD to iPad, Xbox, Chromecast, Zune, PSP, etc. Then you are enabled to play and watch AVCHD anywhere at anytime. Moreover, web video profile is also preloaded for converting AVCHD to video formats supported by YouTube, Facebook, Vimeo etc.
3. Burn AVCHD to DVD disc for playback on Blu-ray Player or PS3 is also a good idea. VideoProc can help you convert AVCHD to DVD without third party software assistance.
4. Convert AVCHD to MP3, M4R, WAV or any other audio format. Free download VideoProc below >>
Still have question on how to edit AVCHD video with best AVCHD editing software - VideoProc? Please feel free to Mail Us >>