[Solved] OGG Files Not Playing on Windows 10 v1903
OGG Files Not Playing Issue on Windows 10 May Update? Try Easy Fixes Below!
Windows 10 v1903 update is now generally available. Many Windows users rush to upgrade to Windows 10 v1903 for its excellent new features such as improved storage settings, Sleeker Start Menu & Start Menu Service, Voice Activation settings and more. But there are also some users complains that they can't play .ogg files on Windows 10 PC after installing the latest updates. As a user discribes on Reddit:
Any .ogg file takes up to minute to move/delete, as if it cannot be parsed properly; Letting it play in Groove/any other compatible player only works as long as you don't look at the metadata, then it hangs. However, latest VLC version, 3.0.6, hangs at opening OGG files now (here is a report of it happening on 1H19 Win10 build with VLC 3.0.4).
Part 1. Why You Can't Play OGG Files in Windows 10 v1903 Updates?
To troubleshoot OGG files playback issue, the first thing comes to figure out why your .ogg extension files cannot be played in the latest Windows 10 updates. Here are some of the possible causes for it.
Your OGG files have been broken. Thus you cannot open, delete or analyze OGG files, or playing OGG becomes an extremely difficult thing.
It also might be caused by an improper setting of your media player. As some users stated that OGG works in VLC and Groove for viewing metadata instead of reproducing. And sometimes VLC opens OGG files after significant delay. Some setting is definitely not right now.
The OGG codec is not installed or missing after Windows 10 2019 May Update.
Part 2. How to Solve OGG not Playing on Windows 10 Error?
Solution 1: Convert OGG File to A More Compatible Format
If your OGG files can't play properly in Windows 10 v1903, but works fine in previous version like Win10 1809, there is a great possibility that your OGG files were corrupted while upgrading to Windows 10 v1903. To fix it, you can convert OGG to a more compatible format with an excellent OGG/OGV converter. If your .ogg file is wrapped with both Theora video codec and Vobris audio codec, you can try WinX HD Video Converter Deluxe to convert OGG to MP4 to fix OGG not playing issue. By the way, it can also help you convert MP4 to OGG.
Step 1. Download WinX HD Video Converter Deluxe, install and launch it on your Windows 10 PC.
Step 2. Click "+Video" button to load your OGG file > Choose MP4 as output format > Tap "RUN" button to start converting OGG to MP4!
On the other hand, if your OGG files are wrapped with Vobris audio codec only, you can try an audio converter to convert OGG to MP3 or AAC.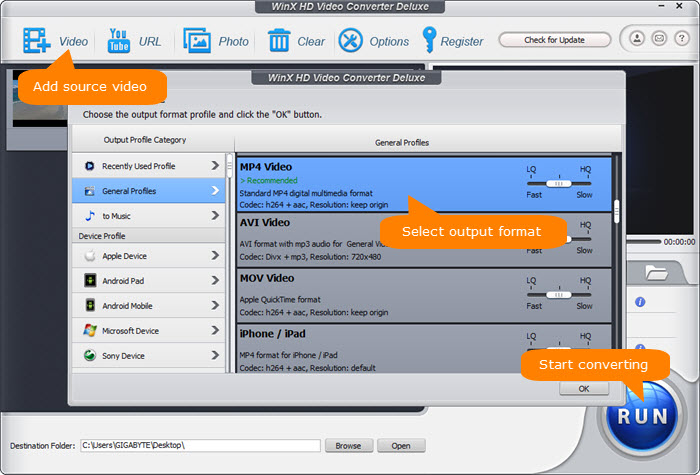 Solution 2: Install OGG Codec on Windows 10
Every media file required a codec to be installed before an app can play them. It also applies to OGG codec. When the OGG codec is missing after Windows 10 v1903 update, the file cannot be played. For that, by installing Web Media Extension package, users will be able to natively play content delivered in the OGG container or encoded using the Vorbis or Theora codecs.

Step 1: Click the "Get" button, and you will be asked to re-enter your Microsoft Account password.
Step 2: After entering your password, click on Sign in.
Step 3: Next, click on "Get" again. The installation will take some time.
Solution 3: Try Another Media Player
When Ogg not playing issue happens owing to the improper settings, for example, VLC opened the OGG file while after significant delay, you can try to change settings to see whether it works. If you have no idea on how to change media player settings, it's a wise choice to switch to another media player. 5KPlayer is a nice option to play any kinds of audio, video files, as well as DVDs, online radio etc.
Solution 4: Wait for Official Fix from Microsoft
Apparently, there is no official fix for this problem just yet. If your OGG files still can't play in Windows 10 v1903 after trying above solutions, you can wait for the offical fix for OGG playback issue from Microsoft. Generally, Microsoft will give some tips to troubleshoot the "can't open OGG in Windows 10 May Updates" error, or it will be automatically fixed in a minor Windows 10 update later.