[2023] Top Free Windows 10/11 Video Players Free Download
A roundup of best three free video player software for Windows 10/11
The Movies & TV app and Windows Media Player have never been the right video player for Windows 10/11. The compatible video formats are so limited and only DRM-free videos are supported. You may find yourself busy downloading extra plugins or additional codecs to make your videos playable on Windows 10's built-in player. Things should not be that complicated. There are various free video players to help play any type of video on Windows 10 or 11. Here we handpicked the top free Windows 10 video players in 2023.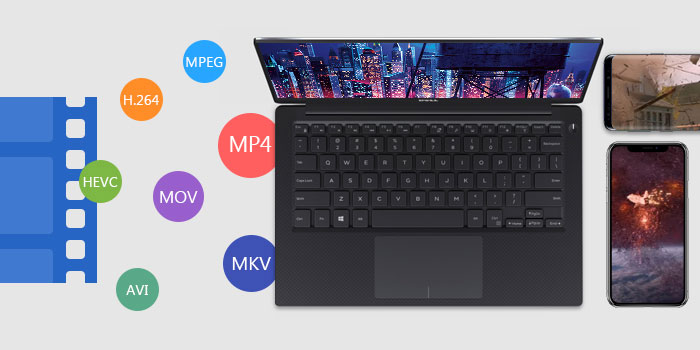 Best Free Video Players for Windows 10/11
1. 5KPlayer
Pros:
Intuitive interface, simple to use.
Built-in complete video codec library to play various videos, DVDs, any video sources on Windows 10, no 3rd party codec package required.
A powerful GPU-accelerated HD and 4K video player for Windows 10/11.
Cons:
5KPlayer is a FREE video player for Windows 10 (64 & 32 bit), 8, 7, etc., with an elegant interface and straightforward layout. With all video audio codecs built-in, it will play all popular formats like MP4, H.264, AVI, WMV, FLV, M4V, WEBM, MPEG. NVIDIA CUDA®, AMD, Intel® QSV, & DXVA 2.0 Hardware-acceleration are supported to make it the 4K video player for Windows 10. Easily play 4K/HD videos in MKV, HEVC, AV1, VP9/8, AVC, MOD, MTS, AVCHD, MPEG-TS, TP, EVO, etc. with minimum resources.
5KPlayer has many advanced features to play DVDs on Windows 10, download media from 1000+ video sites, stream video music files via Airplay & DLNA, a music audio player, and also a radio player.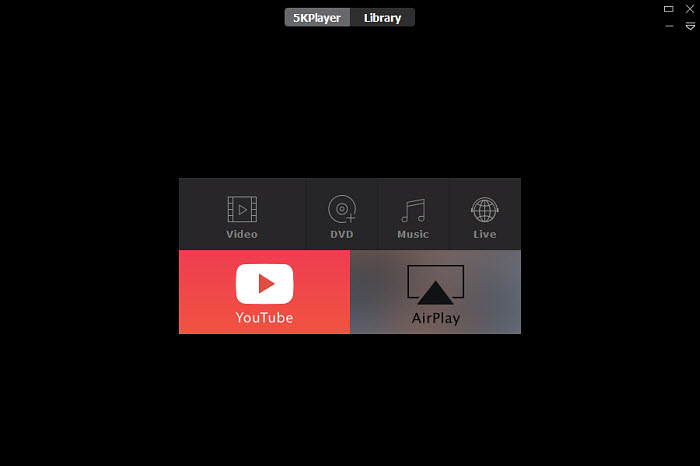 2. VLC Media Player
Pros:
Free and open-source.
Play almost all extensions of audio and video content like .mkv, .avi, .mp4, etc.
Tons of extra features to customize your video.
Cons:
Many features are hidden and you have to dig deep into the menus to find them.
The voice starts distorting when the volume exceeds 100%.
VLC is a popular free media player for Windows 11, 10, earlier and other platforms. VLC Media Player is one of many's favorite media players as VideoLan has offered almost all codecs you may need to play your videos. It's able to use the graphics chip to accelerate the decoding of advanced codecs like HEVC. What makes it really stand out is its versatility. With this free Windows 10 video player, you can record the screen, add custom subtitles, convert video/DVD, change the aspect ratio, adjust the playback speed, and do more.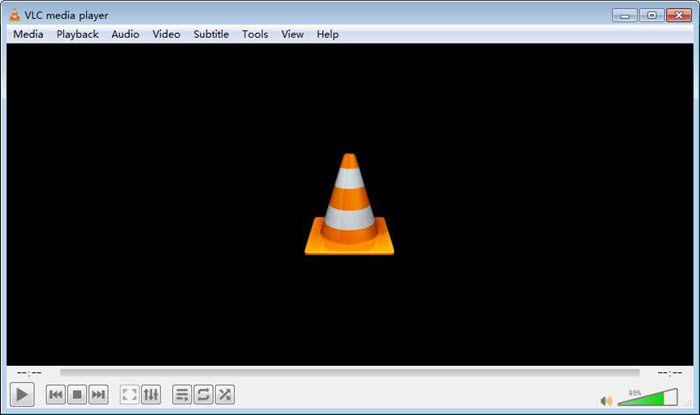 3. KMPlayer
Pros:
Lightweight video player and highly customizable.
Better audio performance.
Video, music, and media file sharing via KMP Connect.
Cons:
Avast Antivirus installation pops up after player installation.
Steep learning curve.
KMPlayer is another excellent free video player for Windows 10. It supports a great variety of video file formats, AVI, WMV, FLV, MKV, just to name a few. KMPlayer allows users to play video files without any separate codec thanks to its own internal codec. It plays videos without running all of your resources. Moreover, it supports a host of languages, including English, German, French, Spanish, etc. Free as it is, it is completely clean, very powerful, and highly customizable. But sometimes, you may come across some errors like playing videos in Windows 10 with noise, cannot show video, can't play H.264/MP4/MKV.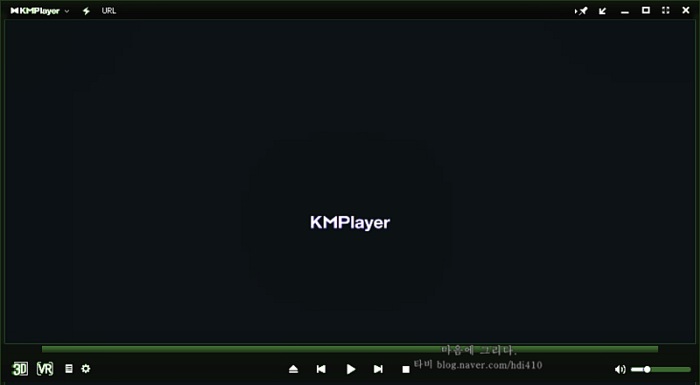 4. GOM Player
Pros:
Easy and clean software.
Practical Codec Finder.
Most formats are well supported on Windows 10.
Cons:
Ads annoy you now and then.
Unstable when playing back HEVC video at 4K resolution.
GOM Player is also a popular video file player for Windows 10, 8, 7, or lower. It supports a wide range of video, audio, and subtitle formats. It has a unique feature to locate missing video codecs automatically using the Codec Finder when an unrecognized video is imported. There are other useful options to, for example, extract audio track from the video as an MP3 file with Advanced Audio Capture, capture image, speed up/slow download video playback speed, change the skin of the interface, etc.
There are limits with the free version. First, there are ads. Second, the free media player can't handle 4K UHD high-resolution videos smoothly. You need to upgrade to the Plus version to get rid of them.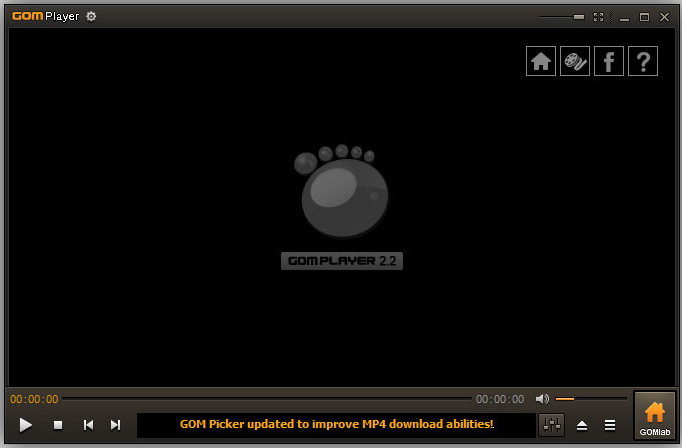 5. MPC-HC
Pros:
Extremely lightweight, open-source media player for Windows 10/11.
Extensive customization options.
Cons:
MPC-HC is no longer developed since 2017.
Limited supported formats.
Media Player Classic Home Cinema (MPC-HC) is always a strong alternative for Windows Media Player. It supports most common video formats and includes the ability to play DVDs and live streams. What we love most about it are the customizable toolbars which allow you to customize the clip the way you want to watch. It's really a pity that MPC-HC is no longer officially developed. But it still works on Windows 10 flawlessly and is one of the best free video players for Windows 10 on low-resource PCs. In fact, there are many users who have been using it for years. There is also MPC-BE, which is the advanced version with more features.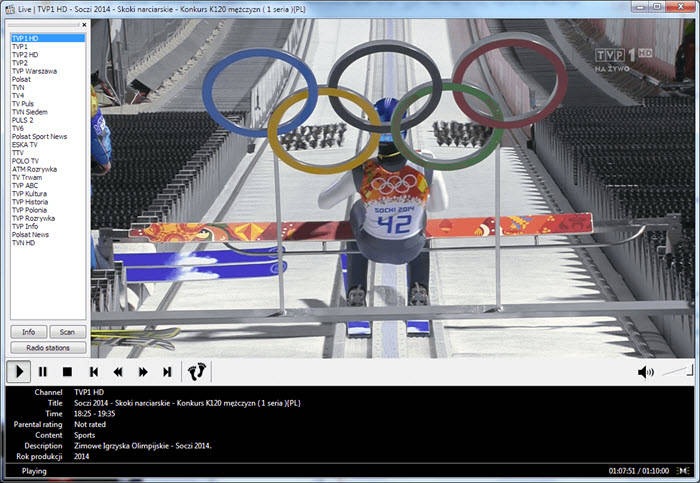 6. MPV
Pros:
Free, lightweight and highly-customizable video playback.
High video/audio quality due to different video scalers, HQ algorithms, etc.
It's a resource-efficient Windows 10 player with GPU acceleration.
Cons:
There is no official GUI, which makes it harder to use for some users.
All the settings and features are hidden and not accessible.
MPV, despite its lack of a proper GUI interface, certainly wins a spot on our list of the best video players for Windows 10/11. It supports a wide range of video, audio, and subtitle codecs (both local and online). It's based on the FFmpeg hwaccel APIs to support VDPAU, VAAPI, DXVA2, VDA and VideoToolbox video decoding acceleration, which makes it more efficient and less demanding. It's packed with a slew of advanced features to guarantee the best visual quality, such as color management, video scalers, HQ algorithms, and more.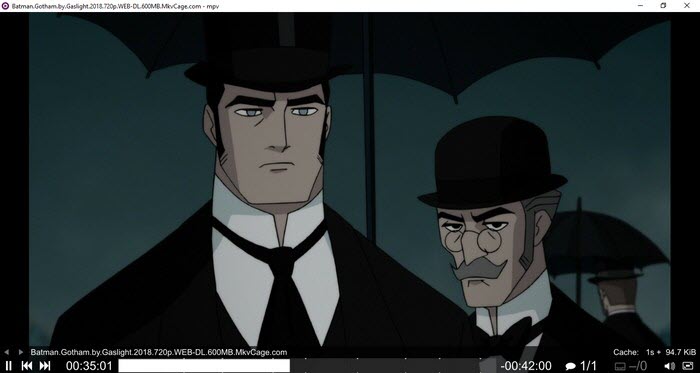 7. DivX Player
Pros:
Nice 4K video player for Windows 10 with high video/audio quality.
Ability to cast media to  DLNA-compatible device.
Good support to multiple audio and subtitle tracks.
Cons:
Limited supported formats.
It's bundled with unwanted pop-ups and stuff.
DivX Software provides useful software to play many advanced codecs like DivX, HEVC, MKV, and AVI up to 4K. There is also a free video player for Windows 10. The free DivX Player supports smooth playback of high-quality videos like 4K. There are some advanced features like the ability to stream videos to DLNA-compatible devices like smart TVs, consoles, tablets, etc. This free Windows 10 media player supports up to 8 audio tracks and subtitles, which makes it possible to play two subtitles at the same time.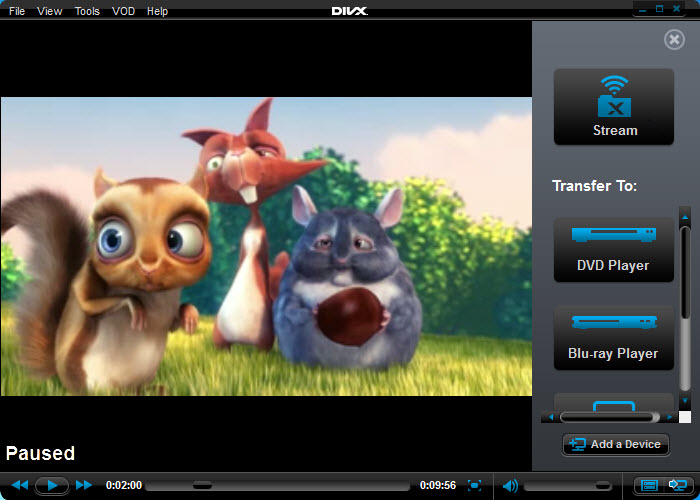 8. PotPlayer
Pros:
A long list of features and options to customize your video playback.
A wide range of video codecs supported, including 3D videos in different formats.
Various interface skins available.
Cons:
PotPlayer is a strong competitor to VLC and is in fact the favorite free video player for many Windows 10 users. It has a massive library of built-in codecs for AVI, WMV, MP4, MKV, etc. and the OpenCodec is supported to let users add whatever codecs they need, such as the HEVC codec. With techniques like CUDA, QuickSync, and DXVA, PotPlayer can play videos in HD quality easily and smoothly on old computers. What brought it massive popularity are the tons of options to configure video, audio, and subtitles not available on other free players.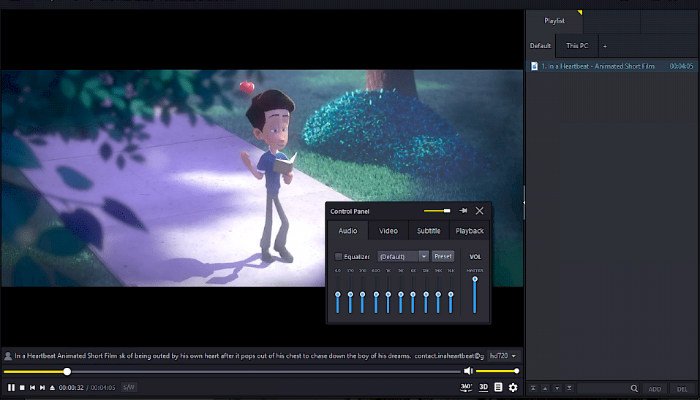 9. Plex Player
Pros:
The best Windows 10 video player to stream local content library.
Support most audio/video file formats with ease.
Very simple to set up and use.
Impressive device support.
Cons:
Not a lot of customization options available.
Plex is a solution you may use to host your own media library of DVD rips, movies, and TV shows, etc. It contains two parts: the Plex Media Server and the Plex app. The Plex app is free and you can download it on Windows 10 to play videos locally and via the internet. Plex can play nearly any media file you throw at it, including videos in MP4, MKV, HEVC, AVI, MOV, and DIVX and audio in MP3, M4A, FLAC, WMA, etc. If you want to play videos via streaming, especially for high-resolution content, you'd better have a PC with more powerful configurations.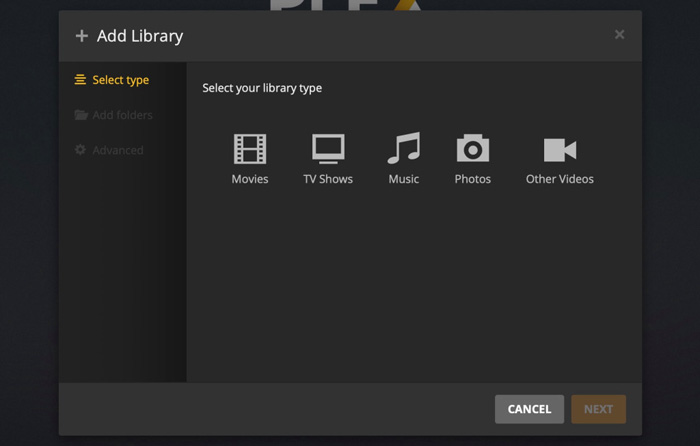 10. Kodi Player
Pros:
There are a lot of add-ons and plugins to cater to different needs.
As a media center, it has far more extra features than other free Windows 10 video players on the list.
Cons:
A relatively steep learning curve.
Third-party add-ons can cause Kodi crashes, other security and legitimacy problems.
Everybody knows that Kodi is a free and open-source media center to help sync audio and video files to different devices. You can also use it as your Windows 10/11's default video player. Kodi is able to play pretty much all the video, audio, podcasts, and other digital media (including DRM-free DVDs) stored locally or on the internet. There are more than 900 official plugins and add-ons available for it which greatly enhance its overall experience and capabilities. However, that can also bring problems. For example, some plugins can be totally useless and some are illegal add-ons (like the ones that help Kodi access copyright-protected content).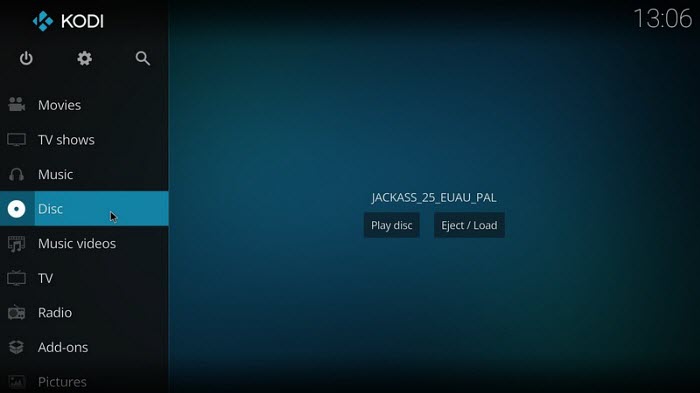 Verdict:
Which is the best free media player for your Windows 10 PC? That depends on what you most care about. Some will just play all the video formats you may throw to them, like 5KPlayer and VLC; some come with a lot of customization features like KMPlayer, MPC-HC, PotPlayer, MPV; and some handle 4K or advanced codecs more stably than others, such as DivX Player, 5KPlayer. And you may also want an entertainment suite with Plex or Kodi... The good news is that all of the above players are free for Windows 10/11. Just free download one and select the one that suits you most.
FAQs about Video Players for Windows 10
Q1. Does Windows 10 come with a video player?
A1: Yes. Movies & TV app is built in Windows 10 computer. But it requires extra codecs installed like HEVC codec, MKV codec etc to play videos.
Q2: How to download Windows Media Player 12 on my PC?
To get WMP 12 on your Windows PC, you can follow the below steps to install it: Go to Settings > Apps > Optional Features > click on Add Optional Features. Then, tick Windows Media Player on the list and click on Install.
Q3: Is there any more media player for Windows 10?
A3: Definitely, media players like VLC, Pot Player, DivX Player, and even Plex, Kido are all good choices for watching videos on Windows 10.