[Solved] Fix KMPlayer Doesn't Work for Playing MP4 H264 MKV Videos
The official site of KMPlayer can no longer open properly. Some users reported that the site is a mass of wired Korean and can't download the latest version or get any technical support. In this case, you may try to use a VPN to access its website.
Q: - The latest KMP doesn't play normally. It plays only the first 1-2 seconds of any video, and after that only audio is there, no video.
- I had KMPlayer installed and it was working faultlessly, but after I installed and used a malware finder, it came download to the following KMPlayer working problems. What can I do to fix the KMPlayer doesn't work error?
* Some MP4, H.264, MKV and AVI files will not open and I receive the message of "Login Required".
* Subtitles won't show. When I load .srt subtitles, KMPlayer has problem showing them.
* Mp3 files open but the first half minute are not played and I can't access the eliminated part using the timeline.

A: To fix KMPlayer doesn't work/play problems & errors, try another video player.
KMPlayer Won't Play Videos? Try the Best Free Alternative - 5KPlayer
* Play virtually all video formats, including MKV, HEVC, MOV, MP4, AVI, AVHCD, WMV, and more.
* Smoothly play SD, HD 720P, FHD 1080P, UHD 4K, and even higher resolutions without sutters.
* Download and play online videos from Facebook, Vimeo, and more than 1000 sites.
* Airplay video/audio content from iDevice to Apple TV, computer and vice versa.
* It's 100% free, secure, and lightweight.
How to Solve KMPlayer Not Working and Fix KMPlayer Errors
As most players have no problems with MP4 or H.264. KMPlayer should play both and MKV, AVI, FLV, WMV and AVCHD. In order to fix 'KMPlayer doesnt work' problem, please take a closer look at the following help and tips and find the best solution for KMP playing issue:
1. Outdated version. Make sure that you are using the most current version. Check whether you have downloaded from the right place or have upgraded it to the very new version; (>> How to Free Download KMPlayer for iOS 8)
2. Residual file. Remember that you have not uninstalled the previous version in a wrong way. Remove HKEY_CURRENT_USER\Software\KMPlayer from the registry and delete the old folder, and then reinstall the KMPlayer to a new one.
3. System incompatibility. Confirm your operating system of computer is supported by the HD video player. Specifically, for Windows 32bit user, the system32 folder does contain the Korean codepage (C_949.nls), and for the computer on a 64bit system, the file has to be in \Windows\SysWOW64\;
4. Conflict programs. Make sure your Antivirus software, Firewall or windows skinning utility does not block your new programs, such as KMPlayer, and add the allow for KMPlayer.exe;
5. System changes. Try to find out the potentiality that causes KMPlayer not to work normally if you have changed your system. Or, if out of absolute necessity, reinstall windows, but it is the least recommended;
6. Corrupted software. Check if there are any malware or virust that affect the normal operation of the MKV player;
7. Find a KMPlayer/VLC alternative for Mac and Windows that will work out of problem.
Convert Unplayable Videos to Fix KMPlayer Doesn't Work Error
If all the above tips won't work and KMPlayer is still not working properly, maybe it's the video formats that KMPlayer fail to support. In this case, try WinX HD Video Converter Deluxe, which will convert MKV, MOV, AVI, HEVC, MP4, AVCHD, MTS, WMV, any videos for KMPlayer. You don't need to worry about the incompatibility of video sources, as it will turn all your original videos playable on any of your video audio players, as the replacements of KMPlayer.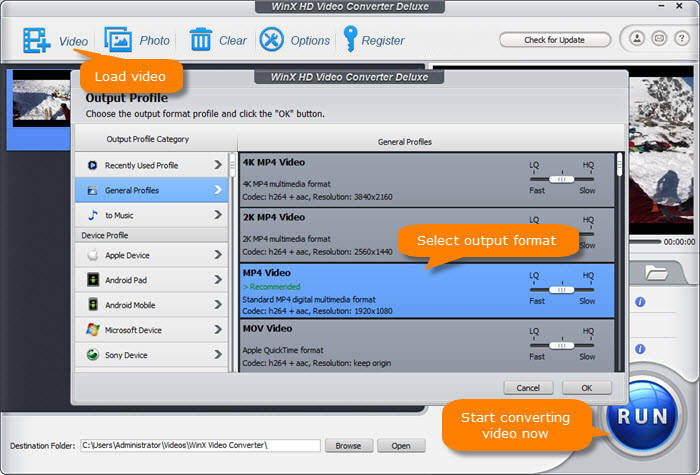 * To fix KMPlayer playing DVD problem, please try WinX DVD Ripper Platinum to rip DVD to KMPlayer friendly digital videos.
Avoid KMPlayer Doesn't Work Error by Converting Video Files
WinX HD Video Converter Deluxe will keep all video files in good shape for KMPlayer, 5KPlayer, Windows Media Player, MPlayer, VLC, QuickTime Player and any other pop multimedia players, as well as video editing tools and devices like iMovie, Premiere Pro, Lightworks, HitFilm, iPhone, iPad, Android, TVs, NAS, and more.
To solve and avoid "KMPlayer won't play MKV, MP4 or other videos" issues, the all-in-one covnerter will convert videos to other formats supported by KMPlayer like MP4, AVI, WMV, and more. Not only can it convert videos to solve KMPlayer not working problems, it can also convert videos to popular devices like iPhone, iPad, edit videos, download online videos from 1000+ sites, record video, etc.