Videos Won't Play on Windows 10/11? How to Fix it?
Which comes first, tomorrow or accident? When you play videos on your Windows 10 laptop or computer, accident comes first! Your videos are suddenly stuck on your Windows 10, no longer playing. Why will videos not play on Windows 10? And more importantly how do you fix it? The following troubleshooting tips will illustrate everything you need!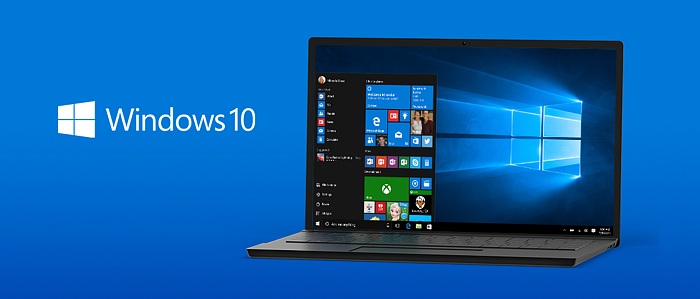 Videos Can't Play on Windows 10/11 - What Shall I Do?
A wide variety of reasons possibly result in this video not playing problem. Instead of explaining obscure reasons to you, it's much wiser to directly tell you the solutions you should try. Time is saved, and so is energy.
Solution 1. Update Your Graphics Driver
A graphics driver is the software to empower your operating system and programs to use your computer's graphics hardware. Providing you play high definition videos, you'd better keep your computer's graphics drivers updated to get hardware utilized to the best advantage.
To update graphics driver, firstly identify your graphics card via "System Information" after hitting "Start". Afterwards, get your graphics driver updated from your graphics hardware manufacturer's website: Download Nvidia graphics driver | Download AMD graphics driver | Downlaod Intel graphics driver
Solution 2. Uninstall and Reinstall the Display Driver
Right-click "Start" > find "Device Manager" > opt for "Display drivers" and locate to "Display adapters" from its pull-down list.
Click "Uninstall" (be sure to tick the option - delete driver package from the system).
Go back to find "Action" at the menu bar > choose "Scan for Hardware changes" from the drop-down list to reinstall the driver.
Last but not least, shut down and restart your Windows 10 PC.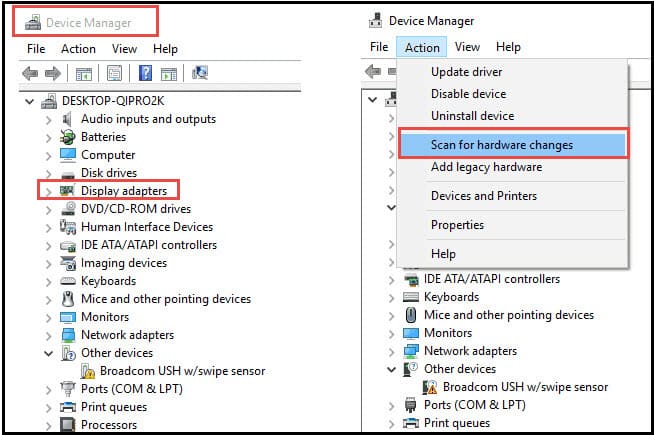 Solution 3. Install Codec Package for Your Video Player Software
If you're using VLC to play back videos on Windows 10, it's common to be trapped with "video not playing" issues. The lack of codecs account for the playback failure. Take MKV video codecs for instance. VLC (as one of top 3 windows 10 video players) would annoy you with varied types of errors like MKV not playing, only audio no video, MKV stuttering issue, etc. To solve these problems, you're required to:
Download media player codec pack;
Download the latest CCCP playback pack;
Or get the right DirectShow decoder filters installed.
Solution 4. Use All-purpose Video Player without Any Codec Package
The more convenient, the better. In case the above-mentioned codec package download is troublesome to you, one simpler way is here to go - download an all-sided video player 5KPlayer to play any videos with its built-in codec library, no extra package or decoder filters needed.
As the best alternative to VLC, 5KPlayer wins a wide popularity from ocean to ocean. That's because it lives up to what it claims and does it quite well, playing back any video on Windows 10 at whatever codecs, be it MP4, MKV, MOV, AVI, WMV, SWF, FLV, MTS video formatted by H264, MPEG-4, HEVC/H265, VP8/9, AV1, DivX/XviD, MPEG. etc. No external codec package needed! Load your 2K/4K even 8K video to it!
Download links: get 5KPlayer for Windows 10!
Solution 5. Upgrade Your Hardware Configurations
To play the standard videos with resolution ranging from 480p to 2018p, there is no further demands on either video player software or hardware configurations. Yet, this is not the case when it comes to the high-defi videos formatted by compute-intense codec like 4K HEVC video. Consequently, hardware configurations (RAM, HDMI, GPU) upgrades need to be done except for video player upgrade.
The RAM is at least 4GB and your device features with HDMI 2.0 or DisplayPort cable. As for the graphics card, Nvidia GPU starts with Maxwell (GM206) series while Intel integrated graphics starts with Kaby Lake. Only when your GPU supports Nvidia/Intel GPU hardware decoding can your 4K HEVC file play smoothly on Windows 10.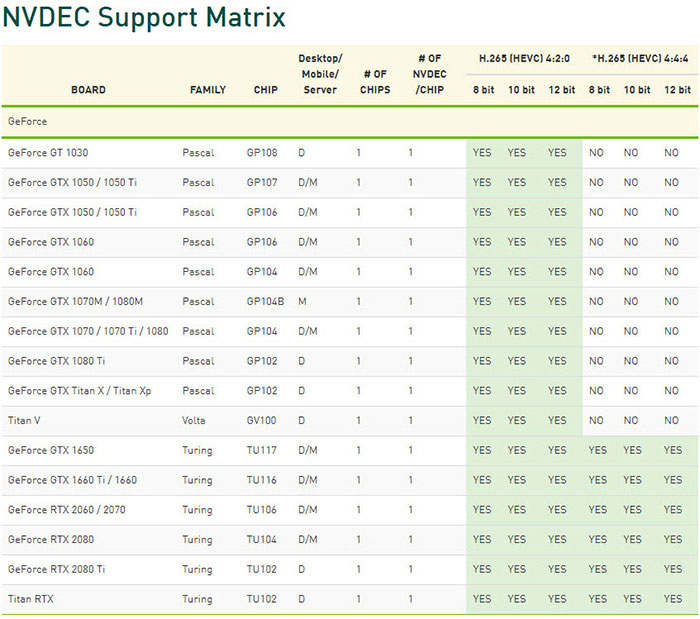 Of course, if you don't want to plunk down $500 or $1000 for a graphics card, one money-saving yet effective way is to downgrade your 4K HEVC video file so as to accomodate your current hardware configurations. Try WinX HD Video Converter Deluxe (discount price only $29.95) to downgrade 4K to 1080p or convert HEVC to H264 codec for smooth playback on your current computer. Worry about quality loss? Don't be! The built-in High Quality Engine and constantly optimized conversion algorithm guarantee you a great quality copy, 98% quality reserved!
Warm Prompt: The newly-released GoPro MAX records TL video at 5.6K 30FPS formatted by HEVC codec, which will cause playback failure more frequently on your Windows 10 PC. Providing you possess some GoPro MAX TL footages, please compress 5.6K to 4K, 2K or 1080p lest your video player has come to nothing.
Solution 6. Adjust Settings on your Browser
What can you do if your online video won't play on Windows 10?
Adjusting settings on your browser is the key.
For Chrome browser, find Settings > tap Advanced at the end of the drop-down list > scroll down to find "System" > switch off "Use hardware acceleration where available".
For Firefox browser, tap 3 horizontal bars on top right > Options > grey "Use recommended performance settings" under "Performance" > Disable "Use hardware acceleration when availabe".
Note: if you're using proxy server, please head to Settings and change proxy settings (proxy pattern, privacy, connection...) to re-check your video online.
Solution 7. Install Legal Copy of Windows 10 Home Operating System
The last solution goes to Windows 10 operating system. For some users who installed pirated copy of Windows 10 operating system have higher chance to encounter various problems. Video playback failure just one of them. Therefore, please head over to Microsoft official website and get your computer legal copy of Windows 10 home operating system installed.