[5 Ways] How to Free Convert MP4 to AVI with A Few Clicks
MP4 and AVI are both popular video formats that are widely used to store video footages on computers or smartphones. While there are situations that you need convert MP4 to AVI, for example, you installed a media player that's not compatible with MP4 format or the audio/video codec embedded in MP4 videos. Or you need your video files stored in AVI with lossless quality.
How can you convert MP4 to AVI? This article will introduce you 5 best MP4 to AVI converters that helps you convert MP4 to AVI for free easily.
Part 1. 5 Best MP4 to AVI Converters for MP4 to AVI Conversion
#1. WinX Video Converter
WinX Video Converter is an awesome MP4 to AVI converter that can free transcode MP4 files to AVI with fast speed and high quality. It offers easy-to-use steps to make the MP4 to AVI conversion routine fairly simple even for beginners. And it's totally free to use. No trial, no registration.
To begin with, download WinX Video Converter to a known location. Start the setup and follow on-screen instructions to install the application. It's a safe program, virus free and adware free.
After installation, follow these four steps to free convert MP4 to AVI.
Step 1. Add MP4 file for converting.
Click "+ Video" button from the interface to add the MP4 video which you want to convert. You can add multiple MP4 files at once for batch conversion.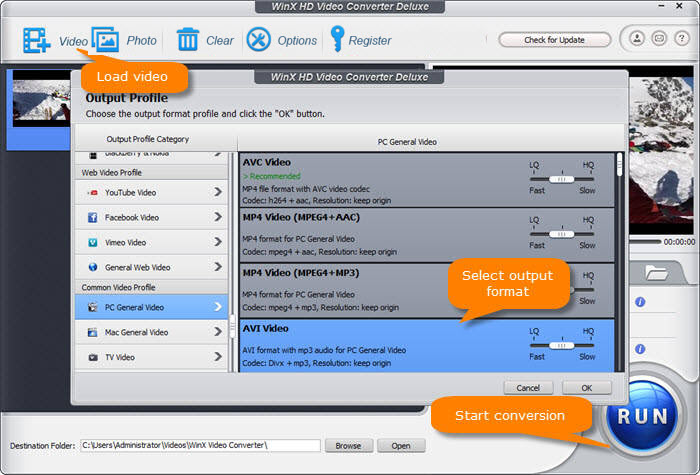 Step2. Select AVI as the output format.
From the Output Profile window, please select AVI Video as the output format from category "PC General Video".
Step 3. Convert MP4 to AVI.
Click Browse button in setting panel, select a destination folder in the dialog box that opens, and click OK. And click the RUN button on the main interface, to start converting the MP4 files.
#2. MPEG Streamclip
MPEG Streamclip is an excellent top-quality video converter, editorm and player for QuickTime, MPEG and transport streams. It can be used to convert MP4 to AVI for free easily. In addition to that, a ton of file formats are supported including DAT, MOV, DV, AVI, MP4, TS, M2TS, AVR, M2V, M1V, MPV, AIFF, just to mention a few. Moreover, MPEG Streamclip guarantees excellent quality for your video and audio conversion tasks no matter whether it is a general format or a device-specific one. 
How to Convert MP4 to AVI with MPEG Streamclip
Step 1. Be sure to download MPEG Streamclip from its official site. Open the MP4 file: File > Open Files > Navigate to the file you want to open > Highlight the file > Open.
Step 2. Use the In/Out function to select which part of the video file you wish to export from Streamclip. It's optional.
Step 3. Click on File > Export to AVI to convert MP4 to AVI. Of course, you're able to tweak the video parameters like codec, frame rate, resolution and more if necessary. #3. VLC
By using VLC, you can also convert MP4 to AVI format. It doesn't require you to install another professional video converter, and is totally free. Actually, no matter which platform you're running, you can use VLC to achieve a video conversion. Perhaps the biggest drawback of VLC is the limited output formats supported, be it MP4, TS, WebM, AVI, YouTube, MP3, FLAC, and more. Anyway, it's enough to convert MP4 to AVI.
How to Transcode MP4 to AVI through VLC Media Player
Step 1. Open up the VLC media player on your computer. Click on the Media > Convert / Save button.
Step 2. On the window that appears, clikc on the Add button to import the MP4 video that you want to convert. It supports batch conversion as well. When loaded, click on the Convert / Save button.
Step 3. In the new window, drop down the Profiles option and choose Video for DivX compatible player (it's packaged in AVI container by default) as the output format.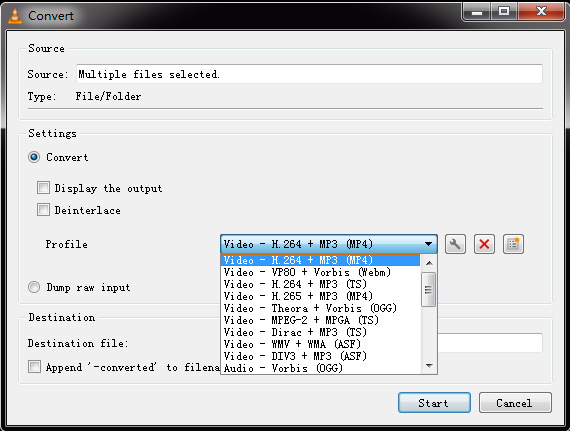 Step 4. Click on the Browse button to set the destination folder. Then tap on the Start button to convert MP4 to AVI immediately. This will be finished after a while, depending on your video file size and length.
#4. Adobe Media Encoder
Adobe Media Encoder offers a solid solution to convert MP4 to AVI, as well as ingest, transcode and output to almost any format you can imagine. Actually, it serves as the primary encoding engine for Adobe Premiere Pro, Adobe After Effects, and other Adobe products. If you have exported a video using Adobe Premiere Pro or Adobe After Effects, you have used Adobe Media Encoder. Of course, you can get Media Encoder by itself. It helps users to transcode MP4 to AVI with highest possible quality.
How to Export AVI from Adobe Media Encoder
Step 1. Free download Adobe Media Encoder on your PC or Mac. Add items to the Queue panel.
Step 2. Select the item's row for the text showing Format, preset and output file path in the queue panel and select Edit > Export Settings. Step 3. Click the format or preset name of the output to set AVI as the output format.
Step 4. When you're done, click on the Export button to convert MP4 to AVI with Media Encoder.
#5. Zamzar
Online video converters like Zamzar are also widely selected by users for MP4 to AVI conversion. There is no limit on platforms. All the conversion can be done easily through your web browsers. You don't have to install any third-party software on your device. With the popularization of online video converters, more output formats are supported with high quality. And they have better security and privacy. Zamzer is one of the best. However, it has a file size limit (50MB max.) and depends highly on Internet speed.
How to Convert MP4 to AVI Online with Zamzar
Step 1. Visit Zamzar official site. Drag and drop your MP4 files that you want to convert. Or you can do it by clicking on the Choose Files button.
Step 2. Drop down the list of Convert to, then select AVI as the output format.
Step 3. Click on the Convert Now button to start converting MP4 to AVI. Part 2. Format Comparison: MP4 vs. AVI
What is MP4[1]: MP4 is a world-famous container format developed by Moving Picture Experts Group (short for MPEG). It allows to combine different multimedia streams into a single file. MP4 is streamable and supports all kinds of multimedia content.
What is AVI: AVI stands for Audio Video Interleave. AVI is the most common format for audio/video data on the PC. AVI is a very flexible and powerful architecture. Some newer codecs enable AVI files to have similar or even better quality than DVD.
From the definition, we can see some differences between MP4 and AVI. Here let's check more details for MP4 vs. AVI format comparison.
| | | |
| --- | --- | --- |
| Comparison Parameter | MP4 | AVI |
| Developer | MPEG | Microsoft |
| File Extension | .mp4 | .avi |
| Video Encoding Formats | H.264/AVC, H.265/HEVC, MPEG-2 Part 2, MPEG-4 ASP, H.263, VC-1, Dirac, others | |
| Audio Encoding Formats | AAC, MP3, AC-3, Apple Lossless, ALS, SLS, others | AAC, WMA, MP3, FLAC, AMR, others |
| Device & OS Compatibility | Almost all devices and operating systems | All Windows-based devices, but not supported by Macs |
Part 3. FAQs about MP4 to AVI Conversion
1. Is AVI better than MP4?
Actually, AVI and MP4 both are container formats for storing video footage. From the compatibility, AVI is less-well supported by non-Windows video players. But in the video quality, it depends on the packed codec. Both can hold video compressed with codecs like MPEG-4 as well as newer H.264 and HEVC.
2. How can I convert MP4 to AVI online?
Type in "MP4 to AVI" in Google Chrome, you'll see many online MP4 to AVI converters, like Cloudconvert, Zamzar, Convertio etc. Select files from your computer, choose AVI as output format, and start convert. All done! But if your MP4 is large in size (over 500MB usually), you're recommended to use WinX HD Video Converter Deluxe.
3. How can I play AVI files?
You can download a media player that's compatible with AVI format, like VLC Media Player or 5KPlayer.
External Reading:
[1] MP4 - MPEG-4 Part 14 or MP4 is a digital multimedia container format most commonly used to store video and audio, but it can also be used to store other data such as subtitles and still images...