How to Free Convert MP4 to WMV Fast without Size Limit
When googling "convert MP4 to WMV", you will get quite a few free online converters capable of transcoding MP4 to WMV format, such as cloudconvert, zamzar, convertio, online-convert, to name a few. It's quite convenient, just select a file to upload to the site, wait for the process to finish, and download the converted file online to your computer.
If you have a clip smaller than 100MB or 200MB, free online converter is a good choice. If you have large (4K UHD) WMV videos to process, you'd better resort to desktop program for more powerful performance. A reliable desktop video converter can change WMV to MP4 format faster without file size limit.
Get A Solid Video Converter for MP4 to WMV Transcoding
The only thing you need to do is to download a powerful MP4 to WMV video converter, which can easily help you get the job done.
WinX HD Video Converter Deluxe with millions of videos processed every year is a good shot. This program is pretty handy. It enables you to convert a large (4K UHD) MP4 file or multiple videos to WMV format. You won't notice any quality loss thanks to its High-quality engine. Hardware acceleration tech makes the program at least 5x faster than free online converters. No file size limit.
Step-by-step guide to Changing MP4 to WMV Format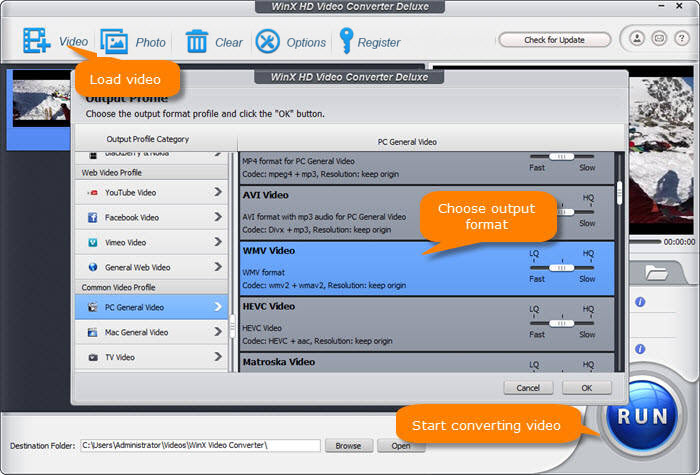 Step 1. Import MP4 Video. Install and run the video converter. Then click "+ Video" button to import the source MP4 video. You can load several MP4 videos to convert at a time, because the program supports batch conversion.
Step 2. Set WMV as Output Format. After the MP4 video loaded completely into the tool, an output profile window will pop up soon, where you can choose "WMV Video" as the target video format at "PC General Video" category.
Step 3. Select the Destination Folder. Simply click the "Browse" button to select the destination folder for storing the output WMV file.
Step 4 - Press the "RUN" Button to start processing MP4 to WMV transcoding.
MP4 to WMV Conversion FAQs
Is MP4 to WMV conversion lossless?
Any video conversion involving transcoding decreases the quality. Generally, the video conversion routine goes like: input source video -> Decode -> YUV -> Re-encode -> Output target video. It is a lossy compression process. To make the video format changing a lossless process, the codec should remain unchanged and only the video container format is converted.
Why we pick WMV instead of MP4?
Somehow, you may have noticed that most video files on your windows computer are ended with .wmv. What is WMV? WMV is a standard definition or compressed video file format or several proprietary codecs developed by Microsoft. WMV is extremely widely used and accepted by Windows based video player, including Windows Media Player, Windows Movie Maker, Windows Phone, Surface tablet, Xbox One, ZEN, etc. WMV is compatible with many video editors like Windows Movie Maker.
Can Windows Media Player convert MP4 to WMV?
No. Windows Media Player can play WMV and MP4 formatted videos, but it can't handle WMV to MP4 conversion. VLC enables users to transcode video files without limited format supported.