How to Fast Convert MKV to AVI with VLC [No Watermark]
VLC media player's claim to fame is that it not only allows you to free play back almost any video at any resolution, but also helps you free convert MKV to AVI format without watermark at hardware accelerated speed.
How to use VLC to decode video from MKV to AVI? How long does it take to convert an MKV media file to AVI? All your questions can be found answers here! Just scroll down to the part you need if your time is limited.
Playback of video and audio files are the VLC bread and butter. But that's not the whole story. It also works like charm in video converting. For instance, free convert MKV to AVI format, as well as convert video to MP4, MOV, FLV, WMV, MPEG, etc. with adjustable resolution, bit rate and frame rate. Enable its hardware accelerated decoding to hand over video decoding from software decoding to GPU hardware decoding for faster speed. And the resulting AVI file is absent from watermark.
How to Use VLC to Transcode MKV to AVI File on Windows 10/8/7
Step 1. Launch VLC on your Windows 10/8/7 > tap "Tools" on the top menu of the main interface > "Preferences" > shift to "Input/Codecs" colum > enable hardware accelerated decoding under "Codecs" to quicken MKV to AVI converting speed. Step 2. Click "Media" > tap "Convert/Save...".
Step 3. Click "Add" on the pop-up window > load your MKV file into VLC.
Step 4. Hit "Convert/Save..." at the bottom of the window > Move mouse to "Profile" under Settings > click the icon with a text "Create a new profile".
Step 5. Choose "AVI" under Encapsulation column > name your profile, such as AVI in the picture > tap "Create".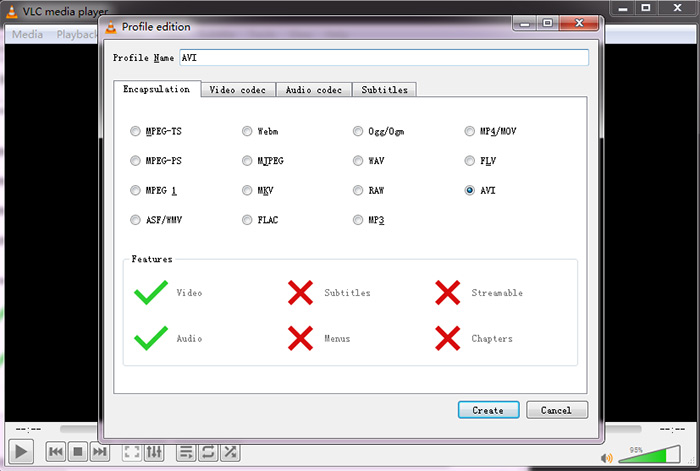 Step 6. Pick "AVI" from Profile > click "Browse" to select a destination folder > hit "Start" to begin converting MKV to AVI.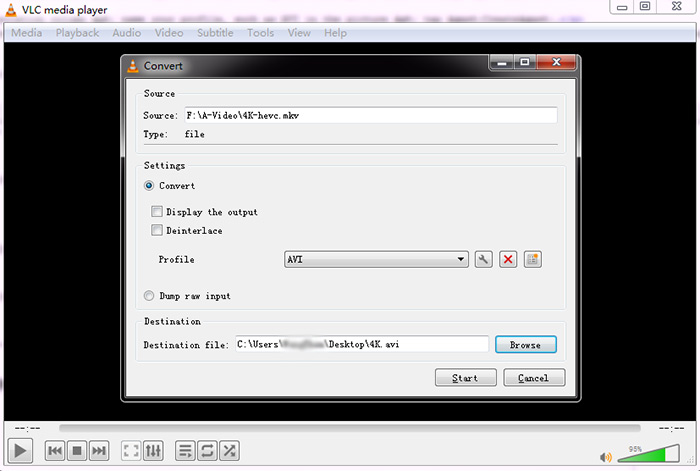 The MKV to AVI converting result is as following:
Input MKV video info: 4K MKV (3846*2160), H.264 codec, 4 min 29s in length, 497MB in size, 15.5.Mb/s(overall bit rate), 23.97 FPS
Output AVI video info: 4K AVI, DivX codec, 4 min 29s in length, 51.9MB in size, 15 Mb/s, 23.97 FPS, No watermark
Converting time: 4 min51s
Running environment: Windows 7 Ultimate 64bit, Intel(R) Core(TM) i5-3470 CPU @3.20 Ghz 3.60GHz, RAM 8GB, Intel Ivy Bridge Graphics Controller, no other software running.
The VLC converting time is not impressive, indeed. Mainly because it only supports GPU hardware decoding, no GPU hardware encoding. Of course, if your MKV input is short in length, it's not a big deal and the converting speed is acceptable. As for videos like 30mins or MKV movie with 90 mins, you'd better resort to a video converter with both GPU hardware decoding and encoding supported.
Luckily WinX HD Video Converter Deluxe fits the bill!
No.1 Fast MKV to AVI Converter with GPU Hardware Decoding&Encoding Supported!
Load the same 4K MKV input to WinX Video Converter and it only costs you 1min10s to finish the MKV to AVI converting. The whole converting relies on Intel Quick Sync Video/Nvidia/AMD GPU hardware acceleration tech, up to 5X faster than VLC!
More Nice Extras:
1. An expansive selection of supported formats: 270+ input formats and 420+ output formats; convert MKV to MP4, YouTube to MP4, AVI to iPhone, MP4 to MP3, TS to MP4, H265 to H264, etc.
2. De-interlacing tech and High Quality Engine guarantee you an astonishing resulting AVI file, up to 98% quality kept.
3. Compress large-sized MKV by video codec conversion (H264 to HEVC), resolution downscale, video trim/crop, remove video/sub tracks...
4. Free download any video from YouTube, Facebook, twitter, Instagram, Vimeo, Vevo, etc. 1000+ sites.
How to:
1. Launch WinX HD Video Converter Deluxe and open the main page.
2. Click the section of "Video" to import video source. Batch conversion is approachable.
3. Choose "AVI Video" under PC General Video.
Note: Hardware encoder can be auto detected and enabled at the lower right corner of the home screen if your computer hardware also supports hardware acceleration tech.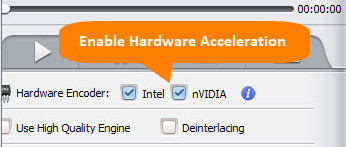 4. After all set, click "RUN" button to start conversion. The resulting file is almost identical to the input in quality, no watermark burned in.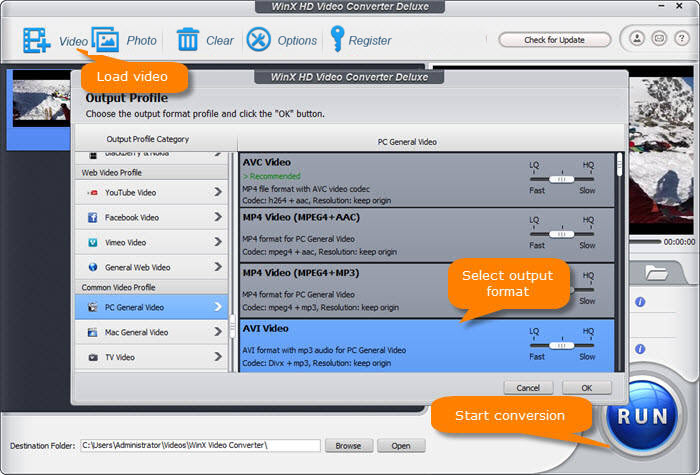 The MKV to AVI converting time is 2min40s for the same input if WinX Video Converter Deluxe disables GPU hardware accelerator. This will give the credit to the constantly optimized video converting algorithm to elevate software decoding & encoding speed.