How to Convert MKV to AVI on Windows 10
While MKV is a popular video container that can hold audio, video, image, and subtitle tracks and support 4K and HD modern codecs such as HEVC and VP9, there are still compatibility problems. Most mobile devices, video players, video editing programs, and streaming services do not support the MKV format. This is one of the few places where AVI wins over MKV. For this reason, we need to convert MKV files to AVI format in some cases.
In this post, we list the 2023 Best MKV to AVI converters that will help you convert MKV videos to AVI without quality loss fast and easily.
Best 4K/HD MKV to AVI Converter [No Quality Loss]
HD Video Converter Deluxe is the best and fastest video converter that can convert MKV to AVI (DivX/Xvid) on Windows PC/Mac. It delivers fast speed and high output quality when converting 4K and HD MKV videos into AVI. It will also convert MKV videos into MP4, H.264, HEVC, WMV, MOV, FLV, M2TS, MP3, iPhone, iPad, Android, TVs, Webs, and 420+ outputs.
Part 1. How to Convert MKV to AVI on Windows and Mac
HD Video Converter Deluxe
VLC
FFmpeg
AVC
Freemake
Cloudconvert
Convertfiles
1. HD Video Converter Deluxe
Best for: convert 4K and high-resolution MKV files into AVI
HD Video Converter Deluxe will convert MKV to AVI, WMV, MP4, MOV, H.264, H.265, and 420+ presets on Windows and Mac easily.
It accepts 4K/HD MKV inputs ripped from DVD/Blu-ray, downloaded online, recorded by some HD cameras, etc.
All codecs in an MKV file are supported, including the advanced AV1, H.265/HEVC, VP9/VP8, H.264/MPEG-4 AVC, etc.
MKV sources may contain multiple audio/language/subtitle tracks, even multi-track videos shoot from different angles. You can convert multi-track MKV video to AVI format with the language/subtitle track you desire.
The Intel QSV and Nvidia CUDA/NVENC hardware acceleration is supported to deliver 5x faster MKV to AVI converting speed.
The High Quality Engine will ensure the best output quality when converting a high-resolution MKV video into AVI.
How to Convert MKV to AVI with High Quality?
Step 1: Free download the 4K/HD MKV to AVI converter on your computer. It runs on both Windows and Mac. Once downloaded and installed, run the converter and its main interface will pop up. Choose the "Video" option and click the "+ Video" button to load your MKV video. You can select multiple MKV files to batch convert into AVI.

Free download Windows version (Windows 11/10 and earlier)


Free download Mac version (macOS Monterey and earlier)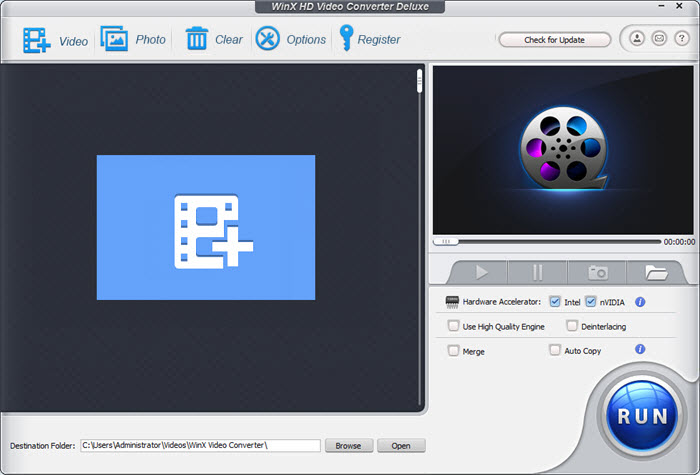 Step 2: Once the MKV files are all imported, the converter will pop up an output format window. To convert MKV to AVI, scroll down the list on the left column and select PC General Video > then select "AVI Video" as the output profile from the list on the right.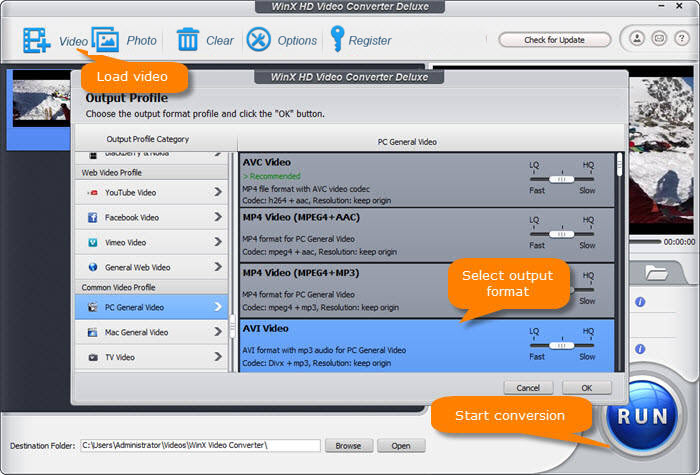 Step 3: If the MKV video contains multiple audio and subtitle tracks, you can select the subtitle/audio track as you like. After you select the AVI format, it will go back to the main interface. Now click the audio and subtitle track dropdown menu beside the source video and select the track in your target language. Step 4: Next, click the "Browse" button to choose the destination of the converted AVI file. After you process all the steps above and right-click "RUN" to convert MKV to AVI now.
2. VLC
Best for: best free and simple MKV to AVI converter already installed on many computers
The world's most popular free video player VLC is actually quite capable of converting MKV into AVI. It's in fact a welcome way to convert video, DVDs, and online videos to different formats as users do not have to install third-party applications for conversions. You can use VLC to convert MKV videos to AVI, MP4, OGG, TS, Webm, and ASF file containers. Some basic editing features are also available, including the abilities to adjust video/audio codecs and parameters, add filters, deinterlace, etc. If you just need to convert an MKV video into AVI for viewing on mobiles or uploading to websites, you don't need a full-blown professional tool. VLC will help you out.
However, as VLC is mainly used as a video player instead of converter, the MKV to AVI conversion may not be as stable as with other tools.
How to Convert MKV to AVI using VLC?
Step 1: Download the latest version of VLC Media Player if you haven't had it installed. Then open it. Click the "Media" menu in the top-left corner of the VLC window and select the "Convert/Save" option. Click the "Add" icon to select and import the MKV videos from your local computer.
Step 2: Then, click the little down arrow next to the Convert/Save button, and choose Convert. Now in the Convert dialog box, click the profile dropdown button and select AVI.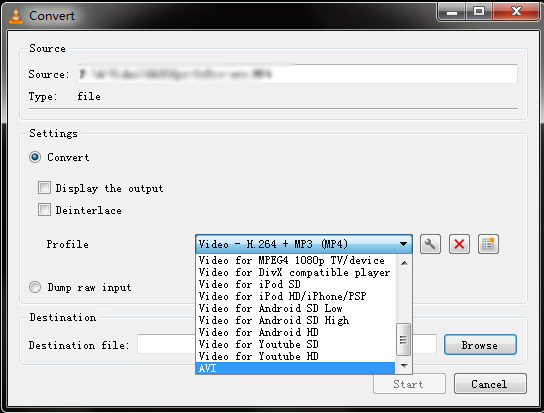 Step 3: If AVI is not on the list, click on the button that has a spanner on it next to the Profile. Find and select AVI under Encapsulation, name the Profile as AVI, and then back to the Convert window, you can find the AVI output from the Profile dropdown list.
Step 4: Click on the Start button to activate MKV to AVI conversion immediately. The time VLC takes to convert depends on the size of the MKV file. So if you're converting a lengthy and large 4K/HD MKV to AVI using VLC, you'll have to wait a while. Check detailed steps to convert MKV to AVI using VLC here >>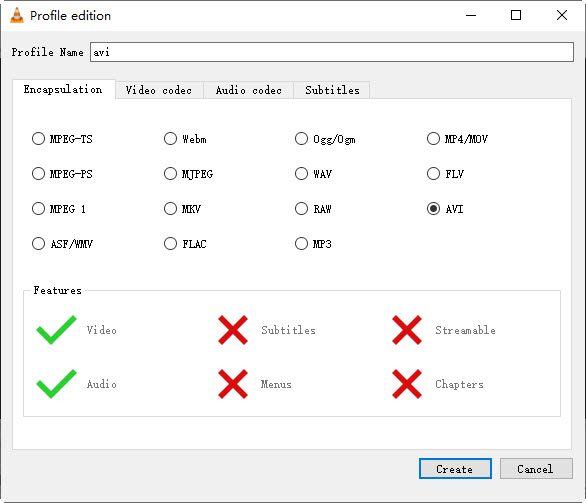 3. FFmpeg
Best for: advanced users to flexibly convert MKV to AVI without quality loss
FFmpeg is a powerful command tool that contains a vast software suite of libraries and programs to handle almost anything related to multimedia files. For example, you can convert MKV to AVI, MP4, QuickTime, WebM, 3GP, FLV, MPEG, more formats, adjust the quality, modify the streams, extract the audio, split the file, etc. It supports a wide range of hardware to deliver fast decoding/encoding speed, including AMD, Intel, Nvidia, Qualcomm, BlackMagic, and more. You can convert MKV to AVI using FFmpeg with the same codec without quality loss, or save an AVI file in another codec.
FFmpeg operates in the command line, as opposed to using a GUI. It's a little bit hard for beginners. Below we'll show you how to get started:
How to Convert MKV to AVI using FFmpeg?
Step 1: Download the latest version of FFmpeg on your computer and unzip it. Find and extract the FFmpeg.exe file from the folder and move it to the location where the MKV videos are.
Step 2: Next, hold down shift and right-click empty space. Click on the command window to start FFmpeg on Windows. You'll see a window like the one below.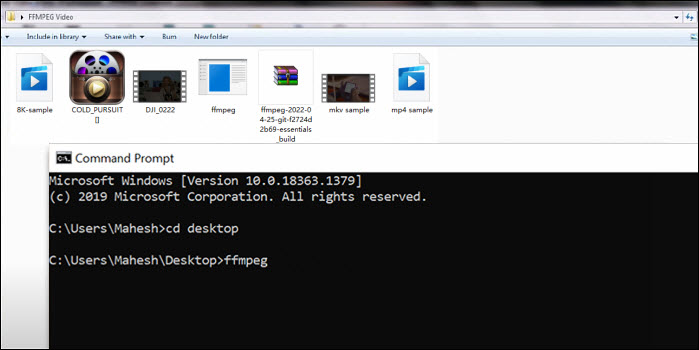 Step 3: Now you simply need to execute the command to convert MKV to AVI and then hit Enter. You can find the command prompts to adjust the codec, quality, bitrate, edit the video, choose the stream, etc. easily online. Below we share a few basic MKV to AVI commands.
ffmpeg -i sample_video.mkv -codec copy sample_video.avi
ffmpeg -i sample_video.mkv -vcodec copy -acodec copy sample_video.avi
ffmpeg -i sample_video.mkv -vcodec mpeg4 -acodec mp3 sample_video.avi
4. AVC
Best for: convert MKV to AVI with extra effects
AVC is a free MKV to AVI video converter that can be used to convert 4K/HD MKV to AVI, WMV, MP4, MOV, and 160+ output formats. It also supports NVIDIA NVENC, AMD AMF, and Intel QSV hardware acceleration to speed up the converting speed. What you may like about this versatile converter is the ability to edit the video. For example, you can adjust the brightness, contrast, saturation, add effects, add watermarks, crop, rotate, add subtitles, customize the subtitle effects, trim, and more.
We've noticed that some modern codecs are not supported by AVC, such as HEVC, AV1, and VP9/8. You may encounter problems when converting an MKV video encoded with a more advanced codec.
How to Convert MKV to AVI with AVC?
Step 1: Download the latest version of the free MKV to AVI video converter on your computer and install it. Then open the software.
Step 2: Click Convert Video and choose "Add Video(s)" to import the MKV video files from your hard drive.
Step 3: To transcode MKV into AVI, open the profile drop-down list on the top menu bar, scroll down under the All category and select "Customized AVI Movie (*.avi)" from Common Video Formats.
Step 4: Click the "Convert Now!" button to start converting MKV videos to AVI freely.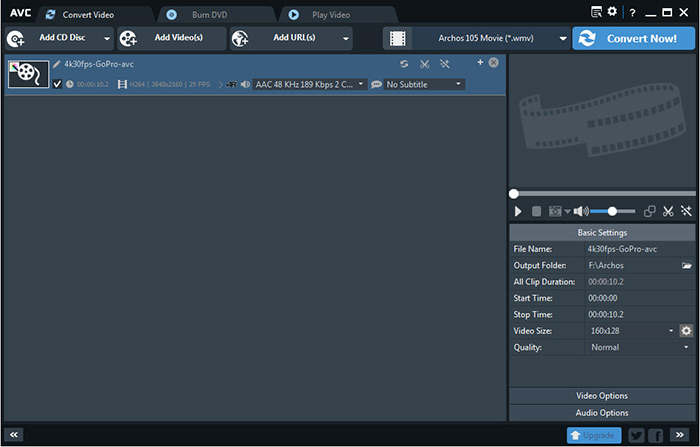 5. Freemake Video Converter
Best for: Convert MKV to AVI when time is not an issue
Freemake Video Converter is an all-in-one video converter software that is capable of converting videos from MKV to AVI and among nearly any video file. As it claims, it supports up to 500+formats, including MP4, AVI, Divx, Xvid, MKV, WMV, MP3, DVD, 3GP, MOV, and more. Codecs such as H.265 (HEVC), AV1, and AAC are included too. Videos in HD, Full HD & 4K quality are all supported. You can also find options to cut, rotate, merge, remove black bars, limit file size, add subtitles, etc.
Freemake supports Nvidia Cuda for H.264 decoding and DirectX Video Acceleration for H.264 and MPEG2 decoding. In other words, when converting MKV files encoded with other codecs into AVI, it can take quite a long time to finish the conversion.
How to Convert MKV to AVI with Freemake?
Step 1: Download & install free MKV to AVI converter. Open it and click the "+Video" button and select the MKV files from your PC. 
Step 2: Click the scissors icon on the right of the input MKV video if you need to perform some basic editing.
Step 3: If not, simply select "to AVI" from the output formats list on the bottom of the screen.
Step 4: Select Convert to start to convert MKV to AVI.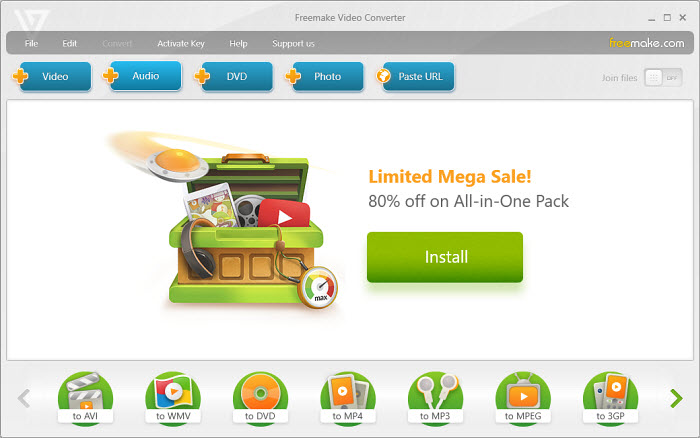 6. Cloudconvert
Best for: convert large-size MKV to AVI free online
Cloudconvert offers an online MKV to AVI converter which allows you to upload and convert MKV files within 1GB. It allows up to 25 conversions per day for free. If you want to convert larger MKV videos such as 4K and HD files, flexible packages are available, which start at US$8.00. Besides AVI, you can also convert MKV videos to MP4, MOV, WEBM, and WMV. It also supports the conversion of different file formats such as audios, videos, pictures, eBooks, spreadsheets or presentations.
Since it relies on internet speed, converting large-sized MKV videos can be annoying and sometimes fail in the middle and you may have to restart the process again. 7. Convertfiles
Best for: convert an MKV file less than 250MB
Convertfiles is a similar online service. On the site, you're allowed to convert an MKV video into AVI as long as it's smaller than 250MB. The site recommends videotoolbox.com for large MKV videos which is capable of processing video files up to 1500 MB. On Convertfiles, more output formats are offered. For example, you can transcode MKV to AVI, mov, vob, mpeg4, h.264, wmv, flv, mp3, 3gp, and a few more.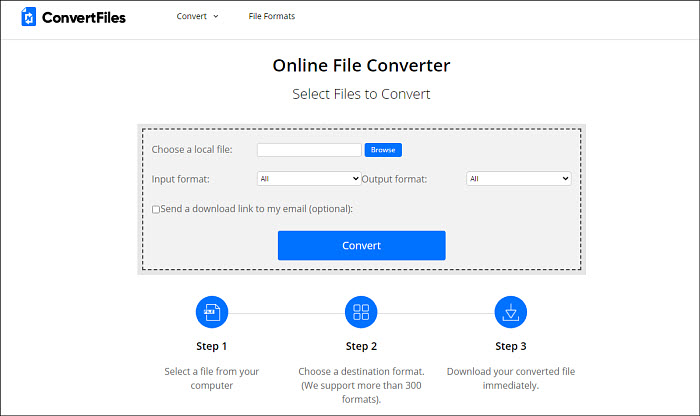 Part 3: MKV VS AVI
What is MKV?
MKVis a multimedia container format that supports unlimited video, audio, image, and subtitle tracks (such as .SRT, .SSA, .USF) into a single file. MKV has certain features that set it apart from the other previous file formats. Firstly, MKV can contain virtually all kinds of video and audio codecs. Secondly, it also supports multiple streams of video, audio, subtitles, or chapters, making it the most flexible format now.
The greatest advantage of MKV is that it supports many advanced codes such as H.265/HEVC and H.264/AVC, which are not even supported by AVI. H.264/H.265 are the two most popular formats for HD and 4K content, making MKV the preferred format for HD videos and Blu-ray rips. However, this also means that MKV files are often large in size.
What is AVI?
AVI is the container file format used by the majority of PC media players, mobile devices, and millions of online video sharing sites. It has become the most popular file type for sharing high-quality videos on the Internet. Thus, sometimes we do need to convert MKV to AVI. AVI files support a range of video and codecs, and many AVI files shared today are DivX files (comparing with MKV video, AVI has relatively fixed video/audio codecs).
AVI describes the manner in which the streams of audio and video are broken down into huge part of data and still organized in a strict timeline. This allows AVI to be read linearly during playback, which would not be possible if streams were written in their entirety one after the other. This makes a critical difference for optical storage solutions like CD, DVD, and Blu-ray, where seeking back and forth can be extremely slow.
Why do You Need to Convert MKV to AVI?
1. Convert MKV to AVI for mainstream media players
One of the main advantages of converting MKV to AVI files is the fact that AVI can be played by more different players. If you store or distribute your own movie through an AVI file, it could be seen in Real Player, VLC Media Player, Windows Media Player and QuickTime.
2. Convert MKV to AVI to keep excellent video quality
Early AVI files were limited on choice of video and audio codecs, quality, and resolution. Even the AVI file size is restricted to less than 2GB. However, with the introduction of DirectShow, AVI became a very flexible and powerful architecture. Some newer codecs including DivX and XviD enable AVI files to have similar or even better quality than DVD.
After converting MKV to AVI, the output quality is still favorable. Besides, thanks to some masterful MKV to AVI converter software like HD Video Converter Deluxe, you can save AVI videos in standard resolution, 480p, 720p, even 1080p HD without quality loss.
3. Convert MKV to AVI for easier playback
If you have some unfriendly video files like MKV, AVCHD, M2TS, BDAV video, you have to find a collection of the most common decoding drivers (usually called codec packs). As to play back MKV video, if you do not worry to install other MKV players, then you need install CCCP to make MKV video playable on your Windows Media Player.
Sure, the way has its benefits, but it really wastes resources to download and install MKV codecs that are in reality never needed. Besides, it is simply the fact that every Windows user knows - the more software you install to your computer, the more unstable and "wobbly" it becomes (this is the point why MKV to AVI conversion still leads the trends even MKV video is somehow more advanced).