How to Convert MKV to WMV Windows Media Video on Windows 10/11?
MKV video is well-know and wildly accepted by its open source and unlimited video/audio streams holding ability. MKV also quite popular on the internet for sharing HD video content, like cartoon and anime. Although Windows 10 has added native MKV, HEVC and FLAC support, many users still have needs to convert MKV to WMV since Windows Media Player doesn't play MKV properly or MKV goes incompatible with portable devices.
Do you want to enjoy Full-HD MKV movie downloaded from internet on your Windows (10) PC without paying extra money to get a MKV Player software? Then you need to convert MKV to WMV which is much more friendly to PCs.
Table of Content
Part 1. Best MKV Converter to Transcode MKV to WMV on Windows (No Input Size Limit)
HD Video Converter Deluxe - a hardware-accelerated video converter to help you convert (multi-track) MKV to WMV, convert MKV to MP4, as well as MP3, AVI, MOV, HEVC, H264, AV1, iPhone, iPad, Samsung, Chromecast, PS5/4, etc. with visually original quality kept (High Quality Engine), no matter what MKV video size is, 500MB, 1GB, 10GB or even larger. User customization is available, as well, including aspect ratio, resolution, frame rate, bit rate, trim, crop, merge, add sub, etc.
If you want to download WinX HD Video Converter Deluxe for Mac, please click here.
How to Convert MKV to WMV (Windows Media Video) on Windows (10)?
By fully supporting GPU hardware acceleration, Multi-core CPU (i3, i5, i7), and armed with Hyper Threading Technology, HD Video Converter Deluxe is able to convert MKV to WMV by multi threads at the same time, speeding up the conversion time to 47x real time faster. That is why WinX MKV to WMV converter program can be the fastest solution in the current market.
Step 1: Imput MKV File That Needs to Convert
Run HD Video Converter Deluxe and access to Video control. Then import your target HD MKV video by clicking "+ Video" button on the top toolbar or directly drag MKV into software.
Step 2: Choose WMV Output Format
Choose "WMV (WMV2)" at "Video" category in the target format list as output format. Besides, you're also free to transcode MKV format to MP4, MOV, AVI, iPhone, iPad, Android, Xbox, PS4 and 420+ profiles. Note: the MKV to WMV conversion involves video decoding and re-encoding. Thus, certain quality loss is inevitable. To maximumly guarantee your resulting MKV quality, manually tick "High Quality Engine" at the lower right-hand corner of the main panel. This engine will yield a WMV output file with up to 98% quality kept, visually identical to the original quality. Step 3: Edit and Define WMV Saving Folder
If necassary, you can edit video by cropping, trimming, add effects/watermark etc. Select output destination to save the converted WMV file by clicking Browse button.
Step 4: RUN MKV to WMV
Right click the big blue Run button to begin your MKV to WMV conversion.
Part 2. Decode MKV to WMV Online with Cloudconvert (Max 1GB)
It's a no brainer for Cloudconvert to convert MKV (multi-track) video to WMV online freely. Access to its official website where you can upload your MKV video file from local computer, Google Drive, Dropbox, OneDrive or by URL. This badly trounces a sizable library of its competitors, especially professional video converter software.
Another welcome surprise with this online MKV to WMV converter is that you can control your resulting WMV video resolution, aspect ratio, quality scale, frame rate, audio settings and more. Thus, you can fine tune your output WMV video in one tool at one go without another tool. Yet, there is scarcely a man but has weak sides. Cloudconvert will orphan itself somewhere unreachable once your input MKV file is over 1GB. If you still insist on this online free MKV to WMV converter service, you have to upgrade to its payment service, $8 for one-time package with 500 conversion minutes (unlimited file size) or $8 per month with 1000 conversion minuters per month (still no limit on input file size). How to Free Online Convert Multi-track MKV to WMV with Cloudconvert?
Step 1. Click "Select File" button to import MKV to cloudconvet via computer, URL, Google Drive, Dropbox, or OneDrive.
Step 2. Choose WMV as output format under output video option section. Optionally: you can free adjust your video parameters after format selection. Tap the wrench-shaped icon (next to the output format) and you can change resolution, aspect ratio, constant quality, profile, level, etc. at your willing.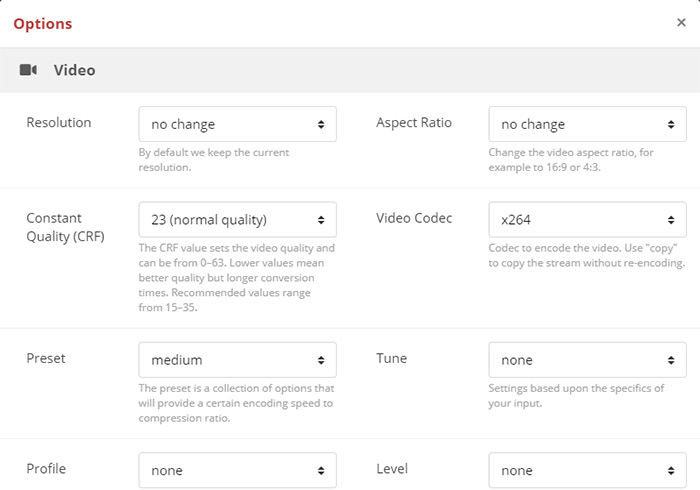 Step 3. Hit the red button "Convert" to begin transcoding MKV to WMV online.
Part 3. Free Convert MKV Video to WMV with ConvertFiles (Max 250MB)
ConvertFiles, also a free online converter tool, gains a place here because of various reasons. Among them, ConvertFiles delivers its most basic promise: convert MKV to WMV in a manner that is damn simple! Only 3 steps are required: upload MKV files; choose to WMV; download the converted WMV file. That's not the end. You're also allowed to send a download link to your Email if you need to share it to your friends. Quite convenient and thoughtful, right?
On top of MKV to WMV conversion, this all-sided conversion tool is also competent of free converting MKV to MP4, MOV, AVI or other videos to MKV. Throw your archive file, document file, PPT, e-Books and image files to it for conversion if necessary.
It's edged out because it's missing settings feature for users to customize their video footage, full of annoying ads on the screen and most importantly refusing you to load MKV video over 250MB size. You can take it into consideration if you don't concern much about settings & ads or confined input file size. It's unrealistic to list out all the MKV to WMV converter tools. If you've ever used any better MKV video converter (free or paid, online or software), you're welcomed to shared with us and we'll update them to this post for recommendating to those who need them!
Still have question on How to Convert MKV to WMV on Windows 10/8/7/XP/Vista, please feel free to Mail Us >>
External Sources:
1. What is Matroska[OFFICIAL] - Matroska aims to become THE standard of multimedia container formats. It was derived from a project called MCF...
2. Windows Media Video [WIKI] - Windows Media Video (WMV) is a compressed video compression format for several proprietary codecs developed by Microsoft...