How to Play and View HEVC Video on Windows 10, TV
When we first heard of HEVC codec (High-Efficiency Video Coding), it was in its infancy. Just a couple years later, it has entered into maturation period, compatible with almost all the video recording devices, be it iPhone, Android, action camera GoPro, drone, IP cameras, surveillance camera, etc. Thus, you can record footages, esp high-definition 2.7K, 4K, 8K videos in HEVC to effectively save storage space. After that, the very next thing is to play HEVC video.
Which Devices and Platforms Are Supported for HEVC Playback?
On top of video compression efficiency difference between H264 and H265, another distinction is video codec compatibility. H264 can be played back on almost all the devices and platforms while HEVC is a different story, especially at the very beginning. Luckily, with years' rapid popularity, HEVC also becomes readable on majority of devices and platforms, including smartphones, personal PCs and tablets, smart TVs, game consoles, Roku, Plex, DJI CrystalSky monitor, web browser, etc.
Though H265 x265 is nowadays recognized, it's still confronted with varied types of errors during HEVC video playback.
It will cost you about 2 mins to read through the article. You can skip to:
Part 1 - Common HEVC Playback Errors
A wide selection of devices (mentioned before) support you to capture hi-def videos in HEVC x265 codec. That being said, different devices have their own video parameter settings and unique features for H265 video shooting. For instance, GoPro Hero 8 Black enables you to record HEVC video at 4K 60FPS/50FPS, 2.7K 120 FPS/100FPS; DJI Mavic 2 Pro allows you to record 10 bit HEVC video at DLog-M or HLG mode. Therefore, when you're meant to play back HEVC video shot by device A on platform B, some errors are inevitable: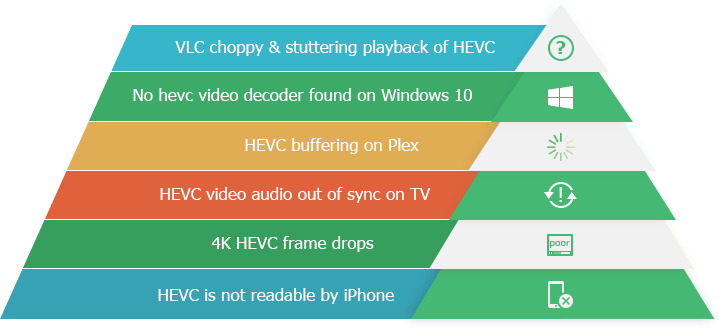 VLC crashes while playing HEVC
10bit H265 Dlog-m won't run on Windows
Mac won't play HEVC DJI files
Laptop lagging at 4k HEVC playback
Plex for Android can't play x265 files
PS4 can't play the media x265
PCPU can't support H265 GeoVision
HEVC black screen, only audio is playing
High CPU utilization when H265 decoding
Part 2 - How to Play HEVC Videos without Problem?
Why is it so hard to play HEVC videos smoothly? This is because that as the next-generation codec that aims to bring UHD HDR to the masses, HEVC codec always comes in 4K and even 8K, with a high color depth of 8/10/12 bit @ 60fps or higher. This means that HEVC playback requires high-performance hardware and software. But with the solutions below, you can still play HEVC videos without problems.
1. Install HEVC Codec for Windows 10/8/7
With a third-party HEVC codec package installed, you can enable your built-in player to play HEVC content. For example, Microsoft has offered HEVC Video Extensions for Windows 10 at $0.99, which is able to play HEVC videos in 4K and Ultra HD. There are free packages that include H.265/HEVC codec as well. Some famous ones include:
• K-Lite Codec Pack – It's a free bundle for high-quality video playback. It has codecs for less common formats, including H.265/HEVC, VP8/9, and many others. You can download the HEVC codec pack for Windows Media Player and Media Center as well as Media Player Classic, ZoomPlayer, KMPlayer, PotPlayer, GOM Player, and many others.
• Media Player Codec Pack – This pack works with Windows Media Player only. It lets you play 10bit x265, X265, H.265, HEVC, AVCHD, X264, and many other files. All solutions up to 4K and beyond are supported.
• x265 HEVC Upgrade - x265 HEVC Upgrade is designed for HEVC conversion and playback. It includes an HEVC decoder named UHDcode which allows you to play MP4 videos with HEVC codec using the 64-bit Windows Media Player.
2. Try Other HEVC Players
If installing HEVC codec is too complicated for you, there are readily-accessible players that have built-in codecs for HEVC. Some are strong enough to offer HEVC hardware decoding to ensure super-smooth HEVC playback experience. Just check 2021 Best HEVC video players.
• 5KPlayer
5KPlayer is a free and easy video player specially designed for 4K and 8K video playback. It keeps updated with modern video specifics like HDR, HEVC H.265, AV1, 60fps, AVC H.264, VP8/9, and any other videos you may have. The HEVC hardware decoding using NVIDIA CUDA®, AMD, Intel® QSV, & DXVA 2.0 Hardware-acceleration ensures a 4K ultra-high HD HEVC playback without a problem, even on a regular computer.
• VLC Media Player
VLC is a popular media player used by millions of users to play videos of any formats, including HEVC files. It contains many advanced features like 4K/8K playback, 10-bit/HDR support, passthrough, etc. Since Version 3.0, it takes advantage of DxVA2 and D3D11 to decode HEVC on Windows, VideoToolbox to play HEVC on macOS/iOS, and OMX and MediaCodec on Android. Check how to play HEVC HVC1 on VLC >>
• MPC-HC
MPC-HC is an old and free media player for Windows. It has added the support for HEVC and VP9 since v1.7.1. You can play HEVC x.265 in 4K flawlessly with it. The player supports CUVID and DXVA2 based on Nvidia and AMD GPUs. However, it has been discontinued since 2017. Therefore, it may fall behind to support the latest video codecs and resolutions.
Player

Price

Platforms

Codecs

Hardware decoding

Pros

Cons

5KPlayer

Free

Windows, macOS

8K/4K/HD videos in any formats

Yes

• Great support to ultra HD videos
• Useful functions like downloader, Airplay, DLNA wireless stream,  radio player

• Not work with mobiles

VLC Media Player

Free

Windows, MacOS, Linux, Android, iOS

Almost all normal and advanced video/audio/disc formats

Yes

• Support almost all video formats
• Highly customizable: cropping, converting, rotation, etc.

• Not stable playing H.265 videos, get errors like Codec not supported
• Choppy playbacks and hiccups with 4K videos

MPC-HC

Free

Windows

All common video, audio and image file formats

Yes

• Support HEVC for years

• Windows only
• Discontinued
3. Convert HEVC to H.264
When the 4K/8K HEVC videos @60fps is too demanding for your computer, why not convert them to more friendly files? For example, most modern mobile devices have hardware decoders for energy-efficient playback of H.264/AVC video and you can convert HEVC to H.264 for easier playback. What you need is an HEVC video converter.
Free Option - Handbrake
The free and open-source video transcoder may be the first choice that comes to users' minds. Handbrake can convert HEVC videos to H.264, H.265, MPEG4, and a slew of devices at different resolutions. More importantly, it supports AMD VCE, Intel QSV, and Nvidia NVENC hardware encoders to deliver good HEVC decoding performance on less powerful computers. What you need to note is:
• The AMD VCE and NVENC hardware encoders only support 1-pass mode, which means less output quality compared to 2-pass.
• Only video encoding is performed by the hardware encoder. Other tasks like decoding, filters, audio/video sync, audio encoding, muxing, etc., are performed by the CPU. As a result, it is normal to have high (even 100%) CPU utilization during encodes.
Best Option – WinX HD Video Converter Deluxe
If you want to convert HEVC 4K/8K to H.264 fast without quality loss, WinX HD Video Converter Deluxe is the best choice. Why? It supports AMD, Intel QSV, and Nvidia NVENC/Cuda in the whole HEVC transcoding process, including decoding, processing, and encoding (called Level-3 Hardware Acceleration). As a result, it can boost the 4K HEVC video converting by 47x real-time faster. Besides, the built-in High Quality Engine and "Yadif Double Frames" De-interlacing Engine can improve the image quality dynamically.
Test Comparison between Handbrake and WinX:
(Test: 10.5 minutes, 4K MP4.HEVC video @60fps from GoPro to H.264)
Hardware configuration: Intel® HD Graphics 2500 and Nvidia GeForce GTX 780, Windows 10 64bit, 8GB RAM
Input

Output

Hardware acceleration

Pros

Cons

Time required

Avg. speed

WinX

Videos in 8K, 4K, HD, SD from modern devices

420+ profiles

Intel QSV, AMD, Nvidia NVENC/CUDA

• Well balance among speed, quality & file size
• Level-3 Hardware Acceleration
• Massive conversion settings

• No support for DVD files
• Not free

3 min 56s

170fps

Handbrake

Any video formats, DVD

MP4 and MKV

Intel QSV, AMD, Nvidia NVENC

• Free and open source
• Good output quality

• Steep learning curve
• Slow speed
• Limited options

7 min 28s

80fps
Simple Guide on the Best HEVC Video Converter - WinX HD Video Converter Deluxe
Step 1: Open the converter and click +Video to import the HEVC videos. The software will automatically load the video info and then pop up the output format page.
Step 2: Select General Profiles > MP4 Video. To ensure the best quality, you can convert 4K HEVC to 4K MP4 Video, or select 2K/MP4 Video based on your needs. You can select other formats like MOV, WMV, AVI, HEVC, FLV, etc. or devices including iPhone, iPad, Android, TVs, websites, and more.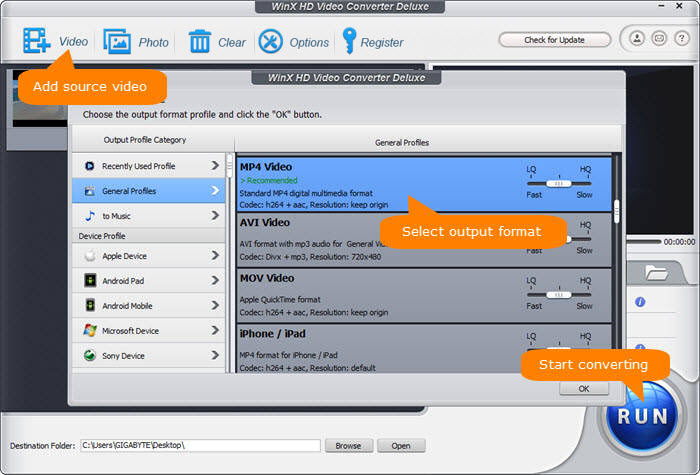 Step 3: Back to the main interface, enable the Hardware Accelerator and High Quality Engine boxes to make sure the best quality and speed balances.
Step 4: Click the big blue Run to start. The converting time depends on how long/big your HEVC video is. After that, you can play the HEVC converted videos anywhere.
4. Upgrade Hardware to Play HEVC Smoothly
Newer hardware is required to playback high-intensive HEVC videos properly. Read below to update your device to meet the minimum requirements.
Intel/AMD/Nvidia CPUs & GPUs with Support for HEVC Playback
AMD
6th-generation 'Carizzo' APUs onwards
'Fiji' GPUs (Radeon R9 Fury/Fury X/Nano) or newer
Intel
4th Generation Intel Core processors (Haswell CPU 2- 3.5GHz, 4 Cores)
5th Generation Intel Core processors (Broad well)
6th Generation Intel Core processors (Skylake)
Nvidia
900 Series GPUs (GeForce GTX 960 or 950) - hardware accelerated HEVC 8-bit decoding and encoding
Tegra X1 SoCs or newer
Windows Desktop
OS: Windows 10
CPU: Intel Kaby Lake (or equivalent) processor and newer
Graphics card: NVIDIA GeForce GTX 1050 equivalent or newer
RAM: 8GB

Note: Most desktop hardware released in 2015 or later supports HEVC playback.
macOS
OS: macOS High Sierra or higher
Hardware: Macbook® – 2016 or newer, Macbook Pro – 2016 or newer, iMac – 2017 and newer
iMac Pro – 2017 or newer, 27-inch 5K iMac (2015-2017)
iOS
OS: iOS 11.0 or higher
Processor: Apple A9 or newer
Hardware: iPhones 6s or newer, iPad Pro or newer
Android
OS: Android 5.0 or higher
Processor: Qualcomm® Snapdragon™ 820 series (or equivalent) processors and newer
Hardware: Samsung Galaxy S7/S7 Plus or newer, Samsung Galaxy S7/S7 Plus or newer, Huawei P9 or newer, HTC U10 or newer, etc.
TVs and Streaming Boxes
tvOS 11 or later (Apple TV 4 or newer).
Roku 4.
Amazon Fire TV (2015) and 2nd generation Fire TV Stick

HEVC playback on a smart TV requires Amlogic S905 or Mstar 6A928 or better processor. Most new models from Sony, Samsung, LG, Vizio, TCL, etc. brings support for HEVC decoding. HEVC is supported by nearly all 4K UHD TVs.
Game Consoles
Xbox One can play x264 HEVC and some x265 HEVC using Plex. It's hit and miss with HEVC files. Xbox 360, together with all PlayStation consoles including PS4 Pro, doesn't work with HEVC.
Web Browser
HEVC is supported by Safari (since 11), Microsoft Edge (hardware decoder required), and Android browser(since 5.0) on devices that have hardware support. Chrome, Firefox, Opera, and Windows Internet Explorer doesn't work with HEVC.
Part 3- FAQ - HEVC Playback on VLC, Plex, Windows Media Player, Roku
1. Does VLC media player support HEVC?
The support for HEVC decoding starts from VLC media player V2.1.2. However, many users experience VLC crashing, stuttering, freezing during HEVC videos playback. For reasons and troubleshooting tips, check the HEVC playback error in this post.
2. Can Plex play/transcode HEVC?
MP4 4K HEVC (H.265) content at 30fps (8 bit) will Direct Play on supported devices. 4K content not matching the properties will be converted to 1080p. The process requires a powerful machine running Plex. If Plex won't play 4K HEVC content or plays with errors, refer to troubleshooting Plex HEVC playback error.
3. Can Windows Media Player Play HEVC?
Windows Media Player 12 supports playing HEVC on Windows 10. If you have an old Windows operating system not handling HEVC content successfully, refer to fixing HEVC playback issues on Windows.
4. How to enable HEVC 4K streaming support in Microsoft Edge
Microsoft Edge browser is the few browsers that support HEVC. To enable HEVC streaming, install HEVC codec or HEVC decoder on your Windows 10 PC, type edge://flags in the address bar, enable 'PlayReady DRM for Windows 10'and 'PlayReady Experimental HEVC Decoding', then restart Microsoft edge. Now, you should be able to stream HEVC 4K content in the browser.
5. Is there a way to direct stream HEVC to a Roku?
Yes. HEVC is natively supported on Roku-4 and Roku 4K TVs. The Roku-4 can play HEVC 4K content no matter what the device it's connected to. If you have an older Roku TV model, your server will transcode from HEVC to H264. The transcoding is a CPU-intensive.
Related Guide: What to Do if Roku can't Play HEVC?
6. What web browser supports HEVC/H.265?
HEVC in MP4 container is supported by Safari (since 11), Microsoft Edge (hardware decoder required), and Android browser(since 5.0) on devices that have hardware support. HEVC doesn't work in the commonly used browser such as Chrome, Mozilla Firefox, Internet Explorer, and Opera.