How to Open and View HEVC Video Files on Windows 10
HEVC was initially supported on Windows 10 computers with the Intel Kaby Lake processor (or equivalent) and newer. However, the support was removed from the Windows 10 Fall Creators Update (2017). The built-in media player on Windows 10 and 11 won't play HEVC without extra (paid) packages. When importing HEVC files, it shows a black-green or an error message. But here are several ways to open and view HEVC on Windows 10.
#1. Transcode HEVC to H.264 or Other Codecs Accepted on Windows 10
It's a widely used method to play HEVC/H.265 on Windows 10 or other systems, devices that refuse to accept HEVC. You need a reliable HEVC video converter for Windows 10. Here we show you how to use WinX HD Video Converter Deluxe, hardware-accelerated HEVC video transcoding program, to decode and encode HEVC to H.264 MP4 format for Windows 10. Follow the steps to convert HEVC video for viewing on Windows 10.
Step 1: Free download WinX HD Video Converter Deluxe on your computer, and launch it. It's compatible with any Windows 10 version.
Step 2: Click the +Video button on the toolbar, browse your files and select an source HEVC video to open. You may also drag the video directly onto the program's main window. You can add more than one video at a time.
Step 3: The Output Profile window pops up, offering various types of presets. Under General Profiles, select MP4 Video (H.264 codec) to convert HEVC to MP4 for more is widely compatible usage. Click OK to save the settings. Click the Browse button and choose a location to save the output file.
Step 4: Select the RUN button to start decoding the HEVC video and encoding the new video for Windows 10.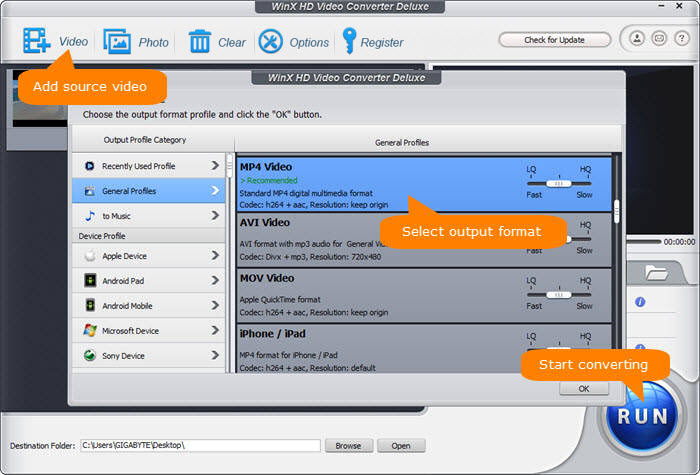 #2. Install HEVC Video Extensions Developed by Microsoft
Microsoft developed HEVC Video Extensions that cost $0.99 to extend Windows 10 to play HEVC/H.265 content. The extensions make use of hardware capabilities on newer models, such as Intel 7th Generation Core processor or newer GPU to process 4K UHD HEVC videos.
The extension requires Windows 10 version 17763.0 (also version 1809, or October 2018 update) or higher, ARM, x64, x86. To get to know the version and build of your Windows, press the Windows button + R on your keyboard, type winver, press Enter, and you should see the version of your Windows on the popping up window.
Head to Microsoft HEVC Video Extensions Store on your computer, click the Buy button on the right, sign in with your account, and follow the instructions to get the extensions. With HEVC Video Extensions installed, you should open and play HEVC files on your Windows 10 computer.
Most desktop hardware released in 2015 or later supports HEVC playback. Devices with older GPU may struggle to play HEVC, like stuttering, freezing, choppy images, or other issues. If so, we recommend you to use HEVC video converter for Windows 10 to convert HEVC to H.264 MP4 format for better compatibility and less CPU usage on Windows 10 computers. #3. Install HEVC Codec/Codec Pack for Windows 10
An additional HEVC codec or codec pack for Windows 10 is needed to decode HEVC video and enables users to open and view HEVC content. Windows 10 Codec Pack is a popular codec pack that supports a wide range of video and audio compression file types including HEVC. With the codec pack, users should play HEVC, x265, h.265, and many other compression formats and video types such as 10bit x264, h.264, DivX, .mkv, .ts, .avi, .flv, to name a few. Windows 10 Codec Pack is free and available on 64-bit and 32-bit Windows.
Other HEVC codec package to open HEVC files on Windows 10 include:
K-Lite Codec Pack
Libde265
#4. Open HEVC with an HEVC player for Windows 10
While Windows Media Player on Windows 10 can't open HEVC format, there are many other third-party players with the ability to open HEVC videos. Below are some of the best free and paid video players you can try to help you view HEVC videos on Windows 10/11.
VLC (free)
5KPlayer (free)
MPC-HC (free)
DivX Player (free)
Cyberlink PowerDVD ($59.99)
Potplayer (free)
Also check the best HEVC video player for Windows 10/11.
Video Tutorial - Play HEVC Files on Windows 10 without Stuttering