Can PS4 Play HEVC/H.265 Video Files? HEVC Support on PS4
Many PS4 owners ask whether it's possible to watch HEVC videos on PS4 and PS5.
# I didn't know that PS4 didn't support H.264 files, so now I have lots of these videos on my USB drive that I can't even play. Are there any workarounds.
# Can the PS4 Pro play HEVC/x265 videos from a USB? If the PS4 Pro supports x265 files as I got a few movies in HEVC format on my USB. I have some H265 movies on my NAS and PS4 pro can not play them.
Can PS4 play HEVC format?
No, PS4 can't play HEVC files though PS4 supports the playback of 4K videos encoded in H.264/AVC.
What formats does PS4 support?
Use Media Player to play videos saved on USB storage device and media servers, you can play these types of files on PS4.
MKV: H.264/MPEG-4 AVC High Profile Level 4.2
AVI: MPEG4 ASP, H.264/MPEG-4 AVC High Profile Level 4.2
MP4: H.264/MPEG-4 AVC High Profile Level 4.2, H.264/MPEG-4 AVC High Profile Level 5.2 (PlayStation®4 Pro only)
MPEG-2 PS : MPEG2 Visual
MPEG-2 TS: H.264/MPEG-4 AVC High Profile Level 4.2, MPEG2 Visual
AVCHD (.m2ts, .mts)
XAVC S™ (.mp4)
HEVC/H.265 is not included on the list of PS4 supported video file formats, meaning that PS4 doesn't support HEVC format natively.
You can Watch HEVC on PS4/PS5 Easily by Converting HEVC to H.264
PS4 has no software or hardware decoder for HEVC. If you can't open and play HEVC files on PS4/PS5, re-encode your HEVC videos to H.264 codec format. WinX HD Video Converter Deluxe can decode 4K HEVC video to H.264 codec, MPEG4, other PS4 video formats. It's able to convert the power-intensive HD, 4K, and even 8K HEVC files with less CPU usage using Intel, NVIDIA, and AMD hardware acceleration, no crashes or stutters. Where the speed and quality are top priority, it offers the best performance on less powerful machines.
Get this powerful video converter and follow steps below to re-encode HEVC to H.264 format for smooth HEVC playback on PS4/PS5.
Step 1. Load your HEVC videos
Run the program on your computer. Click the Video button on the top left corner, select your HEVC H.265 video to load. Or directly drag and drop the source file to the main window of the tool. You can add multiple HEVC x265 files at a time.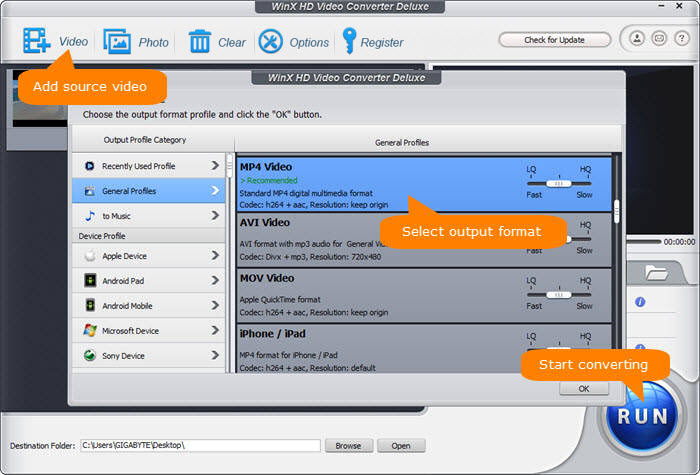 Step 2. Select H.264 as an output format.
On the left pane of the Output Profile window, select General Profiles, then choose a video format that PS4 can play like MP4 Video (H.264 + AAC codec), and click the OK button to continue. You can also select Sony Device under Device Profile, click on the 'to PS4 Video', and select an output you want.
Step 3. Start HEVC decoding and encoding.
Click the RUN button at the bottom and the HEVC decoding and encoding process begins. Once finished, simply transfer the converted HEVC h.265 video to PS4/PS5 and enjoy.
Learn More: How to Play HEVC/H.265 Files
FAQ about PS4/PS5 HEVC Playback
1. It's possible to use Plex to stream HEVC to PS4
Install Plex on your computer and PS4. Setup Plex media server on your computer and stream the HEVC videos to your PS4. Plex will automatically transcode HEVC to H.264 format compatible with PS4 media player. If you have an aging computer, the process may crash your computer or make your computer very slow and the streaming gets stuttered.
2. How to play the converted HEVC video on PS4/PS5?
Move the converted HEVC h.265 video onto a USB drive (exFAT or FAT32). 
 
On your Playstation console, select Media Gallery from your games home on your console (PS5) or Media Player from the content area (PS4). 
 
Connect the USB drive to your PS4/PS5 console, and then select USB. Select the converted HEVC video and start to play.
3. Does the PS5 support HEVC/H.265?
No, PS5 doesn't support HEVC h.265 videos. Below are the formats supported by PS5:
MKV: H.264/MPEG-4 AVC High Profile Level 4.2, MP3, AAC LC
MP4: H.264/MPEG-4 AVC High Profile Level 5.2 AAC LC
WEBM: VP9 Opus
Sony's PS5 should work with 4K HEVC format, however, there's no official document claiming that HEVC hardware encoder is included in PS5. The game console is armed with AMD's 7nm Zen 2 microarchitecture (8 CPU cores), check the CPU and GPU specs below:
CPU: 8x Zen 2 Cores at 3.5GHz (variable frequency)
GPU: 10.28 TFLOPs, 36 CUs at 2.23GHz (variable frequency)
The GPU fully supports hardware acceleration. What does it mean for HEVC content playback on PS5? The hardware spec makes the Playstation 5 deliver higher HEVC decoding performance, consuming less power than the PS4. Choppy/stuttering HEVC playback error on PS4 is fixed on PS5 thanks to more cutting-edge hardware.