4K Downscaler: Downscale & Compress 4K Videos to 2K/1080P HD
4K resolution gets sharp development and becomes the new trend in electronics and media industry. 4K is initially taken as a digital camera standard referring to a resolution of 3840 x 2160 pixels. In a few short years, 4K expands its adoption to TVs, PC displays and videos on streaming sites. 4K movies are no longer hard to access. 4K wins its popularity in this digital era and brings a superior viewing experience. Requirements of downscaling 4K are still happen and 4K downscaler is quite in need.
WinX HD Video Converter Deluxe arrives as a superior 4K downscaler
Downscale and compress 4K 2160p videos to 2K, 1080P, 720P to matcholder displays and monitor so as to get best possible viewing experience without the need for a 4k display.
Fast convert 4K HEVC videos to H.264, MPEG4, AVI, WMV, MOV, etc, accepted by more devices, video players/editors and online sites.
Lower down 4K 120/60FPS to 30FPS and bit rate 200Mbps to 100Mbps to properly resize 4K video.
Part 1. Why Do You Need to Downscale 4K?
Reason 1. 4K Video Is Large in File Size.
iPhone 6s is the first iPhone model available to shoot 4K video with an video recording option of 4K at 30 fps. 4K video on iPhone 6s is much larger than 1080P, about 350MB/min vs. 130MB/min. Although Apple released iOS 11 to support HEVC for halving video file size, 4K video still occupies considerable space on iPhone.
What's more, lots of 4K video recording devices still use H.264 codec, such as Nikon/Canon/Sony 4K cameras, GoPro, DJI and so on. Some video size can reach to up to 3GB/min with a resolution of 4K DCI (4096 × 2160) shot by a 4K camera, which is substantially larger than lower-resolution counterparts such as 1080p or 720p. To downscale 4K to 1080P is a good choice to save disk space and reduce bandwidth requirement. Reason 2. Older/Legacy Devices Can't Handle 4K Video Well.
Many devices and displays do not support 4k resolution, and attempting to play 4K video on such devices can result in compatibility issue, such as no video or poor performance.
To play 4K videos on computer, the processor and graphics chip should support 4K, for example 4th generation Intel Core process or family, AMD A10-7800 APU, Nividia GeForce, AMD Radeon HD 7000 Series or better. If your 4K videos are encoded with HEVC, you should have a device or computer running on a system fully supporting HEVC, Windows 11/10, macOS High Sierra or higher, iOS 11 or later, Android 5.0+, for smooth playback. Although there is a supported operation system, computer without a new processor (Intel Kaby Lake or newer, A10 processor or newer) still encounter minor issues to play HEVC 4K files.
Downscaling 4K videos to 2K or 1080P can not only reduce file size but make videos flawlessly play on outdated computer/device without 4K video playback lagging/stuttering, image pixelated, CPU overuse/overheating issue.
Part 2. What is the Best 4K Downscaler?
WinX HD Video Converter Deluxe is the right 4K downscaler you should have. As a professional video converter and a video scaler, it can make all video conversion a reality, not only for SD to SD, HD to HD, HD to SD, but 4K to HD, 4K to SD and so on. Now, let's learn why WinX HD Video Converter Deluxe can stand out as the best 4K downscaler.
Compress 4K Ultra HD to 2K MP4, convert 4K to iPhone/iPad/Android, and transcode a 4K video encoded with HEVC to H.264, AVI, WMV, MOV, FLV etc, accepted by specific devices, player or online sites.
It offers adjustable video/audio parameters leading you to manually downscale 4K to 1080P/720P/480P as well as set new value for bit rate, frame rate, aspect ratio to obtain a demand effect of output file.
It also works as a video editor to crop unwanted parts on image, trim segment(s) off video, merge several video clips into one, rotate/flip video, fix shaky images, correct fisheye, reduce audio noise, add effects/watermark/subtitles and more.
Easy to use with a user-friendly and straightforward UI.
100% safe program without malicious extras hidden in installation package or ads adhered to interface.
Part 3. How Can You Compress 4K Videos with the Best 4K Downscaler?
At the start, you should download and install WinX HD Video Converter Deluxe on your computer. It is fully compatible with Windows 10 and lower version. The Mac version is available for macOS Mojave and lower.
Free download 4K downscaler on Win 7 or later
Free download 4K downscaler on Mac OS X 10.6 or later
After this 4K downscaler is well installed on your computer, please follow the steps to downscale 4K video.
Step 1. Input 4K Video
Launch WinX HD Video Converter Deluxe and click Video button to access to video processing window. Click +Video button to import single 4K video or multiple 4K videos which you want to downscale to 2K or HD. If you have saved source video files in a folder, click +Video Folder to load all.
Step 2. Select an Output Format
After the video is loaded. Move to the bottom of WinX HD Video Converter Deluxe window and click Video tab. The most commonly used formats appear, including MP4 H264, MP4 HEVC, AVI etc. Move left/right arrow to select desired format as output format. If there is no wanted format listed, click + button to get more profiles.
Step 3. Adjust Resolution
Click Codec Option. The format settings window pops up. Move to Video Codec Options panel and find Resolution. Select 2560X1440 (2K), 1920X1080 or other resolutions depending on your needs. Then, click Apply to All for all videos or Done for single video.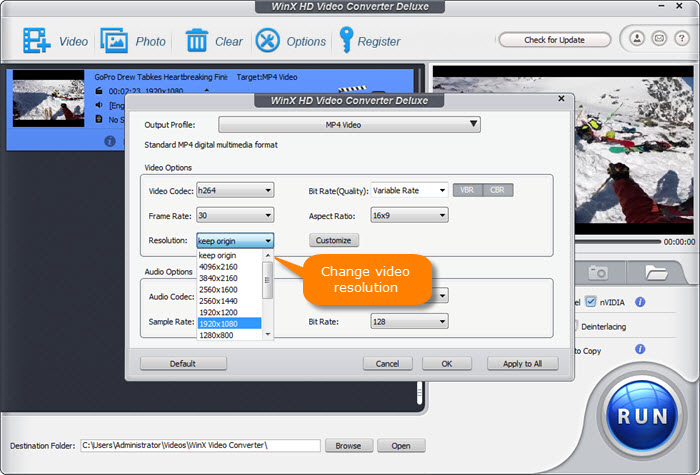 Step 4. Run to Downscale 4K
Redefine a new folder to save the resulting file by clicking Browse if necessary. At last, click RUN button to start using this 4K downscaler to compress 4K video to 2K, 1080P and more. Hardware acceleration is auto-enabled on the basis of your graphic cards so that you can get 4K videos downscaled at a very fast speed.
After the process is finished, you can get a smaller video file downscaled from 4K video while keeping a good quality in the destination folder. Still have question on how to use this best 4K downscaler on PC/Mac?
Conclusion
The 4K downscaler makes it easy to adapt high-resolution 4K footage to various modern devices and platforms. It ensures better compatibility, saves storage and bandwidths, and enables errorless video editing. This makes 4k video more accessible and practical for various occasions. For more solutions to convert and downscale 4K video, you can check the list of best 4K video converters here.
Related External Sources:
4K Resolution - 4K resolution, also called 4K, refers to a horizontal screen display resolution in the order of 4,000 pixels. There are several different 4K resolutions in the fields of digital television and digital cinematography. In television and consumer media, 4K UHD or UHD-1 is the dominant 4K standard. In the movie projection industry, Digital Cinema Initiatives (DCI 4K) is the dominant 4K standard...