2019 Best Free MP4 Cutter for Windows 10 | Cut MP4 Video on Windows 10 with Ease
MP4 cutter is in need when it comes to extracting a specific segment in a MP4 video. And, the question, "What is a good FREE MP4 cutter?", appears on forums and communities with askers' hope of finding the best answer. For example:
"I have an mp4 video file that I need to have some parts cut out of it. I need a MP4 video cutter that can cut out stuff and save the video file as the same format, mp4 (same as H.264). I need a FREE one, NOT a paid program or trial. Have any ideas??? Thanks to anyone who can help! " - From Yahoo Answers
Here, we pick out the best free MP4 cutter for Windows 10 in 2019 helping you cut MP4 video for resizing or trimming segment on Windows 10 with ease.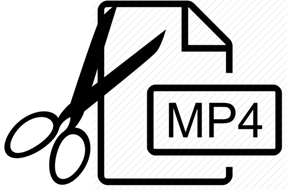 • Freely set start/end time to cut a segment off MP4 video.
• Save cut MP4 file with the same codec and original quality.
• Adjust video/audio parameters (aspect ratio, resolution etc.) for a specific output effect.

Review on WinX Video Converter | Why Can It Be the Best Free MP4 Cutter for Windows 10
Although WinX Video Converter is initially designed as free video converter software for Windows, it embeds a video editor allowing users to apply basic editing to video clips in any format. In the following, we will review WinX Video Converter in aspects of features, user experience and security to explain why it is rated as the best free MP4 video cutter for Windows 10.
What Can WinX Video Converter Do for Cutting MP4?
WinX Video Converter allows users to add a MP4 video and cut it by customizing start and end time. You can trim the head and end of a movie or TV episode to reduce MP4 file size and quickly get main contents. You can cut off a particular segment in the middle of a MP4 video to make it as a part of another home-made video. You can also trim several desired clips from one video.
It supports a large range of output profiles. You can not only to set original MP4 format with corresponding codecs (HEVC/H.264/MPEG4) as output format, but convert MP4 to AVI, MOV, WebM, FLV, 3GP, iPhone, iPad, Android, Windows Mobile, Xbox, Sony PlayStation etc, while keeping almost lossless quality. It gives perfectly preset video/audio parameters for outputs, while capable of modifying the options (like bit rate, frame rate, resolution, aspect ratio and more) for special needs.
Is WinX Video Converter Easy and Good to Use?
WinX Video Converter has a simple but intuitively modern interface which helps users to get it started without guesswork. It can stably run on Windows 10 (64 & 32 bit) and lower versions without not working, video audio not syncing or other unknown issues.
Is WinX Video Converter Safe to Download?
Compared with some free MP4 cutters for Windows 10 bundled with useless or even dangerous software/plug-ins, WinX Video Converter is totally stand-alone and safe; no 3-rd party software, no virus and no Trojan. It gives green download and clean installation with no harm to your computer.
WinX Video Convert Guide | How to Use this Best Free MP4 Cutter for Windows 10
How to cut a MP4 video on Windows 10 using WinX Video Converter? Check the tutorial below!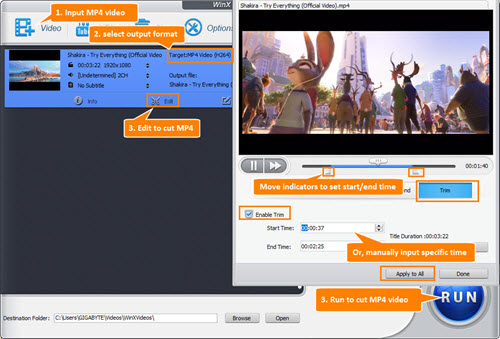 Before Steps:
FREE DOWNLOAD WinX Video Converter on your Windows 10 PC. After getting .exe file, double click it to install this best free Windows 10 MP4 cutter.
Steps:
1. Launch WinX Video Converter. Click +Video button to import MP4 video.
2. Once the video is added, what you should do first is to select an output format for cut video. To keep the format as MP4, click Video tab on the bottom of the window and select MP4 H264 or MPEG4 according to the source file codec. Otherwise, pick desired format or device profile.
3. Click Cut button to access to the window for video editing. Pay attention to the progress bar under preview window. Move the green cursors to set start/end time. Next, click Cut button next to progress bar to make a clip. If you want to cut another clip, repeat the step. Clips will be named as clip 1.2.3....n. You can arrange the order of clips by clicking up/down arrow. Make sure that all wanted clips have been trimmed, click Done.
Notice: All cut clips will be automatically merged as one file.
4. Click Browse button to set a new destination folder if necessary. At last, Click RUN button to extract the cut parts from MP4 video. This free MP4 cutter for Windows 10 will enable hardware acceleration (Intel/NVIDIA/AMD according to your graphic cards) to speed up video processing so that you can get the resulting file at a extermely fast speed.
Still have some questions about how to use this best free Windows 10 MP4 cutter - WinX Video Converter? Please feel free to Mail Us >>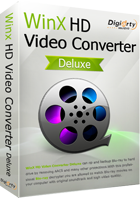 • Edit (MP4) videos incl. crop/trim/merge/rotate/flip videos; deshake images; denoise audios; add effects/watermark/subtitles; correct fisheye.
• Deliver No.1 fast speed to convert and compress online/local videos to MP4 (HEVC/H.264), AVI, WMV, MOV, FLV, 3GP; MP3, FLAC, M4R, AAC, AC3; iPhone, iPad, Android, Windows Mobile, Xbox, Sony PlayStation with vivid images and hi-fi audios.
• Download 4K/1080P, 720P HD/SD/3D/VR/360 videos in any genre (music videos, movies, TV shows, sports, news, documentaries, funny videos etc.) from YouTube, Vevo, Facebook, Instagram and other 1000+ sites to MP4, FLV, WebM, 3GP in a flash.
• Take full advantage of Hardware Acceleration (Intel/NVIDIA/AMD) to bring a fast and efficient performance of video transcoding with low CPU cost. Thansk to level-3 hardware processing, the quality can be maximumly maintained (nearly lossless).
Related External Sources:
MP4 - A digital multimedia container format most commonly used to store video and audio, but it can also be used to store other data such as subtitles and still images....