What Is M4A? M4A vs MP3, Is M4A Better than MP3 or Not?
This page focuses on what is M4A on earth, M4A vs MP3 comparison, and differences between M4A and MP3.
Q: What is an M4A file? What's the difference between M4A and MP3? --- from Yahoo Answers
People are easily confused with some common audio formats, especially have confusion about M4A and MP3 audio. Actually, audio file formats can be divided into three major groups: Uncompressed audio formats, like WAV; Lossless compression audio formats, such as FLAC, ALAC, WMA Lossless; Lossy compression formats, incl. MP3, AAC, WMA Lossy, Vorbis. In this article, we will mainly introduce you the increasingly popular audio format M4A, including: what is M4A format; M4A vs MP3 comparison, which one is better; as well as how to convert video to M4A audio with a professional video to audio converter.
Best Video & Audio Converter
VideoProc: Convert between any videos and audios; convert M4A to other audio format or vice versa; bulk convert any videos to M4A (AAC/ALAC), MP3, AC3, WMA, iPhone Ringtone and other audio formats at No.1 fast speed with original sound quality. Free download M4A audio sound from 1000+ online sites!
For PC and Mac only. Go to mobile page.
Table of Content
Part 1: What Is M4A – Definition of M4A
M4A is an audio-only MPEG-4 file. The official filename extension of MPEG-4 file is .mp4 which contains both video and audio data. When it only contains audio data, it uses .m4a file extension. M4A format is widely used by Apple for unprotected iTunes music (DRM protected iTunes music uses M4P extension). Audio within the m4a file extension is typically encoded with AAC lossy compression, though lossless ALAC may also be used. Generally speaking, the quality of M4A is better than that of MP3 and its file size is smaller than MP3 file. >> See AAC vs MP3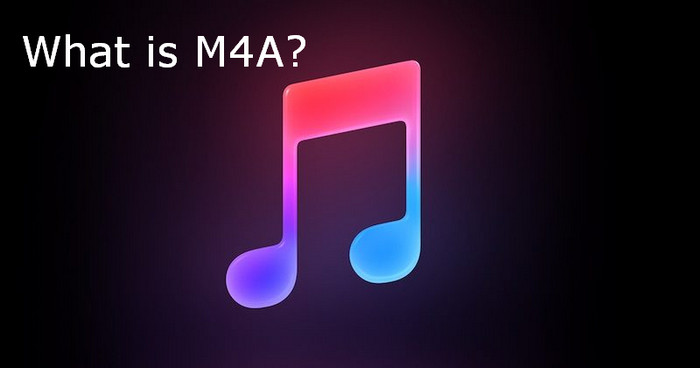 Part 2: Advantages and Disadvantages of M4A Format
Advantages:
- M4A file is compressed while with lossless quality, which means you get smaller file with original quality.
- M4A audio can be set as iPhone Ringtone directly just by renaming the file extension from M4A to M4R.
- As the M4A audio file is not protected, so it can be easily streamed or distributed with no licenses or payments.
Disadvantages:
- Poor compatibility: developed by Apple Inc., M4A is mainly applied to iTunes, iPod and other Apple devices and can't be widely played on many other popular devices.
What Players and Devices Can Open and Play a M4A File?
▪ iPod, iPhone, iPad and other Apple devices;
▪ Apple's own products iTunes, Quicktime;
▪ Additionally, some other limited M4A players also can play M4A files including Windows Media Player, 5KPlayer, VLC, Roxio Creator, KSP Sound Player, etc. >> Check the Best Free M4A Player to Play All M4A Music
Part 3: M4A vs MP3: Which Format Is Better?
M4A vs MP3: M4A is typically perceived as the successor to MP3. But compared with MP3, M4A can compress audio with the same bit rate in smaller file size. M4A format files typically have stereo bit rate of 128kbps, 192 kbps or 256kbps. By the way, Bit rate is the amount of data that is conveyed per unit of time.
As for quality, an M4A file with ALAC codec has the best original sound quality. Even M4A (AAC) delivers better quality than MP3 audio at the same bit rate. As for the file size, it is also related to the bit rate. The larger the bit rate, the larger the file size and the better the sound quality. To put it another way, if you try to get the same sound quality, you need 256kbps bit rate when encoding with MP3 while only need 192kbps with M4A. As a result, you'll get a much smaller audio file size with M4A. However, MP3 is still the most popular audio format thanks to its much better compatibility.
It's arbitrary to say that M4A is better than MP3 or vice versa. Choosing which audio format to use still depends on your own needs.
Part 4: How to Convert M4A to MP3, MP3 to M4A, Video to M4A?
For Apple fans, you may favor M4A file and choose to convert video/audio to M4A, but for those who want to play audio on Android Samsung, HTC, etc. may want to convert video to more friendly audio formats like MP3. An all-in-one video converter VideoProc can convert between audio video formats, or extract audio from videos/movies in various audio formats, enabling you to convert MKV, H.265, AVCHD, AVI, WMV, MOV, MP4, etc. to M4A (AAC), iPhone Ringtone, MP3, AC3, FLAC, ALAC, WMA, WAV, etc. at fastest speed for easier playback on PC, Mac, iPhone, iPad, iPod, Android Samsung and other mobile devices.
Free download, install and launch this audio extractor on your PC/Mac (free download Mac version), then follow the 3 steps below to extract audio from video easily.
Step 1: Select "Video" on the main interface, click "+ Video", "+ Video Folder" or "+ Music" to load source video, video folder or music file stored on hard drive.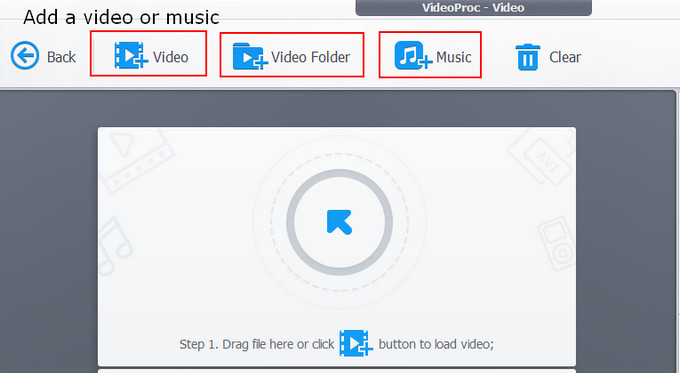 Step 2: Select AAC (M4A), MP3, iPhone Ringtone or other audio files as the output profile. You can adjust the audio parameters before converting.
Step 3: Click "Browse" button to specify a destination folder to store the extracted audio file.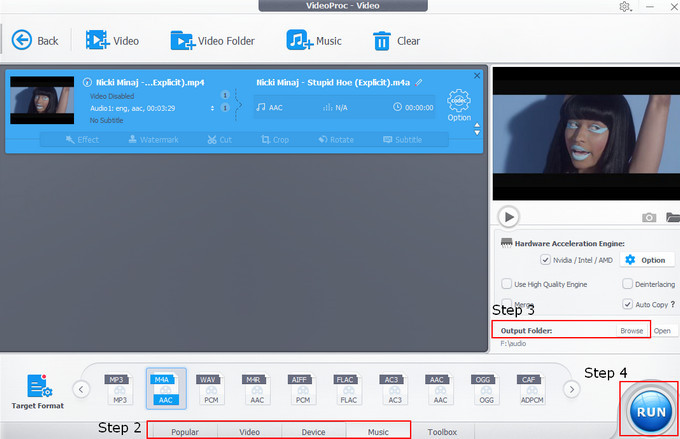 Step 4: Tap "RUN" to start to convert video/audio to audio (here is an example of converting MP4 to M4A).