Free Convert QuickTime MOV to MPEG for Editing/DVD Authoring
The Moving Picture Experts Group (MPEG) is an alliance of working groups established jointly by ISO and IEC that sets standards for media coding, including video/audio compression coding, graphics data, and digital file formats for various applications (explanation from wikipedia). Well, MPEG formats are used in various multimedia systems. The most prevailing MPEG formats typically use MPEG-1, MPEG-2, and MPEG-4 AVC media coding and MPEG-2 systems transport streams and program streams.
Generally, when it comes to convert MOV to MPEG/MPG format, mostly you mean MOV to MPEG-4 AVC (widely used video format), MPEG-2 (DVD format) or MPEG-1. To reach this goal, a mov QuickTime to MPEG converter is a must have. Here we single out top 5 free MOV to MPG converter tools to convert quicktime MOV to MPEG/MPG format for later editing or DVD burning with best quality.
Table of Contents:
Top 4 Free MOV QuickTime to MPEG Converters
Supported OS: Windows, Mac
The major weakness: only directly convert MOV to MPEG4; MPEG1, MPEG2 excluded; No longer developed.
MPEG Streamclip is a reliable free video converter, player, compressor and editor for macOS and Windows 10. It can free play MPEG video file, as well as convert MOV to MPEG-4 AVC format. You can't apply it to directly decode MOV to MPEG1 or MPEG2 unless you later jointly use AviDemux to change MOV to MPG/MPEG format.
Beyond that, MPEG Streamclip also supports you to free convert other types of videos to QuickTime MOV or AVI format, the input formats including MPEG, VOB, AVI, MP4, M2TS, MOD, DVR, TOD, etc. The biggest downside is that it's no longer developed. As for the latest operating system like Windows 11, it might incur MPEG streamclip not working or not compatible issue. For older OS, the compatibility would be much better so that you can still use it to get MOV converted into MPEG/MPG format.
How to use MPEG Streamclip to free change MOV to MPEG4 AVC on Windows/Mac
Downloading and installing this free video converter toolkit can't be easier. There are 2 different versions available right now, the stable and beta. The stable version, currently 1.9.2 Mac and 1.2 Windows are the best for production use, while the 1.9.3 Beta 8 Mac and 1.2.1 Beta Windows versions are crafted for those who're interested to give its added new feature a whirl, like video download feature. Here we download version 1.2 Windows to transcode video from QuickTime mov to mpeg on Windows PC:
Step 1. Install QuickTime alternative 1.81 or QuickTime player 7 or later version before you install MPEG Streamclip 1.2 Windows version. Step 2. Install MPEG Streamclip 1.2 on Windows PC after the quicktime alternative lite installation is accomplished. Afterwards, tap File > Open Files to load your MOV input file. Step 3. Still tap "File" on the top menu > choose "Export to MPEG4" > adjust MPEG4 format parameters at your full disposal, including video compression codec, quality, frame size, frame rate, etc. Certainly, its basic video editing features are accessible here, like rotation, cropping. Step 4. Tap "Make MP4" button and MPEG Streamclip's conversion engine will go into action. Just give it couples of minutes and it will inform you the result after the conversion is over.
Supported OS: Windows
The major weakness: only directly convert MOV to MPEG4; need tmpgenc to decode MOV to MPEG1, MPEG2.
Xmedia Recode gives you the maximum freedom over video converting, converting almost any video to over 30 modern digital formats, input MOV certainly included. The supported video audio formats list includes 3GP, AAC, AC3, ADTS, AMR, ASF, AVI, H.264, H.265, M4A , M1V, M2V, M4V, Matroska (MKV), MPEG-1, MPEG-2, MPEG-4, TS, MP3, MP4, MP4V, MOV, QT, WMA, etc. and DVD. Of course, it only supports converting unprotected DVDs. Thus, it's an all-round performer to handle video converting, audio music converting, as well as unprotected DVD ripping.
That's why Xmedia Recode wins a top place in this list notwithstanding it only directly transcodes video MOV to MPEG-4 and has to get assistance from the 3rd party like tmpgenc or avidemux to change MOV to MPEG1/MPEG2 format. If the biggest downside is not an issue to you, follow the below guide to use it to convert your QuickTime MOV footage now:
How to Convert MOV QuickTime Video to MPEG4 AVC with Xmedia Recode
Step 1. Once you install and open XMedia, select the "Open File" button to load your MOV footage.
Step 2. Choose the resulting format MPEG4 (MP4 container format) in the Format tab. And hit the "Add Job" button once you are ready.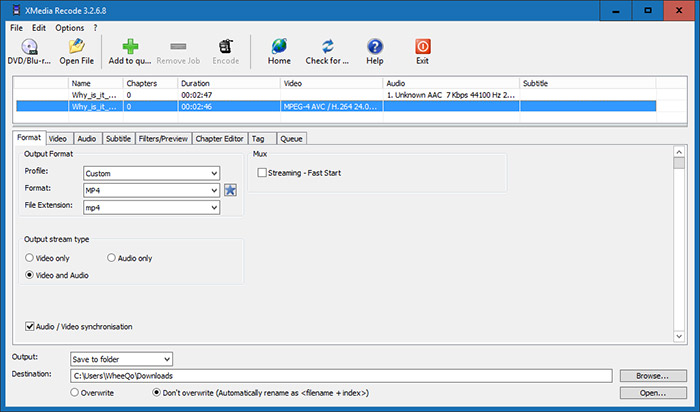 Step 3. Click "Browse" button at the bottom of the user interface to specify an output folder for file storage.
Step 4. Hit the Encode button, sit back, relax and wait for your MOV video to convert! And you're done, just leaving the rest to the tool.
If you wanna convert MOV to MPEG2 or MPEG1, then download and install tmpgenc or avidemux to remux MPEG4 to MPEG1/2 or change MOV to MPEG/MPG. Just a little bit cumbersome.
Supported OS: online (any platform)
The major weakness: only 100MB maximum file size for free use without registeration
For those whose MOV video file is small in size, you're highly suggested to resort to online converter - convertio.co to convert MOV to MPG or MPEG format without downloading any software. Not limited to video converting, this online MOV to MPEG converting service also lets you take full control over video parameters like quality, resize, frame rate, rotate, flip and cut. It's free, fast, easy and full featured! Give it a shot now!
How to Free Online Convert QuickTime MOV to MPEG/MPG?
Step 1. Select or drag&drop MOV video to convert it to the MPEG format from your computer, iPhone or Android, or even Google Drive, Dropbox account. Step 2. Tap the Settings icon next to "MPEG" output format option. Then you can choose MPEG1 or MPEG2 as output codec, change video quality/file size, adjut video frame rate, cut or rotate MOV video, etc. Step 3. When the settings are ready, tap the below red button "Convert" to begin transcoding video from MOV to MPEG1 or MPEG2 online.
Step 4. Once your MOV footage is converted and edited, you can download it to your Mac, PC or another device. If necessary, save the file to your Dropbox or Google Drive account.
Supported OS: Windows, Mac
The major weakness: hidden fees; lossy quality
Any Video Converter has three versions, namely Any Video Converter Freeware, Any Video Converter Ultimate, and Any Video Converter Pro. Compared with Ultimate version, the free version cannot convert DVD disc/folder/ ISO and capture video screen, and lacks free DVD menu templates.
It officially claimed that the supported file formats list is a page long, covering 100+ input and 160+ output formats, commonly seen MOV and MPEG/MPG of course included. The most obvious drawback is the lossy quality. Certainly, any product developer will be proud of their products and confident with the resulting quality. But the real resulting MPEG quality will be judged by you, product user.
[Tutorial] How to Free Decode MOV to MPEG2/MPEG1/MPEG4 with AVC
Step 1. Click on the Add Video(s) button to import the MOV quicktime file you want to convert.
Step 2. Select MPEG as the output format.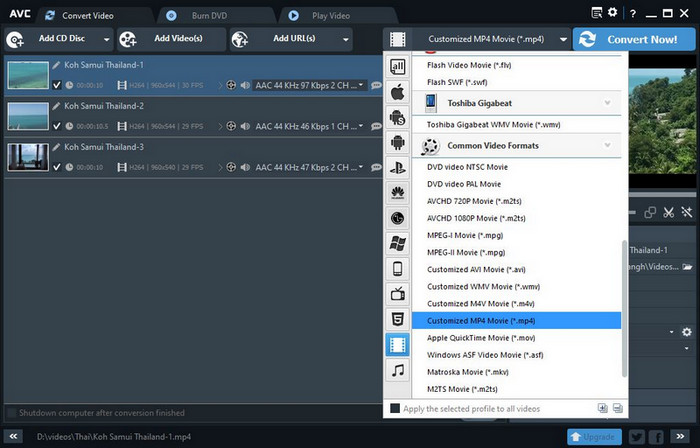 Step 3. Click Convert Now! button to begin converting MOV to MPEG4/MPEG2 (.mpg). You will see a progress bar and estimated time left.
Still have trouble on Converting MOV to MPEG on Windows (10)/Mac, just Mail Us >>