How to Convert QuickTime Movie to MP4 | Free QT to MP4 Converters
QuickTime doesn't export movies in MP4 format on Mac. In QuickTime player, your movie clip is exported with .mov file extension using the H.264 or HEVC codec. You may need to convert QuickTime MOV to MP4 format for wider support on Android mobile devices, software, DVD players, or on other platforms. In this post, Follow to learn how to convert a QuickTime movies to MP4 with various methods, including a free desktop QT to MP4 converter, online services and direcly using your iPhone.
Method 1. How to Convert QuickTime to MP4 with Desktop Video Converter
Desktop QT to MP4 converters provide a reliable and versatile solution for converting QuickTime to MP4 on various operating systems. One popular option is WinX HD Video Converter for Mac. With this powerful QuickTime converter, you can enjoy advanced features, batch processing, and high-quality output.
Specificlly, this free QT to MP4 converter converts QT movie to MP4, M4V, AVI, WMV, H.264, FLV, WebM, and 420+ preset profiles. It fully supports QSV, AMD, and CUDA/NVENC hardware acceleration, hyper-threading technology, and muliple CPU utility, making the QT movie to MP4 Mac conversion 47x real-time faster. You can also batch convert QuickTime video to MP4 for a better compatibility on iPhone, iPad, Android mobiles, TVs, YouTube, Instagram, etc.
Let's start converting QT movie to MP4 using WinX HD Video Converter for Mac!
Step 1. Free download WinX HD Video Converter for Mac
Free download WinX HD Video Converter for Mac on your MacBook Air/Pro, iMac, Mac Pro etc. Then open it up. By the way, if you'd like to convert QuickTime to MP4 on Windows, the Windows version is also available.
Step 2. Load source QuickTime movies in MOV format
Choose and open one or more QuickTime video files from Mac or Windows by clicking the "+ Video" icon or directly drag-and-drop. Batch conversion can be processed and there's no limits on the nubmer of videos users can transcode.
Step 3. Choose MP4 as the output format
The QuickTime video will be loaded quickly and the profile window appears. Choose "MP4 H264" from the Video tab on the bottom of the Output Profile interface. You can also choose 4K MP4 Video for higher resolution but also larger file size.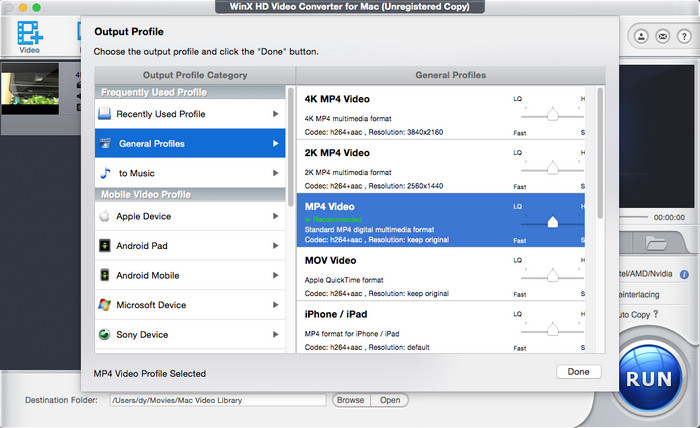 Step 4. Start QT movie to MP4 conversion
Press "RUN" button to start converting QuickTime MOV video to MP4 speedily. You can cancel the video conversion process any time.
Method 2. How to Convert QT Movie to MP4 Free Online
For users seeking convenience and flexibility, online video converters are a great choice for changing QT movie to MP4. Firstly, online QT to MP4 converters allow you to convert your QT movies to MP4 without the need to install any software on your device. You can access these converters from any web browser and platform, making it convenient and accessible wherever you are or whatever device you're using.Then online services often support a wide range of video formats, including QuickTime MOV and MP4. Better still, some even offer additional features such as video editing options, customization of output settings, and batch processing capabilities.
Throughout so many online video converters, Cloudconvert and FreeConvert are the absolute industry leaders in converting QuickTime to MP4 or any other format fast with high quality kept. We'd like to show you how to convert QuickTime video to MP4 with either of them.
How to Convert a QuickTime Movie to MP4 with CloudConvert
Step 1. Navigate to CloudConvert website.
Type in "CloudConvert" on your browser seaching bar. Click on the first result to open it.
Step 2. Open the online service and load source video
Choose the red "Select File" button and find the source QuickTime video you'd like to convert to upload. You can add more than one video at a time, batch video conversion is supported by the free online QuickTime movie to MP4 video converter.

Step 3. Choose MP4 output format
Click the drop-down icon next to the "Convert to" section after the video is loaded. Select MP4 from the drop-down output format list, and click the red Convert button. The video file starts uploading. It may take a long time to upload the source video.
Step 4. Download the converted QuickTime movie file
Wait for the video uploading process to complete. Then download the converted QuickTime to MP4 video file to your computer. The source video will be deleted by the online server permanently within 72 hours.
Note
Cloudconvert allows free 25 conversions a day.
The conversion process is extremely slow for users without a subscription.
How to Convert a QuickTime Movie to MP4 with FreeConvert
Step 1. Visit FreeConvert.com
Open your web browser and navigate to FreeConvert.com.
Step 2. Choose the QuickTime Movie.
Click on the "Choose Files" button or drag and drop your QuickTime movie file directly into the website's interface. You can also import the file from cloud storage platforms like Google Drive or Dropbox.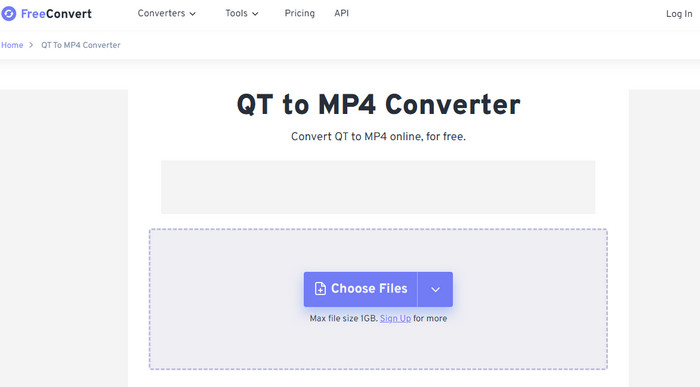 Step 3. Select the Output Format.
In the "Convert to" dropdown menu, select "MP4" as the desired output format. FreeConvert.com supports a wide range of formats, so ensure that MP4 is specifically chosen for this conversion.
Step 4. Start the Changing QT movie to MP4.
Once you have selected the output format, click on the "Convert" button to start the conversion process. FreeConvert.com will begin converting your QuickTime movie to MP4.
Method 3. How to Convert a QuickTime Movie to MP4 on iPhone
Besides converting QuickTime MOV video to MP4 on Mac or Windows, many users still choose to change QT movie to MP4 using iPhone. This allows you to perform the conversion on the go, without the need for a computer. And converting QT to MP4 on iPhone eliminates the need for transferring files between devices. You can convert, edit, and save the MP4 files directly on your iPhone, streamlining the workflow and saving time. Moreover, after converting QT movie to MP4 on your iPhone, you can quickly share the converted videos directly from your device. Whether you want to send them via messaging apps, social media, or email, the sharing process is seamless and immediate.
There are dedicated video conversion apps available on the App Store, such as iMovie, that offer a user-friendly interface and powerful conversion capabilities. Just take iMovie as an example.
Here's how to convert QT to MP4 using iMovie on iPhone
Step 1. Download and install the iMovie app.
If you don't have iMovie installed on your iPhone, visit the App Store and search for "iMovie." Download and install the app on your iPhone.
Step 2. Launch iMovie and create a new project.
Once installed, locate the iMovie app on your iPhone's home screen and tap on it to launch the application. Then, you'll be presented with the main screen. Tap on the "+" icon or the "Create Project" button to start a new project.
Step 3. Import your QuickTime video into the project.
In the new project screen, tap on the "Media" button located at the bottom of the screen. From the media library, select the option to import media files. Locate and choose the QT movies you want to convert to MP4 from your iPhone's gallery or other sources. After loaded, drag and drop it onto the timeline at the bottom of the screen.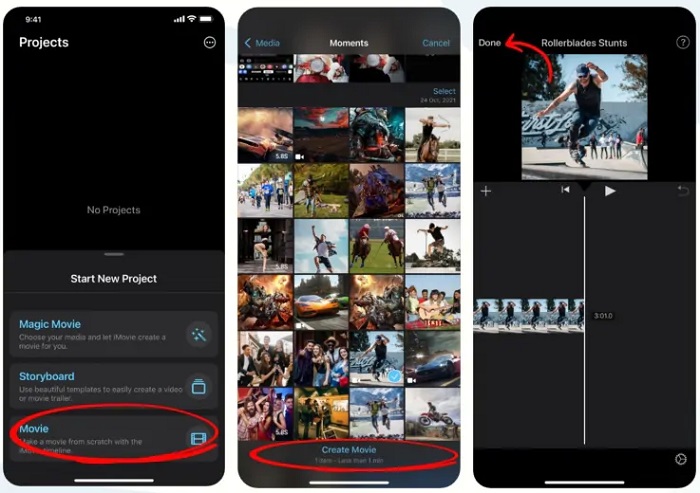 Step 4. Edit the video or adjust settings if desired.
If you want to make any edits or enhancements to the QT movies, tap on a movie clip in the timeline to select it. Use the editing tools provided by iMovie to trim the clip, apply filters, add transitions, or make any other desired adjustments.
Step 5. Export the video and choose MP4 as the format.
After you've done, you'll be prompted to save your project. Give your project a name and choose a suitable location on your iPhone to save the converted MP4 file. Tap on "Save Video" to save QuickTime video as MP4.
The conversion time will vary depending on the length and complexity of your videos. Be patient while iMovie performs the conversion. Once the conversion is complete, you can now access the converted MP4 file from your iPhone's gallery or share it directly to YouTube, Instagram, Whatsapp and more.
FAQs
Q1. How do I convert a QuickTime movie to MP4 on Mac?
Use a desktop video converter program or online video conversion service. You can try directly change the QuickTime movie file extension to .mp4. But this way may result in the QuickTime movie file not playing properly.
Q2. Can you export QuickTime video as MP4?
In QuickTime player, your movie is exported as a QuickTime movie (.mov) using the H.264 or HEVC codec. QuickTime movies are exported as MPEG audio files if you only export as audio. QuickTime doesn't export movies in MP4 format on Mac. To convert QuickTime movies to MP4 format, you need third-party video converter help.
Q3. What file format is QuickTime?
QTFF, QT, or MOV, MOV is more commonly used. QuickTime files come with the extension .mov. MOV was used for QuickTime movies and was usually called the "QuickTime movie" format. QuickTime file format MOV is developed by Apple and is accepted by Apple hardware and software. Many Windows based and Android devices don't have support for QuickTime MOV movie format.
Q4. Will converting QT movies to MP4 affect the video quality?
If you converting QT movies to MP4 using reliable converters or apps, it should not significantly affect the video quality. However, it's essential to choose high-quality conversion tools and ensure you select appropriate settings to maintain the desired video quality during the conversion process.
Q5. Can VLC convert QuickTime to MP4?
Yes. Besides a free media player, VLC can also be used as a free video converter for converting QT to MP4, WMV, AVI, TS, DivX/Xvid or other formats.