How to Convert MOV to WMV FREE & Fast on Win/Mac
More and more cameras such as GoPro, DJI drone, Canon, Nikon, Panasonic camcorders are recording 4K/HD videos in MOV format. Are you having troubles with .mov files easpecially on Microsoft devices, for example, when you're trying to streaming MOV videos to Xbox series or playing MOV files on Windows Media Player (except for Windows Media Player 12)? Why not convert MOV to WMV for a fully compatibility with Microsoft or to make it easier for uploading? This article will show you 5 ways to quickly convert MOV to WMV for free.
Try the Best Free MOV to WMV Converter for Windows/Mac
Free Video Converter - a free MOV to WMV converter, 100% safe and clean. It's able to convert 4K/HD MOV videos to WMV, MP4, M4V, H.264, HEVC, AVI, MKV, iPhone, iPad, Android, and 420+ preset profiles. Compress large MOV videos to WMV format with 40%-90% smaller file size. 5x faster with high quality reserved.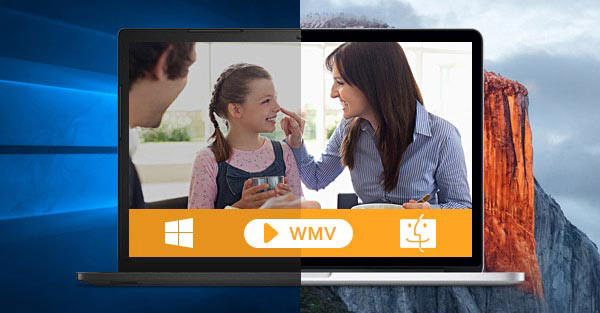 How to Convert MOV to WMV? 5 Free Ways Here
Way 1. Convert MOV to WMV with Free Video Converter
Free Video Converter is a flexible free video converter that allows you to convert MOV videos from/to WMV and any other formats:
Convert MOV videos in 4K/HD, 60FPS/120FPS, HDR, etc. from GoPro, DJI, Canon, Nikon, Panasonic camcorders.
Convert MOV videos from/to WMV, MP4, H.264, HEVC, AVI, WebM, MKV, 3GP, 420+ profiles.
Support MOV videos in HEVC, ProRes, H.264, MPEG4, CineForm, any other codecs.
Built-in hardware acceleration tech and high quality engine help convert MOV to WMV at 5x faster speed with high quality.
How do I convert MOV to WMV free with Free Video Converter?
Step 1: Import the MOV videos.
Free download Free Video Converter on your PC or Mac. Now let's get started to convert MOV to WMV. Run the program and click the "+ Video" button on the top toolbar to select the MOV videos from you computer. It supports batch conversion.
Step 2: Choose WMV as the output format.
Once the MOV video is loaded, it will automatically open the profile window available for output format selection. Here scroll down to find "PC General Video" and select "WMV Video" as the output format.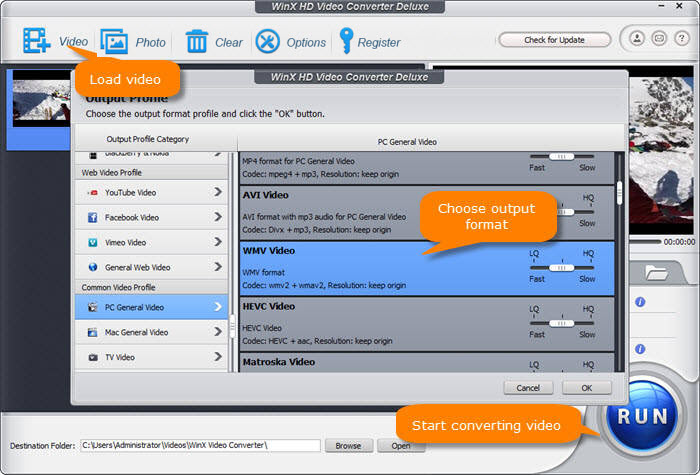 Step 3: Customize the output WMV video if necessary.
If required, click the gear button next to the selected WMV profile to adjust the video parameters. If you need to edit the output WMV video, click the Edit button under the selected profile. Then you can trim, crop, add subtitles, etc.
Step 4: Start conversion.
Click the "Browse" button to set an output folder for the converted video. Then click the big blue "RUN" button to convert MOV videos to WMV now.
Way 2. Convert MOV to WMV using VLC
Everyone knows that VLC is an awesome media player on Windows, Mac and Linux. However, it may be a suprise for some users that VLC can also be used to convert videos. It could convert MOV to WMV easily for Xbox, Surface Pro, YouTube and more devices and platforms. Also, you're able to adjust the basic video parameters in VLC. Here's how to convert MOV to WMV on your PC using VLC.
How do I convert MOV to WMV free with VLC?
Step 1: Download and install VLC on your computer if you haven't got it. Then run it. Open the Media dropdown list in the menu bar and click Convert / Save.
Step 2: Click the Add button and browse to the MOV files you want to convert. Then click the Convert / Save button. Step 3: In the popped up window, choose "Video - WMV + WMA (ASF)" as the output format from the Profile dropdown list.
Step 4: Under Destination click the Browse button and choose a location to save the file, and name the file. Click the Start button and VLC will start to convert MOV to WMV video quickly. See more VLC errors and fixes to convert MOV to MP4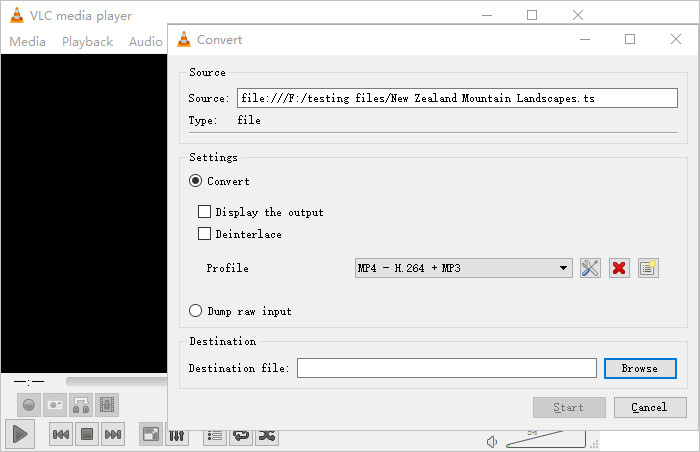 Way 3. Transcode MOV to WMV for Free with CloudConvert
CloudConvert is a free online video converter, supporting nearly all audio, video, document, ebook, archive, image, spreadsheet, and presentation formats. If you want to convert MOV to WMV without downloading any software on your computer, try it. It supports to convert videos between 200+ formats, such as MP4, MOV, WMV, FLV, WebM, MKV, MP3, WMA, FLAC, DOC, PDF and more. Moreover, you can customize your video in CouldConvert through tweaking video parameters and basic editings like trimming, cropping, adding subtitles etc. One thing to note, online tools have some limits like slower speed, file size limits, no batch conversion, etc.
How do I convert MOV to WMV online with Cloudconvert?
Step 1: Visit CloudConvert official site, and click the big red Select File button to upload the MOV video to the site. You can select files locally from your computer, website, or cloud storage services.
Step 2: Once the videos are uploaded, open the Convert to dropdown menu and select WMV as the output format. Beside the selected profile, click the setting button to adjus the video parameters if needed.
Step 3: Now click on Convert to convert the MOV to WMV files. The conversion will take some time based on your internet connection. Way 4. Convert .MOV to .WMV using Zamzar
Zamzar is another popular online video converter for MOV to WMV conversion. Likewise, you don't have to install any third-party programs or extensions, and also be limited with Internet speed, file size and more. As for the features, it supports to convert 1200+ file formats, not only the videos, but also audio, documents, and images. Also, it's easy to use. Here are how to convert .mov to .wmv within 3 steps.
How do I convert MOV to MWV free online with Zamzar?
Step 1: Go to Zamzar official site. Click "Add Files" button to load your MOV file to the video converter. You maximally load a video of 50MB for free accounts.
Step 2: Drop down the list of "Convert To" and choose "WMV" as the output format.
Step 3: Click the green "Convert Now" button to upload and convert your file. Wait and your video will be converted successfully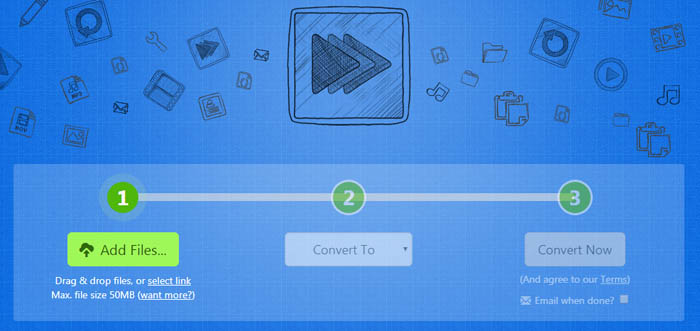 Way 5. Change MOV Format to WMV with MPEG StreamClip
MPEG StreamClip can work both as QuickTime MOV converter and a powerful video editor. You're allowed to convert MOV to WMV on Mac and Windows with this software in high speed and quality. It can also convert MPEG or other files between muxed/demux formats for authoring, cut, trim, and join videos and even save videos from web by entering the URL. However, we are focusing on video conversion here. Let's see how to convert MOV to WMV with it.
How do I convert MOV to MWV free with MPEG StreamClip?
Step 1: Download MPEG StreamClip on your computer and then launch it. (MPEG StreamClip hasn't been update for years. It may not be compatible with the latest Windows 10/11)
Step 2: Click File button and then choose Open Files to add your MOV video.
Step 3: Click File button in top bar again and then choose Export to Other Formats, and it will help you convert MOV to WMV. To the Conclusion
From the above, you can find 5 free ways to convert MOV to WMV. But which one to choose? It depends on your specific needs. For example, if you want a fast and smooth MOV to WMV with high output video quality on Windows, WinX Video Converter could be a nice choice. If you don't want to install anything on your computer, online video converter like ClouConvert, Zamzar earns the first priority. VLC, and MPEG StreamClip are both available on Mac and Windows, and it can be used for MOV to WMV conversion even if they are not that professional.
In brief, just convert MOV to WMV with the one that best fit your needs.
What is an MOV file?
MOV is an MPEG4 video container file format developed by Apple, mainly used with Apple QuickTime. An MOV file can store audio, video, and text in the same file on different tracks. MOV is often used by editors as MOV files support high-quality video. In other words, MOV files are often in high quality and large size.
Supported codecs: MPEG-2, MPEG4-ASP(XVID), H. 264, HEVC/H. 265, Apple ProRes, MJPEG, AIC, , Sorenson 1/3, PNG, CineForm
MOV is supported by iTunes, QuickTime, Apple apps, and iDevices such as iPhone and iPad. Other players such as VLC, Windows Media Player, 5KPlayer, are all able to play MOV videos. Note that some QuickTime files come with .QT or .MOVIE extension, then you need QuickTime to open those files unless rename them into .MOV.
What is a WMV file?
WMV is a compressed video file format developed by Microsoft, specially designed to run on all Windows devices. WMV is a video stored the video in the ASF and compressed with WMV compression. Windows Media Audio (WMA) files are saved with a .WMA extension. WMV compresses large files for a better transmission rate over a network while maintaining the quality of the video.
Supported codecs: WMV V7, WMV V8, WMV 9, WMV 9 Screen, WMV 9 Advanced profile, MPEG-4, WMV 9.1 Image V2
WMV is supported by Windows' bundled Windows Media Player and Microsoft Movies & TV players. Many other players can open WMV on Windows and macOS such as VLC, Kodi, 5KPlayer, DivX, etc.
FAQ
1. Can Windows Media Player Play MOV?
Yes, you can play MOV on Windows Media Player 12, the latest version. Windows Media Players earlier than Version 12 lack the ability to open MOV files on Windows.
2. Why Windows Media Player only plays audio (no video) on .mov files?
As just mentioned, users can play MOV videos on Windows via Windows Media Player 12. However, there are many users reporting that Windows Media Player 12 only plays the audio but no video with MOV files. The problem is usually caused by improper codec. MOV is a file container, which is able to hold video & audio encoded with different codecs. The failed MOV file can be encoded by a codec not supported by the Windows Media Player 12. Try the k-lite codec pack or another video player such as VLC. Or you may convert the MOV to WMV as per the guide above.
3. How do I convert MOV to WMV on Mac?
Though WMV is a Microsoft codec, many video players allow users to open WMV on Mac. So you may want to convert MOV to WMV on Mac in order to reduce the file size. The MOV to WMV converter - HD Video Converter Deluxe will work on macOS.
Download the HD Video Converter Deluxe on Mac.
Click the Add icon, select and load in the MOV files.
The output format window will pop up automatically. Scroll down to the PC General Video on the left column and select WMV Video as the output format.
Back on the main interface, set where you want to store the converted WMV file and then click the Start button to begin.
4. How to convert MOV to WMV online over 200mb?
Almost all free online MOV to WMV converters apply size limits. But some allows large file size. For example, the site convertfiles is able to convert up to 250MB MOV to WMV online for free. Converters such as freeconvert and cloudconvert let you convert MOV to WMV online over 200MB, 300MB... with a max file size of 1GB. However, if the MOV file is too large in size, the desktop converters are better choices.
5. Can I convert MOV to WMV using Handbrake?
No, you can't. Handbrake is very good at handling HD videos like MOV files. However, it can only save the converted MOV video in MP4, MKV, and WebM only. It doesn't have WMV output profile.
6. How do I convert MOV to WMV using FFmepg?
FFmpeg is a very useful tool in converting one format to another. However, FFmpeg doesn't support  wmav3/wmv9 encoding. But you can use ffmpeg to encode MOV to WMV earlier versions, such as Windows Media Video 7 and 8 encoders. Just convert MOV into WMV with a command line like below:
ffmpeg -i input.mov -b 1500k -vcodec wmv2 -acodec wmav2 output