Is VLC Safe? Does Malware Have any Chance to Access to VLC?
Yes, VLC media player is 100% Safe to download and install on your laptop or device once you download it from the authorized sites. Afterwards, you're able to enjoy tons of features in VLC player.
▪ Play video, music, DVD, Blu-ray disc.
▪ Download YouTube videos.
▪ Convert video/audio files.
▪ Open a file or stream a movie that is physically located somewhere else than on the local computer.
▪ Record your desktop screen.
▪ Customize video & audio effects.
▪ Split and separate the stream into multiple videos.
▪ Capture wallpapers from video.
..........
Part 1. VLC Bugs Might Be Used to Harm Computer
That being said, VLC media player is developed by imperfect human. Hence, how could it possible for VLC to be perfect? Some demerits shows that VLC is not that safe.
Go back to 2 years ago, and there was a report saying that VLC media player allows desktop takeover via malicious video files. The report explains the potential malware scenario using an example: you'll become a victim only when you download a video file named as some hit TV series from some torrent sites and open it using VLC player, because the video source has already been contaminated before attrackers upload it to online sites.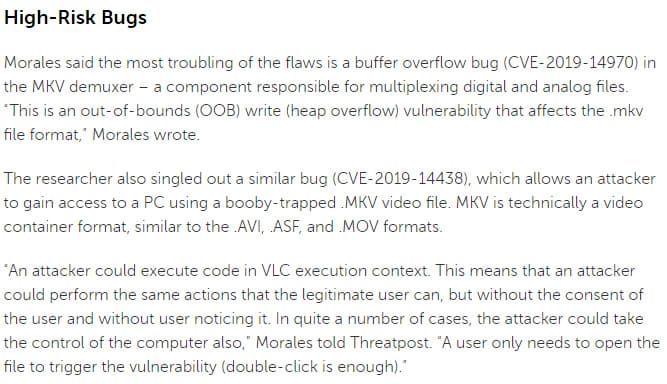 Of course, the latter newer version of VLC has fixed these bugs and cleared the potential malware/risk out of VLC. Does this mean the later version 100% safe from any malware/spyware or virus when it comes to play, convert, download or stream video files? Scarcely possible. Think about iOS system. The newer iOS update can fix the high-risk bugs in the previous version, but the newer one also comes with new bugs. That's why each software development team has to constantly update their products. The same applies to VLC, as well.
Part 2. How to Use VLC Safely
1. Make sure to download VLC from trusted platform
You are suggested to download VLC from VideoLAN.org, Microsoft Store, Google Play Store, Apple App Store, and other reliable places. VLC setup files on these platforms are clean, safe, and free from any malware. Try not to download VLC from third-party sites.
2. Update VLC as soon as possible
New version may fix the bugs that can be used to control computer. When you open VLC and see a window saying a new version of VLC is available, simply click Yes to download it. if you click No, never mind, you can still access it later by clicking Help > Check for updates.
3. Don't use VLC to open files from untrustworthy sites
Some files from untrusted sites such as  peer-to-peer file sharing networks may be embedded with malware. If you try opening malicious files with VLC, your computer may be attcked.
4. Install an antivirus program for your device
Such kind of software can quickly find the potential threat in the files sent to your device and help you remove it immediately.
Part 3. VLC Is Safe but Might Not Working
On top of the above-mentioned VLC potential safe issues in actual use, VLC also brings you much trouble concerning its features:
VLC might conflict with certain software on your desktop.
VLC keeps crashing or choppy when it plays 4K HEVC video at higher frame rate 60FPS or above.
VLC Chromecast not working.
VLC is unable to open the MRL error.
..............
If you're okay with VLC security but concern varied types of VLC errors, the below 100% safe VLC alternative is worth your consideration.
5KPlayer - 100% safe, clean and virus-free video player freeware, enables you to free any videos, music and DVD contents without downloading extra codec package. It can smoothly playback MKV of any video codec, as well as 4K HEVC video at 30/60FPS without choppy or crashing issue (thanks to GPU hardware acceleration tech). What's plus, it's also a good performer in downloading media files from 1000+ video/audio sharing sites and streaming video/audio via AirPlay or DLNA with zero quality loss.