How to Fix Upside Down Video? Rotate Video in VLC Player
Your cellphone or action camera recorded video footages are upside down when they're played back on your laptop or bigger screen smart TV. Some video players can automatically adjust video angels back to normal, but some won't. If your media player doesn't do this favor for you, you're suggested to resort to VLC media player (all-in-one tool) to playback your media file with built-in video rotation feature!
Follow the below guide to fix upside down video using VLC if you're not familiar with VLC.
How to Rotate Video 90/180/270 Degrees to Fix Upside Down Video in VLC?
Before you rotate MP4, MKV, MOV, AVI, HEVC videos, make sure you get VLC media player downloaded and installed on your Windows PC or macOS. Download or upgrade to the latest version. When the preparatory work is done, let's get right to the point:
Step 1: Launch VLC media player on your PC > tap "Open File" under "Media" at the top toolbar to load your video file that you wanna play. You can pause the video playback currently.
Step 2: Click "Effects and Filters" Under "Tools" at the top menu > tap "Video Effects" > "Geometry".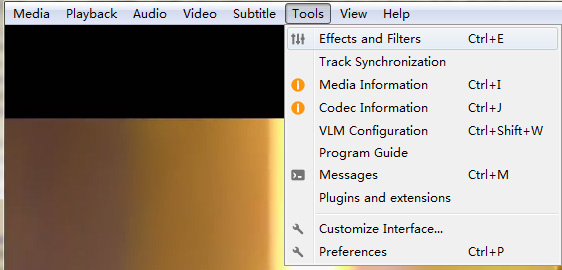 Step 3: Tick "Rotate" and manually adjust angels to rotate video to correct orientation, 90 degrees, 180 degrees or 270 degrees and fix video upside down issue.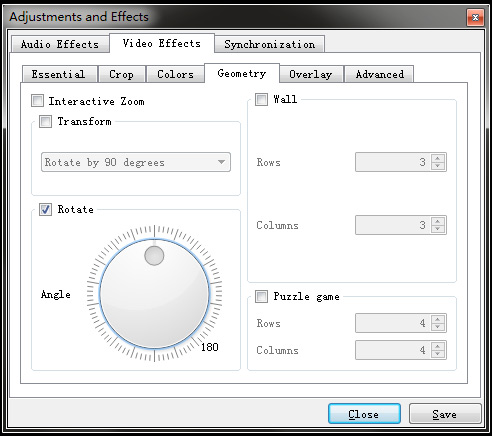 You don't have to exactly rotate MOV files recorded by iPhone or other videos with the integral number. You can freely adjust video angels 10 degrees, 55 degrees, 60 degrees, etc. if the video is marginally wrong in orientation.
Step 4: Click "Close" button when the orientation correction is done. Now re-click "Play" button to playback and enjoy your video in normal yet correct angel.
Video Tutorial to Rotate and Fix Upside Down Video using VLC
Can VLC Media Player Flip and Mirror Videos?
Currently, video flipping feature is absent from VLC media player. If you want to flip and mirror your video, many online video tools can be your silver bullet. Among them, clideo.com enables you to flip and mirror video of almost any format, be it MP4, MOV, H264, MKV, HEVC, etc. Just load your video file and then tap the "Flip" option (shown as below). You can keep your original video format or choose another format at the lower left corner of the webpage. It supports 23 video output formats for you to choose from. Certainly, online video flip tool is not perfect. When you upload large-sized video or hi-def video like 4K, the uploading process would become damn slow. For those who wanna flip and mirror 4K, 2K large-sized videos, you can try MacX Video Converter Pro, which allows you to mirror videos, rotate videos, convert and compress videos, as well as record screen videos at GPU hardware accelerated 5X faster speed.