How to Deinterlace Videos and Remove Jagged Artifacts
Nowadays, all broadcast television, cable, satellite, VHS, S-VHS, Beta, Laserdisc, 8mm, Hi8, Digital8 and most DV sources are interlaced. Most analogue cameras and even some modern digital cameras uses interlaced scanning too. But most cathode ray tube (CRT) computer monitors, all LCD computer monitors, and most HDTVs use progressive scan. Therefore, when you play an interlaced video on a computer monitor, you will see noticeable artifacts.
To watch interlaced video on modern non-interlaced displays without harsh interlacing lines, you need to deinterlace the video first. What's the best video deinterlacing software? Here we'll show you how to deinterlace a video using different Handbrake, VLC, Premiere, etc. Step 1: Load interlaced video
Launch the best video deinterlacing software and click "Video" -> "+Video". Select the interlaced video from computer and load it into the program. Almost all popular videos are supported as input.
Step 2: Enable video deinterlacing
Specify an output video format like MP4, etc. in the Target Format column. Optionally do some edits to the video and click Codec Option button to adjust video/audio parameters like resolution, frame rate, etc. if you need. Then tick the "Deinterlacing" button on the main UI.
Step 3: Start deinterlacing video
Click "Browse" to set a destination folder to save the deinterlaced video. Hit "RUN" to start the video deinterlacing process to convert it into smooth motions without jagged lines or quality loss.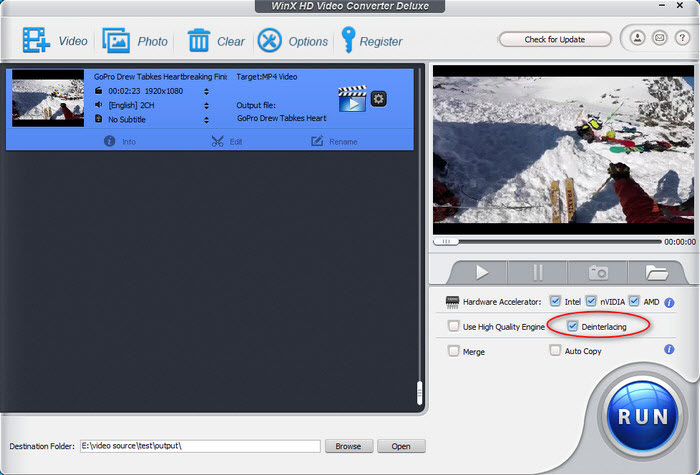 How to Deinterlace Videos with Handbrake?
Handbrake also supports video deinterlacing. There are two options in Handbrake deinterlacing settings: Yadif and Decomb.YADIF (Yet Another DeInterlacing Filter) is the most popular deinterlacing filer. It checks pixels of previous, current and next frames to re-create the missed field by some local adaptive method and uses spatial check to prevent most artifacts. Decomb switches between multiple interpolation algorithms for speed and quality. Avoid decomb unless you are dealing with the rare case of mixed interlaced and progressive material. 
Step 1: Import interlaced video
Download the free video deinterlace software and install it. Click the "Source" button to open a single video file or a folder with multiple interlaced videos.
Step 2: Choose deinterlacing filter
Select an output format for you video, like MP4. Then click Filters on the tab menu and find Deinterlace. Deinterlace video using a combination of Yadif or Decomb using a preset bob, eedi2, or eedi2 bob. If you dont' know how to interlace videos free with Handbrake best settings, here we recommend you two methods for the best quality or speed:
DeComb EEDI2 (without Bob) is the best image quality. Less aliasing and best missing lines reconstruction. The one which looks more like progressive footage. The problem is: it is very very slow, takes lots of time.
DeComb Bob (without EEDI2) is the best quality/speed balance. It has a little more aliasing but not disturbing and it is much faster. Best option if you cannot wait longer.
Step 3: Click Start Encode button to deinterlace video with HandBrake now. See detailed guide on how to interlace video using Handbrake.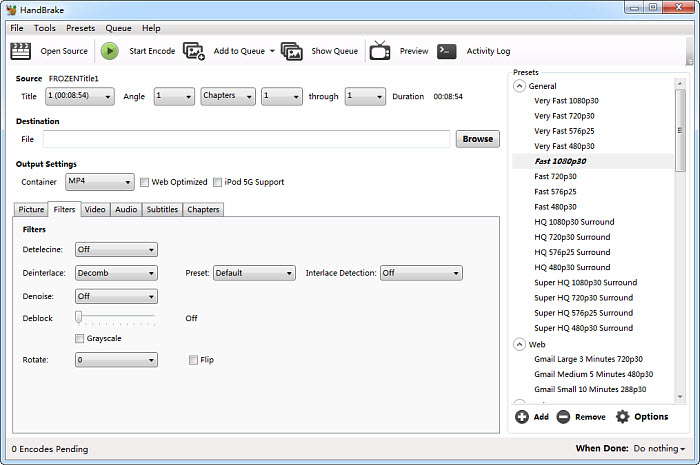 How to Deinterlace Videos with VLC?
If you want to play an interlaced video on a progressive screen without jagged lines, you can use VLC. It has a video deinterlacing feature which is off by defualt. You can enable the VLC deinterlacing mode easily.
Automate Deinterlacing (On/Auto/Off) in VLC
Open free video deinterlace software and select Tools on the top menu bar. Then select Preferences.
Choose Video and open the Deinterlacing dropdown menu. Here are three options: Off, Automatic, and On. For non-tech users, we recommend the Automatic mode. Then VLC will deinterlace a video when it detect interlaced artifacts using a proper method.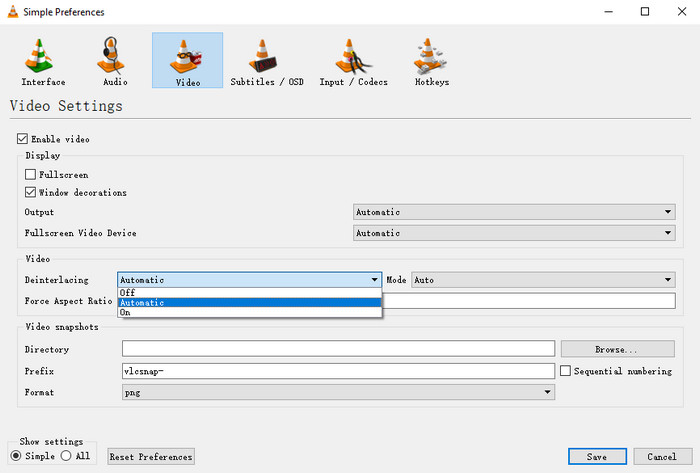 Enabling Streaming deinterlace mode
The VLC automatic detection is not always reliable. For advanced users, you'd better switch deinterlacing on/off manually when needed.
Open the free video deinterlacing software and select Tools on the top menu bar. Then select Preferences.
At the bottom of the Interface, choose All under Show setting.
Scroll the list and go to Video > Filters > Deinterlace. Then select a streaming interlace mode from Blend, Mean, Bob, Linear, X, Yadif, Yadif (2x), Phosphor, Film NTSC (IVTC). (Don't know how to choose, here is a detailed explanation on VLC deinterlacing modes)
Click Save and restart VLC.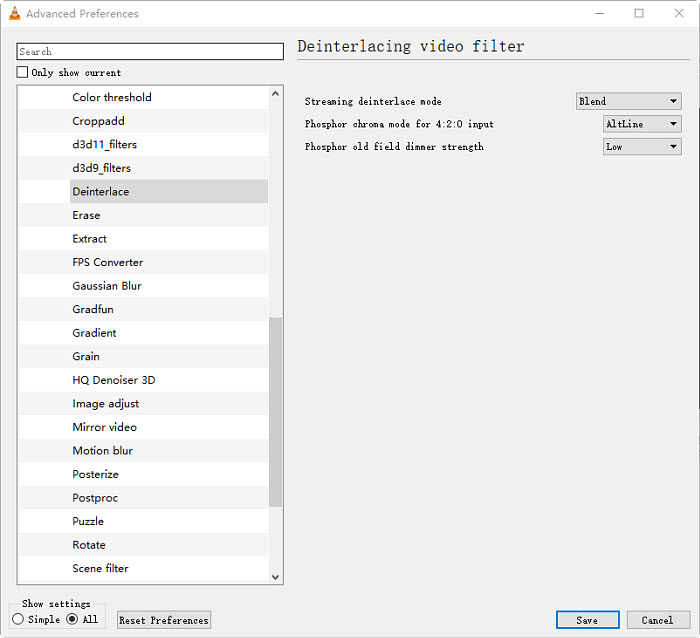 How to Deinterlace Videos with Premiere?
The Premiere Pro has a deinterlacing function which is designed to play clips in slow motion or in freeze frame. It's able to convert interlaced videos into smooth non-interlaced or progressive files by discarding one field and then interpolating the missing lines based on the lines of the dominant field.
Step 1: Open Premiere Pro and your video project. Drag the footage that you wish to deinterlace, and drop it into the timeline on Premiere Pro.
Step 2: Select the clip on the timeline and select "Clip" from the top menu, then "Video Options" then "Field Options." This will open the Field Options Window.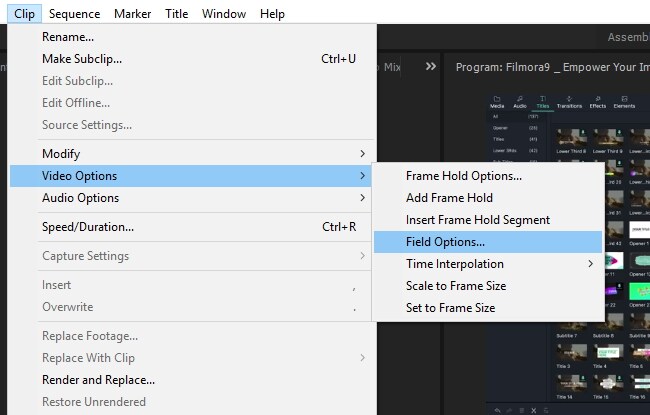 Step 3: Then you will see four options: None, Interlace Consecutive Frames, Always Deinterlace, and Flicker Removal. To remove jagged edge artifacts and deinterlace video with Premiere Pro, select Always Deinterlace. This will sort through the frames per second from your video and remove half of the frames that you don't need.
Step 4: Click OK. This process may take quite a longer time.