Download Top Free MKV Splitter to Split MKV Averagely or by Time/Size
MKV is a multi-media container format, with multiple video tracks, audio tracks, subtitle tracks, etc. supported. Thus, it can provide you with higher crisp video image than most other formats. For this reason, the video file size in MKV format is also larger than those in other formats even though the parameters of video are the same.
Hence, if your MKV video footage is too large in size or long to a fault, the primary yet optimal option is to split MKV into several clips. Thus, you can reduce MKV video size or shorten MKV length without re-encoding, no quality degradation. To split MKV into small pieces, download a top free MKV splitter software first. Check the below top video splitter software if there is no candidate on your list yet.
Table of Content
Part 1. Top Free Online MKV Splitters to Split MKV in Your Browser
Free online MKV video splitter services are the primary options, since they can help you split MKV video into multiple segments in your browser, needless to download or install any 3rd party software or plug-ins. Considering its ease of use, we put them at the front position. Certainly, there are a wide selection of online MKV splitters available. It's out of the question to list all of them out. Instead, we pick up the most reliable services for you to conduct MKV splitting. Check them out:
1. split-video.com
Highlight: 4 splitting methods offered: free splitting, average splitting, splitting by time, splitting by file size.
Best for: users who have multiple needs on MKV video splitting (not only the average splitting) and enough patience.
Room to optimize: reading file is taking seemingly forever, not only for MKV in 4K HEVC, but also in 1080p H264 codec.
The first time I choose a MKV 4K HEVC video (only 1.28 minutes) to this free MKV video splitter service and the reading file speed is good and slow. Maybe it's because of the ultra HD resolution and compute-intense codec HEVC, I guess. Therefore, I change the input MKV file into another one 1080p at H264 codec (2.47 minutes). But the situation doesn't turn any good. Thus, if you stick to its 4 splitting methods, you have to accept its demerit: snail speed.
Unsatisfactory speed is the biggest disadvantage of this free online MKV splitting service. It knows this and smartly uses video output format settings as a trade-off (beyond 4 splitting methods). It supports you to yield splitted fragments as MKV (kept as input), or MOV, MP4, AVI, 3GP, etc. 10 formats in total, with H264 or MPEG-4 codec to choose from. As for the elaboration of its highlight - 4 splitting workarounds, delve into them via the below step-by-step user guide:
How to online free split MKV into small pieces on split-video.com?
Step 1. Head to split-video.com, tap "Choose a file" or "drag file here" to import your desired MKV video file. Note: only sinlge MKV file is supported, MKV video folder excluded here.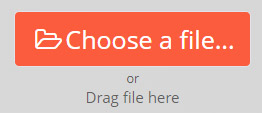 Note: Be patient please. Unlike other video splitter software, this online tool reads your input MKV at unbelievably slow speed. As you can see, the progress bar shows the reading processing at 0.01% unit. No wonder some users complain that it takes forever to read video file.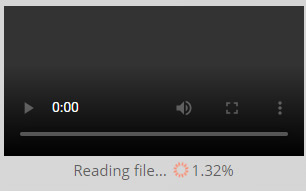 Step 2. Choose splitting mode from the below 4 modes after your MKV video is successfully loaded. Directly try yourself or read the instructions before you go (if you don't want to waste time on meaningless trial).
Free Split: freely move the slidebar to decide your MKV clip length. Click "Add Split Point" to add more splitting lines if the default 2 points are not enough for you. As you can see, this splitting method allows you to split MKV at any duration, each clip not equally divided. This gives you maximum possible freedom in MKV splitting, both clip length and file size. Average Split: its name has already explained itself clearly. The MKV file size and duration will be averagely divided into 2 segments (defaultly). Change the number of files if you need more than 2 segments. Split by Time: time is your most significant standard to split MKV now. As you can see from the following picture, if you change the clips into 5, the duration of the first 4 clips keeps the same while the last clip gets the rest video length, unable to completely equally get splitted.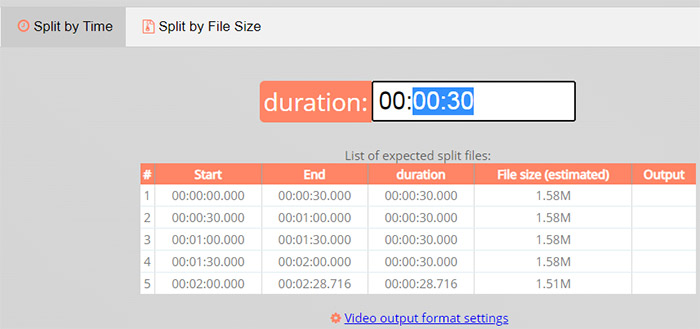 Split by File Size: similar to the afore-mentioned one, "split by file size" also can't guarantee you a 100% equally video splitting. If you change the file size at your willing, generally the last fragment only gets the rest file size, not your preset file size.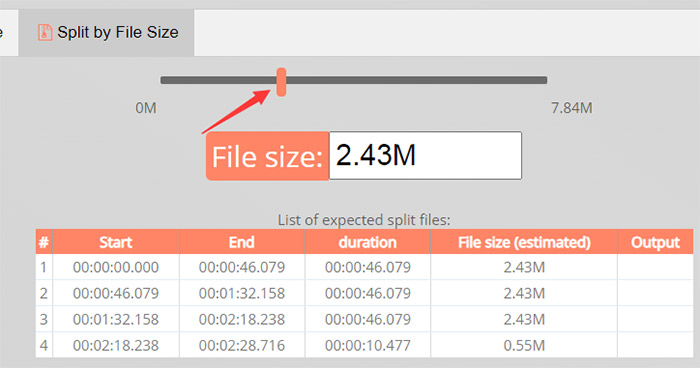 Step 3. Hit "Video output format settings" option to choose output video format, codec and audio codec. Still choose MKV as output format if you don't wanna change video format. But the video codec can't get 100% original if your input MKV codec is HEVC or AV1, cuz this free online MKV splitting website doesn't support other video codecs except for H264 and MPEG-4.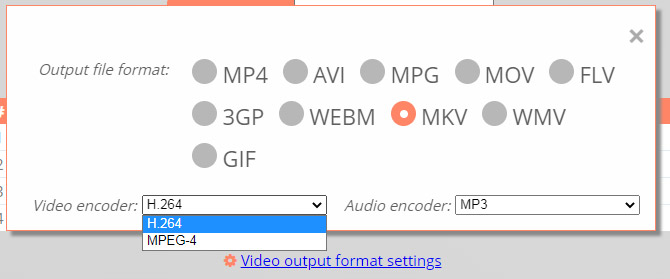 Step 4. Tap Split button (red button) to begin splitting MKV file online free. The notice coming later will again ask you to pay more patience since it's weak in splitting speed. Providing you really can't bear the snail's space in MKV video splitting, resort to another online MKV splitter tool with faster speed.
2. veed.io
Highlight: Fast video reading and splitting speed.
Best for: users who care MKV video splitting speed a lot, not much about splitting methods.
Room to optimize: lack lossless MKV splitting and re-encoding is a must have. Only split MKV by time.
Veed.io just happens to be the best alternative to split-video.com, for it runs very fast in both MKV video loading and splitting, no more patience asked. Moreover, it supports more input sources, from local device, YouTube to cloud service.
Certainly, there is scarcely a man but has weak side. It's only versed in splitting MKV file by time, no size, average or free split. And it empowers you to manually split video. Thus, it's almost out of the question to precisely split MKV to equally segments with the same duration. If the mentioned aspects don't matter to you and you concern speed most, then follow the instruction to divide multi-track MKV now:
How to use veed.io to online free split MKV by time?
Step 1. Click "Choose Video" (blue button) to import your MKV video file after you open this website. Load your MKV file from local Windows 10/11, MacBook, YouTube, record or cloud service like Dropbox, etc.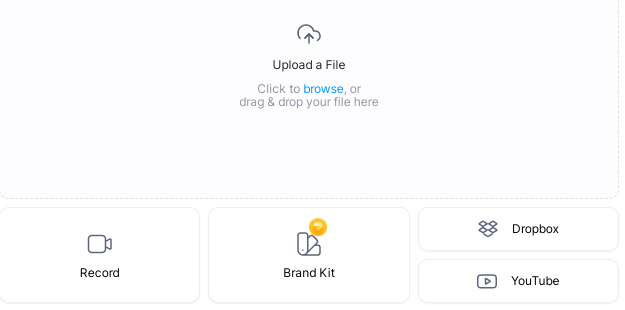 The video uploading speed is much faster than the first online video splitting service. Roughly 2-3 min MKV video will be completed in reading within 10 seconds regardless of MKV in H264 codec or HEVC codec.
Step 2. Activate "Split" feature at the lower left-hand of the webpage. Step 3. Select the video clip you wanna split with the orange marquee and move the blue cut-off line to the spot you wanna split within the orange marquee. This splitting method is mainly based on time split. You need to check the video image before you divide MKV into small pieces. Step 4. Tap "Export" button after your multi-track MKV splitting is done. Export options window will pop up to let you make decision before exporting.
Preset: provide you with 5 output format options - low quality, standard, YouTube 720p, Instagram and Twitter.
Remove watermark: you'll be re-directed to a new small window, where you're asked to upgrade to paid plan to remove watermark, $12 per month, $24 per month or Contact Sales for enterprise. Visit its official website if you wanna get into deeper.
Export: it goes to a new webpage to export your splitted MKV files at fast speed.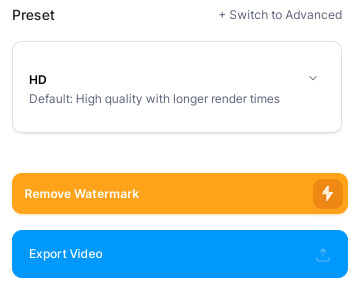 Step 5. Click "Download" button at the lower right-hand of the export webpage. It allows you to free download in MP4 format or GIF format. MKV format can't be kept. Video re-encoding is inevitable. Then you can download the splitted video to Windows 10/11 or MacBook/iMac, or instead directly share your splitted MKV video to Facebook, Twitter or Email it. Meanwhile, your output video won't be saved over 24 hours unless you sign up via your Google account or Email address.
Part 2 Top Free MKV Splitter Software for Windows and macOS
The online free MKV splitter services have advantage over software in easeness and convenience but encounter more gripes because of slow speed, payment upgrade, MKV re-encoding, annoying watermark, etc. By a happy coincidence, top free MKV splitter software - MKVToolNix can remove all of the troubles online video splitter brings to you.
Key Features of MKVToolNix:
Specially designed for MKV video, free split MKV, as well as merge/join MKV files, convert MKV video.
Divide multi-track MKV by size, duration, chapter, etc. at nice and fast speed, unimpeded by online network speed.
100% FREE to use, no annoying upgrade plan.
Perfectly compatible with Windows, macOS and Linux.
Be generous with your thanks to them for all the time they do spend on developing this amazing MKVToolNix and to GIVE IT AWAY 100%. The MKVToolNix developer team not only gives you a free product, but a toolset, MKVToolNix GUI, mkvinfo, and mkvmerge GUI. Chief among them is the MKVToolNix GUI, well-crafted to help you free split MKV video by file size, duration (time) and chapter. Some very basic video options are available as well, like aspect ratio, resolution, cropping, and a few practical features.
Some users are confused by its interface, since it's not self explanatory and no specific instruction. Though the look is deceiving, actually it's simple to use as far as you don't say no to it at your first glance. Follow up the user guide to verify:
How to use MKVToolNix to 100% free divide MKV file at lightning speed?
Step 1. Navigate to MKVToolNix official website to download this best free MKV splitter software on your Windows or macOS. Launch it after the download and installation are completed.
Step 2. Click the New button in the middle of the window > tap "Add source files" button to import your MKV video file > click Open. Give MKVToolNix a moment to process the file and then select the Output tab. Step 3. Now figure out exactly where you want to divide MKV video. First of all, get to know your MKV video duration. Most splitting modes are dividing MKV into small fragments at average level. The maximum number of files is unlimited so that you can freely set the number grounded on your specific needs.
Step 4. Choose the splitting mode you'd like: After output duration, by parts based on timecodes, After specific timestamps, Before chapters, no splitting, etc. Afterwards, click the Start multiplexing button which is located at the bottom of the window. Step 5. Once completed, go to your original MKV video location, open it and you'll find the two newly created MKV clips in the same folder. Open them to check if they reach your expectation. Until now, the job is done!
Download Best MKV Converter to Trim/Cut, Crop, Merge, Convert, Compress MKV!
Free download HD Video Converter Deluxe (compatible with Windows 10/11) - a hardware-accelerated MKV video converter to help you join MKV clips into one, trim/cut MKV, crop MKV video image, convert (multi-track) MKV to MP4/WMV/MOV/AVI/FLV, compress MKV to smaller size, download MKV video movies from 1000+ sites at GPU hardware accelerated 5X faster speed. User customization is available, as well, including aspect ratio, resolution, frame rate, bit rate, add subtitle, etc.