FFmpeg Codec List - What is FFmpeg? FFmpeg Supported Codecs
FFmpeg codec list. What codecs are supported by FFmpeg? Is there an easier way to convert among videos?
What is FFmpeg and How to Use FFmpeg?
FFmpeg introduction from its official website:
FFmpeg is a complete cross-platform program providing solution to record, convert and stream audio and video. It includes libavcodec - the leading audio/video codec library. It is the leading multimedia framework, able to decode, encode, transcode, mux, demux, stream, filter and play pretty much anything that humans and machines have created. It supports the most obscure ancient formats up to the cutting edge. It is also highly portable: FFmpeg compiles, runs, and passes our testing infrastructure FATE across Linux, Mac OS X, Microsoft Windows, the BSDs, Solaris, etc. under a wide variety of build environments, machine architectures, and configurations.
It contains libavcodec, libavutil, libavformat, libavfilter, libavdevice, libswscale and libswresample which can be used by applications. As well as ffmpeg, ffserver, ffplay and ffprobe which can be used by end users for transcoding, streaming and playing.
The FFmpeg project tries to provide the best technically possible solution for developers of applications and end users alike. To achieve this we combine the best free software options available. We slightly favor our own code to keep the dependencies on other libs low and to maximize code sharing between parts of FFmpeg. Wherever the question of "best" cannot be answered we support both options so the end user can choose.
FFmpeg Wiki:
FFmpeg is a free software project that produces libraries and programs for handling multimedia data. FFmpeg includes libavcodec, an audio/video codec library used by several other projects, libavformat (Lavf), an audio/video container mux and demux library, and the FFmpeg command line program for transcoding multimedia files.
FFmpeg utilizes a command line tool to convert multimedia files between different formats.
Best Fastest Video Converter to Convert any Video to MP4, AVI, WMV, iPhone X/8/7/6S, etc.
WinX HD Video Converter Deluxe - An extremely easy-to-use video converter to convert any video
to MP4, AVI, WMV, MOV, M2TS, FLV, iPhone X/8/7/7 Plus, iPad Pro/Air, Galaxy S8 and more with highest quality at world's No. 1 fast speed thanks to its Handware Acceleration tech. It also aids you to free download videos from YouTube and 1000+ sites.
FFmpeg Supported Video/Audio Codecs List
FFmpeg supported video codecs:
4X Movie, AMV Video, Apple Intermediate Codec, Apple MJPEG-B, Apple Pixlet, Asus v1, AVS (Audio Video Standard) video, DV (Digital Video), Electronic Arts CMV video, Flash Screen Video v1, Flash Video (FLV), H.261, H.263 / H.263-1996, H.263+ / H.263-1998 / H.263 version 2, H.264 / AVC / MPEG-4 AVC / MPEG-4 part 10, HEVC, Interplay MVE video, lossless MJPEG, Microsoft ATC Screen, Microsoft Video 1, Motion Pixels video, MPEG-1 video, MPEG-2 video, MPEG-4 part 2, MPEG-4 part 2 Microsoft variant version 1, VP8, VP9, QuickTime 8BPS video, QuickTime Animation (RLE) video, RealVideo 1.0, Sierra VMD video, Windows Media Video 7, WMV7, etc.
FFmpeg supported audio codecs:
AAC, AAC+, AC-3, ADPCM 4X Movie, ADPCM G.722, ADPCM G.726, ADPCM IMA AMV, ADPCM ISS IMA, ADPCM Sound Blaster Pro 2-bit, AMR-NB, AMR-WB, Amazing Studio PAF Audio, Apple lossless audio, ATRAC1, DPCM Interplay, DPCM Sierra Online, DSP Group TrueSpeech, DST (Direct Stream Transfer), DV audio, Enhanced AC-3, FLAC (Free Lossless Audio Codec), Interplay ACM, Monkey's Audio, MP3 (MPEG audio layer 3), MPEG-4 Audio Lossless Coding (ALS), On2 AVC (Audio for Video Codec), PCM A-law, RealAudio 1.0 (14.4K), RealAudio Lossless, Sonic lossless, Vorbis, Windows Media Audio 1, Windows Media Audio Voice, Xbox Media Audio 1, Xbox Media Audio 2, etc.
FFmpeg Is So Complicated? Can't Find the FFmpeg Codec? Try a Much Easier Way to Convert Any Video
Though FFmpeg is a free video converting program, but admittedly, its command line tool for video conversion is more suitable for developers, as for novice users, they may be very confused about how to use those command lines to convert video or sometimes encounter FFmpeg codec not found problem.
As the best solution for this, we suggest you to turn to another easy-to-use fast video converter for Windows (10) – WinX HD Video Converter Deluxe. It is a 100% clean and safe, as well as fastest video converter program in market now, enabling users to convert among almost all video formats, like converting MKV to MP4, AVI to MP4, etc. The conversion speed is faster than other similar software owing to its Hardware Acceleration tech like Intel QSV, MMX-SSE, Nvidia CUDA/NVENC, Hyper-threading and AMD 3DNow! Tech, etc. Check the 3 simple steps below to convert video from one format to another.
Guide on How to Convert Videos with Best FFmpeg Alternative
Free download and install WinX HD Video Converter Deluxe

on Windows 10/8/7, etc. or free download its Mac version

.
Step 1: Load the source video
Open the best FFmpeg alternative and click "+ Video" button to import the source videos to the program.
Step 2: Select output video
Choose the output video format in the Output Profile window. Hundreds of video formats and devices are provided for your choice.
Step 3: Start to convert video from one format to another
Click "Browse" button to specify a destination folder to save the converted video. Hit "RUN" to start converting video in a flash on Windows (10) or Mac.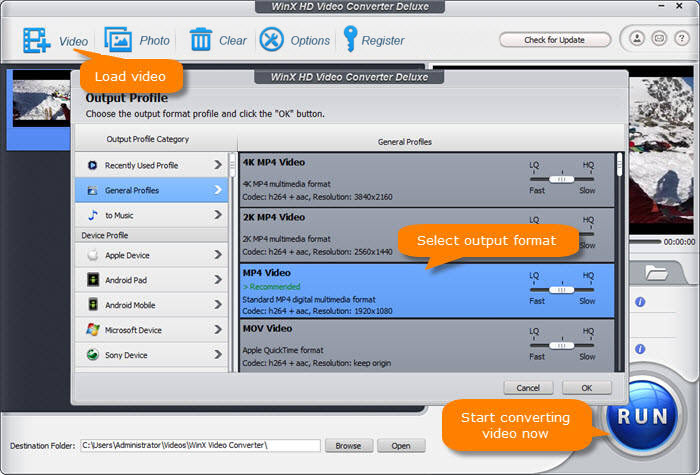 Still have trouble on how to use this FFmpeg alternative, just Mail Us >>
Best Tool to Free Download Videos/Movies & Convert Movie Video on Windows (10) and Mac
WinX HD Video Converter Deluxe -fast free download 8K/4K/HD/3D/VR movies, videos from YouTube, Dailymotion, Vimeo and 1000+ sites
convert any movie video to MP4, AVI, WMV MOV, MPEG, H.264, FLV, iPhone X/8/7/Plus/6S, iPad Pro/Air 2, etc. at world's No.1 fast speed; edit the movie video and adjust the video/audio parameters; make beautiful photo slideshow with music and images.