How do I Convert WMV Files to YouTube for Easy Upload
WMV video, for its small size considering the data the format hold, is popular for streaming videos over the internet. It's also one of the supported formats of YouTube. However, in some cases, users can't upload WMV files to YouTube, with error messages like "invalid file format". Then you will need to convert WMV to MP4 for YouTube upload. In this post, we will tell you why it fails to upload WMV videos to YouTube randomly and how to convert.
Why can't You Upload WMV to YouTube?
Here is the list of video formats supported by YouTube: MOV, MPEG-1, MPEG-2, MP4, AVI, WMV, MPEGPS, FLV, 3GPP, WebM, MPEG4, DNxHR, ProRes, CineForm, and HEVC (h265). You should be able to upload a WMV video to YouTube without error, but why it fails?
WMV files use Microsoft's Advanced Systems Format (ASF) container format and are therefore very similar to ASF files. However, WMV files can also be packed into the Matroska or AVI container format and therefore have the MKV or AVI file extension. Then YouTube can't read the WMV files in MKV container. When you upload such WMV videos to YouTube, you will see errors like "Invalid file format" or "The video has failed to process." So you will need a program to convert WMV to YouTube MP4, or other formats.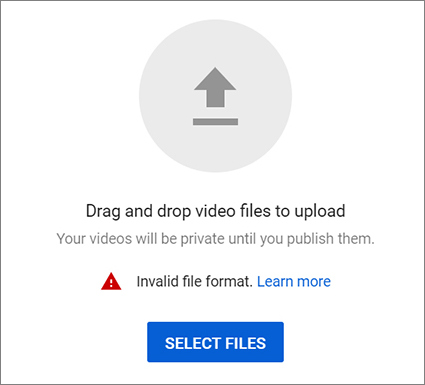 How do I Convert WMV Files to YouTube with No Efforts?
WinX HD Video Converter Deluxe will be your best WMV to YouTube video converter. Here is why:
It will convert any WMV videos to YouTube MP4, MOV, AVI, MPEG, FLV, WebM, HEVC, as well as 420+ other formats and devices.
Its GPU-accelerated encoding is able to convert WMV files to YouTube MP4/HEVC with 5x faster speed.
A wide range of editing features to trim, cut, crop, add subtitles, merge, deinterlace, adjust video & audio settings to customize WMV videos for YouTube upload.
It also allows you to download videos from YouTube (1000+sites) and convert to WMV or any other formats.
How to Convert WMV Files to YouTube in Clicks?
Free download the WMV to YouTube converter on your computer. It works on both Windows and macOS.
Free download the Windows version
Free download the macOS version
Step 1: Import WMV files.
Open this converter and click the + Video button to import the WMV video you want to upload to YouTube. You can also drag and drop the WMV files into the converter. And batch conversion is supported.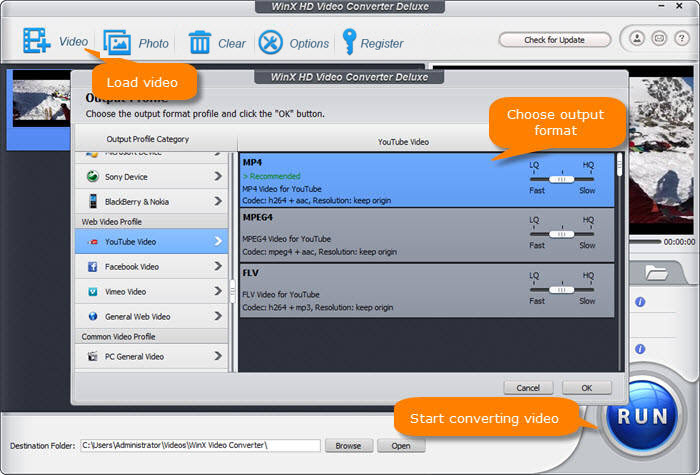 Step 2. Select YouTube Format
A window will pop up to let you select the convert format. To convert WMV to YouTube, scroll down the menu on the left and find YouTube. Select an output format for YouTube. You're suggested to convert to MP4 for easier YouTube upload. Then hit OK to exit this screen.
Step 3. Convert WMV to YouTube
Edit and tweak the video with the Edit and scissor icon. Once done, click the RUN to start converting WMV to YouTube. Then you should be able to upload the converted WMV videos to YouTube without error.
FAQ on WMV to YouTube Convert & Upload
1. Is WMV or MP4 better for YouTube?
MP4 or WMV, which is better for YouTube upload? If you have to choose, stay with the MP4 format. MP4 is usually better in terms of YouTube conversion and quality. We would highly recommend it over WMV for YouTube. MP4 allows a better variation of bitrate. After you upload MP4 videos to YouTube, it has deeper/richer colors than WMV with no motion blur. Not only that, MP4 is the way to go simply because ease of access if you ever move your files from Windows to another OS like Mac, Linux, or even UNIX.
2. What is the best WMV to YouTube encoding settings?
YouTube has recommended the best upload encoding settings. And you can just convert WMV to YouTube MP4 with the same settings:
Container format: MP4
Audio codec format: AAC-LC
Video codec format: H.264
Aspect ratio: 16:9
Frame rate: Keep it the same as it was used during recording. Deinterlace any interlaced video before uploading.
Bitrate for 4K, 2K, 1080P, 720P for HDR/SDR video uploads, as well as the detailed color space limits, see here.