How to Convert MOV to FLV Easily without Quality Loss
Nowadays, more and more modern cameras from Nikon, Canon, Panasonic, Fujifilm, GoPro, and DJI are using MOV format to store HD/4K H.265/HEVC videos. However, the MOV file is probably not the friendliest format if you're planning to upload your recorded videos to the internet. If you want to make sure your video is compatible with most streaming services, you may want to convert MOV to FLV, a format that is commonly used for online videos. In this article, we'll show you how to convert 4K/HD MOV videos into FLV easily with the best quality.
How to Convert MOV to FLV?
Part 1. How to Convert 4K/HD MOV to FLV on Windows/Mac with Best Quality
HD Video Converter Deluxe provides an easy way to convert high-quality MOV to FLV without quality:
4K and HD MOV (MPEG-4 AVC/H. 264, HEVC/H. 265, ProRes, CineForm, etc.) from 4K camcorders, drones, phones, etc. are all supported.
High output quality: It features a High Quality Engine to make sure the converted FLV videos will keep the best possible quality of the source MOV files.
5X faster speed: Intel, Nvidia, and AMD GPU acceleration supported to convert high-quality and large MOV videos to FLV with fast speed. No CPU overheating or high usage.
Compress large MOV videos to FLV with 80% smaller quality without visual quality loss.
Convert MOV to FLV, MP4, WMV, WebM, 3GP, AVI, webs, TVs, mobiles, 420+ profiles; edit, trim, merge, add subtitles, adjust parameters, and more.
[Steps] How to Convert MOV to FLV in Clicks?
Step 1: Load the MOV files.
Download the MOV to FLV video converter on your computer and open it. Then click the "+ Video" button on the top menu bar of the interface. Then you can locate your MOV files and select them. You can add one or multiple MOV files to convert in a batch.
Step 2: Choose the FLV format.
Once the MOV videos are all loaded, the converter will pop up the output format window automatically. To convert MOV videos to FLV, scroll down the output list on the left column and find PC General Video > select FLV video. You can also find it under YouTube Video, FaceBook Video, and General Web Video.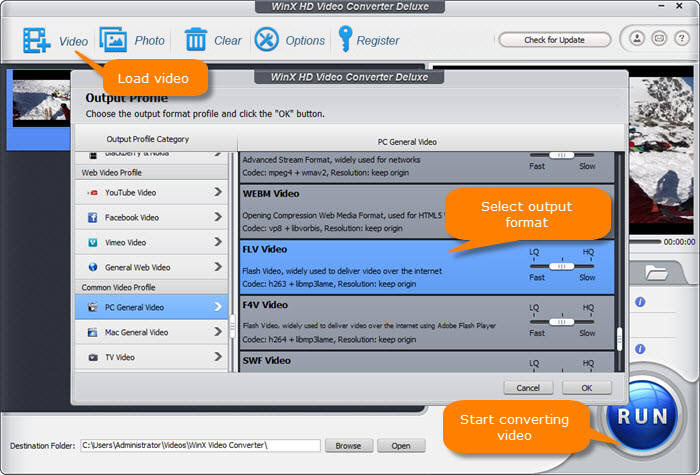 Step 3: Edit the MOV video.
Back to the main interface, click the Edit button below the selected FLV profile. Then you can remove black bars, crop MOV videos to different dimensions, add subtitles, trim the video length, etc. You can adjust the video parameters if needed. On the main interface, click the scissor-shaped button next to the selected FLV profile to open the video parameter window. Then you can adjust the video resolutions, codec, bit rate, aspect ratio, etc.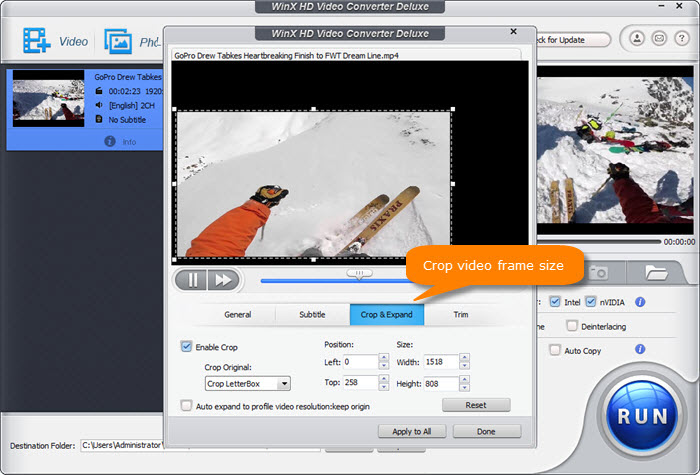 Step 4: Start to convert MOV to FLV.
When you're done, tap the blue 'RUN' button to start MOV to FLV conversion. Don't forget to make sure you've checked the GPU accelerator box on the right bottom corner of the interface to speed up the conversion if possible.
Part 2. How to Convert MOV to FLV Online for Free?
Google MOV to FLV, you will find various online tools that offer the ability to convert MOV videos to FLV online. Most of the online services provide the basic features to have the job done for free. You don't need to install any third-party software on your computer. Below are some of the top-ranking free MOV to FLV video converters online.
Cloudconvert
Freeconvert
Zamzar
Converfiles
Convertio
Onlineconverter.
If your MOV is not a large-size or high-quality 4K/HD video with codecs such as HEVC or ProRes, online converters are a good way to go. If you need to convert a large MOV video to FLV online, you can also upgrade to a paid package. Take CloudConvert as an example, it allows 1GB for free users and has flexible package plans for different users. But you still need a strong internet connection, or get prepared for a long wait. The steps are very similar and below we will show you how with CloudConvert:
How to Convert MOV to FLV Online?
Step 1: Open the site https://cloudconvert.com/ and click the big red Select File button. Then load the MOV video from your local computer. It may take a while to upload a large MOV video.
Step 2: After the MOV video is uploaded, open the Convert to dropdown list and select FLV. It allows you to convert MOV to FLV, MP4, AVI, WMV, MKV, and WebM. Step 3: Click the Spanner button next to FLV and you can see options to adjust the video/audio parameters. It even lets you set the converting quality and trim the video.
Step 4: Once done, click Convert and wait. The speed to convert MKV to FLV will depend greatly on the internet connection. You'd better not convert any large MOV videos with advanced codecs online.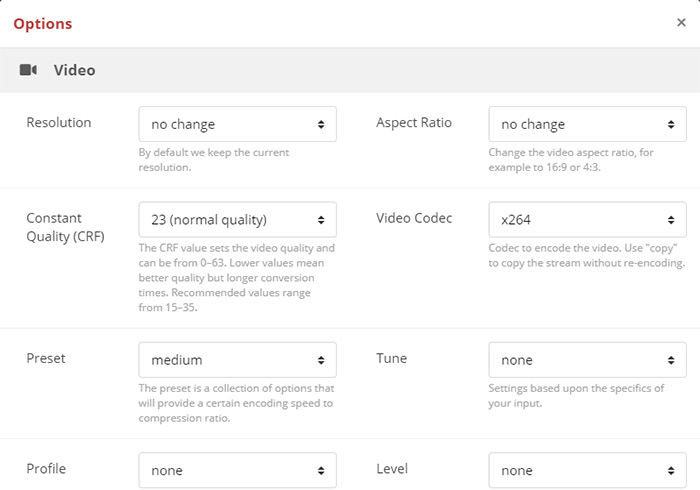 Part 3. MOV vs FLV
What is MOV?
MOV (QuickTime Movie) is developed by Apple to use with its QuickTime player. MOV is commonly used to store high-quality videos and therefore is often large in size. As MOV is based on Apple's proprietary compression algorithm, the format is as compatible as other formats with non-Quicktime players.
Codecs supported by MOV include: H.265, H.264, MPEG-4, MJPEG, AIC, ProRes, Sorenson 1/3, PNG, CineForm; Vorbis, AAC, AC3, MP3, ALAC
What is FLV?
FLV, F4V, and SWF are flash video formats designed by Adobe for its Flash Player. FLV is now commonly used by nearly all embedded videos on the internet such as YouTube, Hulu, Vimeo, etc. thanks to its small file size and the wide availability of browser plugins and third-party flash video players. But recently, the format has become less popular, especially since flash is not supported by iDevices.
Codecs supported by FLV include: Sorenson's H.263, On2 TrueMotion VP6, VP6 with alpha, MP4 H.264, ITU H.263, MPEG-4 ASP, PCM, ADPCM, MPEG layer 3, Asao, a-law, μ-law, MP4 AAC, Speex
Part 4. FAQ about MOV to FLV
1. How do I convert MOV to FLV Media Encoder?
Adobe Media Encoder is able to export videos into several formats like MP4, MOV, AVI, MXF, not including FLV (see the full list here). Unfortunately, you can use Adobe Media Encoder to convert a MOV video into FLV.
2. Can VLC convert MOV to FLV?
Yes, VLC is able to convert videos from MOV to FLV. You need to select the FLV format from the Encapsulation and add it to the profile. Here is how to convert MOV videos to FLV using VLC:
Open VLC Media Player. In the menu, click Media > Convert/Save.
In Open Media window, click Add to insert one or more MOV files. Then click Convert/Save at the bottom.

Under Profile, click on Create New Profile button. Find FLV under the Encapsulation tab, give it a name and click Create.
Select FLV from the dropdown list of the Profile, select the destination folder to save the FLVV files, then click Start.
3. How do I convert MOV to FLV on Mac?
Mac doesn't provide a built-in tool to change the format from MOV to FLV. However, there are many third-party converters to help. The above desktop and online MOV to FLV video converter will also work on Mac.