Will there be a Hardware Acceleration for AV1 Soon?
[Updated] The new version FFmpeg 4.4 has added hardware-accelerated AV1 decoding with VDPAU API, Intel Gen12 graphics,  Intel VA-API, DXVA2/D3D11VA hardware accelerated AV1 decoding, and Nvidia NVDEC AV1 hardware accelerated decoding. It also allows users to encode videos to AV1 via SVT-AV1 encoder based on CPU and AV1 monochrome encoding via libaom 2.0.1 or higher.
Part 1. The Biggest Issue that AV1 Codec Currently Has.
You may know or may not, almost all videos you can reach on the Youtube, are VP9 or AV1 encoded. VP9 is the codec Google developed to offer a better solution for online video storage & transmission. The AV1 was developed by the Advanced Open Media Alliance (AOM), led by Google, Amazon, has become the next-generation video codec for their Youtube platform.
In the predictable future, all videos with various videos on Youtube will be united & replaced by AV1 encoded videos, which explained the domination of AV1 codec. Also, Netflix announced their plan to use AV1 codec for all their video streaming service shortly, the expansion of AV1 application can be easily estimated.
1. Encoding Time Efficiency
Be at the dominant position does not mean AV1 video achieves all ways to its best. Some bottlenecks restrict the overall performance of this newly released video codec. One of the most critical issues is the time complexity for its encoding process. Because all raw videos need to be encoded with a certain type of video codec in order to better transmission and distribution. AV1 codec is the one that has the best compression rate but takes an intolerable amount of time to compress the video. In our previous article, we have a deeper discussion to this: a video file size with AV1 encoded could be 50.3% smaller than it compressed by H.264 main profile, but take almost 100 times the time that spent on encode the video.
2. Not Currently Hardware Backed up
Fortunately, AOM engineers are working on the effectiveness of AV1 software/hardware encoding. With their best effort, the following chart shows the recent major improvement the AV1 have made: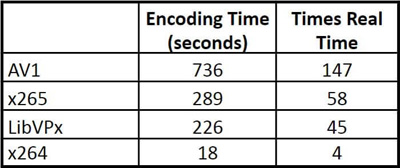 The test is based on the fact AV1 is temporarily no hardware encoder supported (in personal computer domain), as we can see a great prompt but still time complexity compare to x265, that would means that a full hardware support is necessary for this new codec.
Part 2. The Progression & Participants of AV1 Hardware Encode
The Paticipants
One of the very possible reasons the AV1 video incapable to accomplish the fast encoding task is due to the absence of hardware supports. No hardware encoding support yet to be delivered until early 2020 results severely influenced the inclusive encoding performance of AV1.
Efficient hardware-based encoders are currently in development by groups like SocioNext. They made headlines when they revealed the first real-time encoder with AWS which they demonstrated at NAB 2019. Although this is obviously exciting news, there is a long distance between creating a demo and releasing a production-ready produce. Also Allegro DVT, a leading provider of video semiconductor IP solutions, today announced the release of its AL-D21x family of video decoder IPs which adds support for the AV1 video format. This indicates that the electronic embedded AV1 hardware support is matured. September 1st, NVIDIA has released the specification of their newest NVIDIA RTX 3000 series GPU, excitingly announce that their new 3000 series will adapt the full AV1 hardware encoder/decoder for better AV1 video watching/streaming experience.
The planet's biggest Internet companies have banded together to create AV1, a royalty-free, highly efficient video codec. This reduces the bandwidth required to stream high resolution video by up to 50% compared to H.264, and makes 4K and 8K high resolution streams feasible for consumers lacking the fastest Internet connections and unmetered contracts.
GeForce RTX 30 Series are the first discrete GPUs with AV1 decoders (as part of their new 5th generation NVIDIA Decoder), enabling users to take advantage of AV1 on desktops and in media centers. Also, Intel Gen12 graphics now supports accelerated AV1 decoding.
The WinX VideoConverter Deluxe is your perfect friend
As stated, AV1 codec isn't yet mature & in lack of supportive hardware/software solution. Digiarty has long-term dedicate to multimedia softwares and our WinX Video Converter Deluxe is now supporting convert AV1 codec video. At the moment that less video software support AV1 related converting/ modifying, WinX Video Converter Deluxe is one no doubt a good choice. To promote the user experience, the Digiarty will focus on improve the AV1 support adequately to our customer.
What we can do expect in the future?
AV1 codec will surely become more popular in the future and is widely adopted by more online video resources. In the current stage, within tech giants joining and participating the development & deployment of usable AV1 hardware encoders, we can expect more applications of AV1 codec & videos will be seen. And, stated by tech media, the NVIDIA & Intel has joined this campaign, make the incoming entrenchment makes future of AV1 codec is considered promising.
Will AV1 be the next mainstream for 4K/8K streaming?
External Source Links:
1. High Efficiency Video Coding (HEVC) [wiki]: also known as H.265 and MPEG-H Part 2, is a video compression standard, designed as a successor to the widely used Advanced Video Coding (AVC, H.264, or MPEG-4 Part 10).
2. AOMedia Video 1 (AV1) [wiki] is an open, royalty-free video coding format designed for video transmissions over the Internet. It was developed as a successor to VP9 by the Alliance for Open Media (AOMedia), a consortium founded in 2015 that includes semiconductor firms, video on demand providers, video content producers, software development companies and web browser vendors. The AV1 bitstream specification includes a reference video codec.