How to Solve 'Facebook Videos Won't Play/Load' Problem
Solutions to Facebook Video Not Playing/Loading Problem in Chrome, Firefox, IE, etc
YouTube or Facebook videos won't play or error loading problem happens from time to time, due to some incorrect web browser privacy settings or the like. But don't worry, there are always solutions. We are here primarily to help you get through "Facebook videos won't load" problem step by step. Other than watching Facebook videos online, you will also be informed of an easy way to download videos from Facebook for watching offline, which, to some degree, fixes the "Facebook videos not playing" perfectly. If you want to do a further step to download and convert Facebook videos to iPhone, iPad, Android, etc compatible formats at one go, a HD video converter will be needed.
Best Free Facebook Video/Music Downloader
Free download movie and music video from Facebook, YouTube, Vimeo, etc to MP4, FLV, MP3 and more on Windows 10/8/7 with online video downloading tool - WinX YouTube Downloader
Q1 - "Why won't my Facebook videos play? When I click on a posted video, it won't play. Is there something broken?"
Q2 - "I was having trouble with Facebook video's taking forever to buffer and load. And now Facebook videos won't completely load on windows 10 edge or chrome. I should be able to just click on play and it comes up. Sadly, can't even view or play any Facebook videos at present. Any solutions would be appreciated, please!"
How to Solve Facebook Videos Won't Play or Load Problem
Step 1. Let's start with the basic thing that is to check the strength of your internet connection and try again. Normally, part of the "Facebook videos won't load or keep buffering" issues should be fixed.
Step 2. If the network signal is good and web browsing or gaming is not sluggish at all, then check videos loading on sites besides Facebook, such as YouTube.
Step 3. Check the version of your Adobe Flash Player for outdated flash player may lead to "Facebook video not playing" problem. Upgrade to the latest up-to-date Adobe Flash Player 16 ActiveX.
Step 4. Change your Flash Player privacy settings. Reset Firefox or Chrome and enable disabled options. Click to check your Flash player settings here.
Step 5. Manage add-ons. Check your added plug-ins one by one to make sure that your "Facebook won't play" is not caused by any one of them.
Step 6. If all steps listed above have been done but your Facebook still won't play or load videos, we suggest you download videos with a free Facebook video downloader.
Best Free Facebook (4K/HD) Video Downloader Software
WinX YouTube Downloader, not exactly as its name reveals, is a best online video downloader for Facebook, YouTube, Vevo, Twitter, Instagram, Metacafe, and other 1000+ video sites. With 5-8x real-time download speed supported, downloading Facebook 1080p HD/4K UHD videos will be without a hitch. And best of all, its 100% free and clean, so that your "Facebook video won't play" error can be fixed at no expense.
Tutorial: How to Free Download Videos from Facebook
Get the free Facebook downloader software installed first and go on with next steps:
Step 1: Go to Facebook and do a search of any movie/music video you like.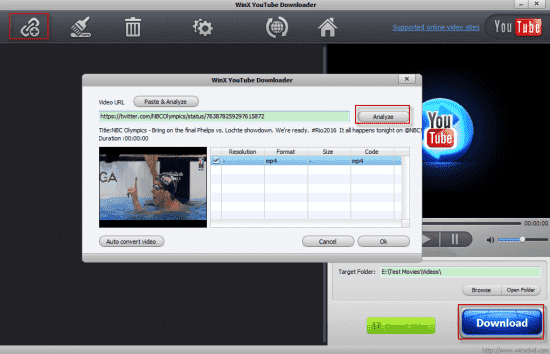 Step 2: Right click the video and choose "Show video URL". Then open the Facebook downloading tool, click "+" button, paste and analyze the video link.

Step 3: Select your preferred output format and click "OK" to move on

Step 4: Set a target folder and press "Download" to start Facebook video downloading. The same also applies to download YouTube video.

Still have trouble about Facebook video not playing or loading? Feel free to Email Us >>