How to Convert MKV to iPad MP4/M4V Video, Play MKV on iPad/Air/mini/Pro?
Convert MKV to iPad Supproted MP4/M4V Video, Play MKV on iPad Pro, iPad 2-4, iPad Air/2/3, iPad mini/2/3/4.
Learn about Matroska MKV Video and Apple iPad Device
MKV is open source HD video format which is flexible and open standard. Because of its advanced encoding method, MKV video can store a large number of video/audio data in relative smaller file size. It is wildly used by HD movie spread on the internet due to its befitting size and HD capacity. Mostly importantly, similar to DVD's structure, it is awesome to play MKV movies with all multilingual tracks, subtitles, audio streams reserved. However, MKV is not playable on all devices. Take iPad as an example, if you want to play MKV on iPad, the easiest way comes to convert MKV to iPad Air 3/iPad mini 4/iPad Pro with a MKV for iPad Video Converter.
For decades HDTV has been adopted to playback high definition videos. And by far HD viewing trend also blows to multimedia portable devices. Apple iPad is an ideal HD movie playback tool. The high-resolution, 9.7-inch 1024 x 768 display on iPad is made for bringing you remarkably crisp and vivid HD video enjoyment. While Apple's iPad Pro tablet follows on from the company's iPad and better bridges the gap between iPhone models and its MacBook range of laptops.
See also: MKV, play MKV movie on iTunes 12, Watch Free Movies on iPad Offline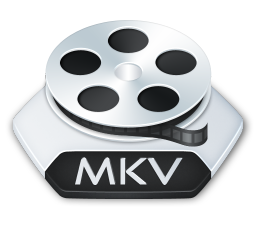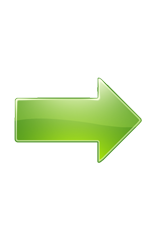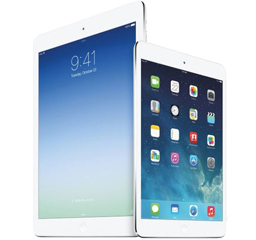 How to Convert MKV to iPad/Air 3/mini 4/Pro?
WinX HD Video Converter Deluxe

- Transfer MKV HD video to iPad compatible video format, sync output video to iPad via iTunes, and now watch MKV on any iPad models anywhere!


WinX Video Converter Deluxe is absolutely the fastest and most stream lined I've ever seen and no offers or demands of toolbars or other stuff I don't need. - Comment by Kelly
Convert MKV to iPad Supported Video before Playing MKV on iPad
To maximize iPad battery life, Apple engineers took the same lithium-polymer battery technology they developed for Mac notebook computers and applied it to the iPad. As a result, you can use iPad for up to 10 hours while watching MKV videos. It must be a great pleasure when you on the go and have no other entertainment. Besides, while playing MKV video on iPad, you can still keep the alternate audio tracks, multilingual subtitles and chapter points, as well as rich metadata authoring.
Note: your iPad will not support raw MKV video, but you simply need a MKV to iPad Converter software to help you. WinX HD Video Converter is one of best choice for converting and transferring MKV to iPad. (Free Download Mac Ver. or Windows Ver.)
Why Choose WinX HD Video Converter as your MKV to iPad Converting Tool?
1. Convert MKV to Apple iPad Compatible format
WinX HD Video Converter Deluxe helps you convert MKV to MPEG-4 H.264 video with m4v mp4 mov format, which can be recognized by your iPad 2-4. After convert MKV to H.264 MP4, M4V, MOV, you can not only watch HD MKV TV series and movie on 1027 x 768, 1280 x 720, 1920 x 1080 display of iPad , but also play MKV on iPad mini/2/3/4, iPad Air/2/3, iPad Pro, iPhone11/XS/XR/8/7/6s, iPod touch, Apple TV, etc., as well as your Mac media players like QuickTime.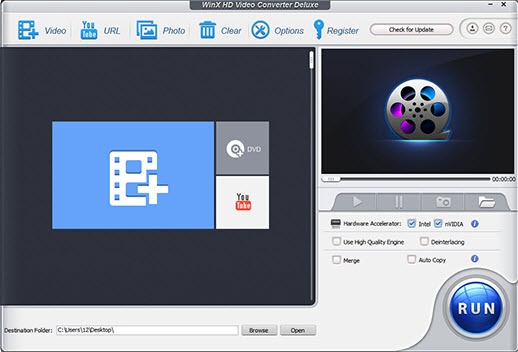 2. Convert MKV to iPad Keeping HD Quality Level
you need not worry about quality loss after converting your HD MKV video to iPad in MP4/M4V format. Thanks to VBR (Vibrate Bit rate) encoding method, WinX HD Video Converter can choose the desired quality level and/or a range of allowable bitrates. The major advantage of using VBR coding for converting MKV to iPad is that, you can specify the output iPad MP4/M4V quality level.
3. Play MKV with iPad on the go like Watch DVD
Convert MKV to iPad MP4/M4V video, you can still keep HD H.264 video with surround sound AAC audio and can also select one of advanced cinematic extras such as multi-audio tracks, multilingual subtitles, chapter points (great feature, especial on your Apple iPad, since it enables you to start the movie wherever you want), bonus content and more. Not only so, to reduce output MP4/M4V file size for making your iPad contain more MKV movies, you simply need to get rid some part of videos that useless to you, like unwanted language, subtitle tracks.
Related: iPad supported video formats
4. Convert MKV to iPad with few minutes
Supports up to 8 core i7 CPU, WinX will give you fast MKV to iPad converting speed. Besides, owning to Hyper Threading Technology (Converting MKV to iPad MP4/M4V by multi threads at the same time, speed up the conversion timely), multi-core CPU use and haredware acceration, you can convert a 720 x 480 MKV video to MP4 format at 9x real time converting speed. Say after set MKV to iPad Conversion started, you can go away for a café, when you get back, WinX may have finished the job and let you watch HD TV plays, HD movie on iPad whenever wherever possible.
5. Specific Preset setting for your iPad - WinX HD Video Converter prepares exhaustive presets for all iPad types. It will save your great time to search and consult for the complicated parameter settings when you trying to convert MKV to iPad. As for senior users, you may need to make iPad preset your own. Then WinX will provide you one option to make it.
How to Convert MKV to iPad with WinX MKV to iPad Converter
Firstly, you should download WinX HD Video Converter Deluxe on you Windows or Mac computer, install it under its guidance:
* Free Download WinX HD Video Converter Deluxe for Windows
* Free Download WinX HD Video Converter for Mac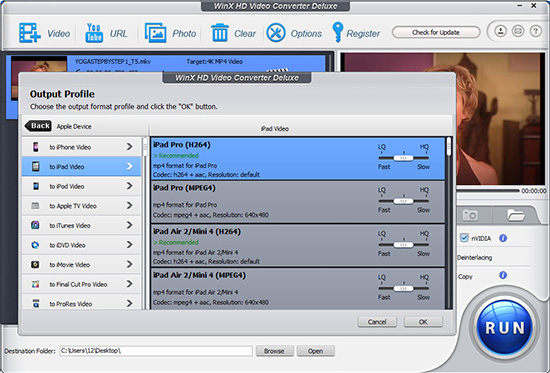 Step 1: Load your target MKV file by clicking "+ Video" button.
Step 2: Under "to Apple" category select "to iPad". MKV to iPad profiles list is available here for you to choose, new iPad Pro, iPad Air 3/Mini 4 models are all in the list.
Note: iPad mini 4 and iPad Pro profiles is comming soon once they are released...
Step 3: Set the destination of output file by clicking "Browse" button.
Step 4: Right click "RUN" button to begin your MKV to iPad conversion.
User's Feedback - Usually Handbrake can help me convert DVD and videos to iPad. But when handling with HD video conversion, such as convert MKV to iPad, I'd like to find a Handbrake alternative MKV to iPad converter since HB just not always as stable as I expect. After give WinX MKV to iPad Converter a try, it is just fast and stable, and do not need anything else. Thanks. " - From Ivy
Still have problem about how to convert MKV to iPad series gadgets? Please feel free to Email Us >>
After converting video to iPad compatible format, you can add video to iPad storage with iTunes. But if you are impatient to use this complicated tool. Another easy-to-browse and fast iPad file transferring tool is recommended: WinX MediaTrans, with which any video can be imported from computer to iPad and the vice versa. (iOS 12 supported)